15 Important Facts: Why Website Clone is better than Website Development From Scratch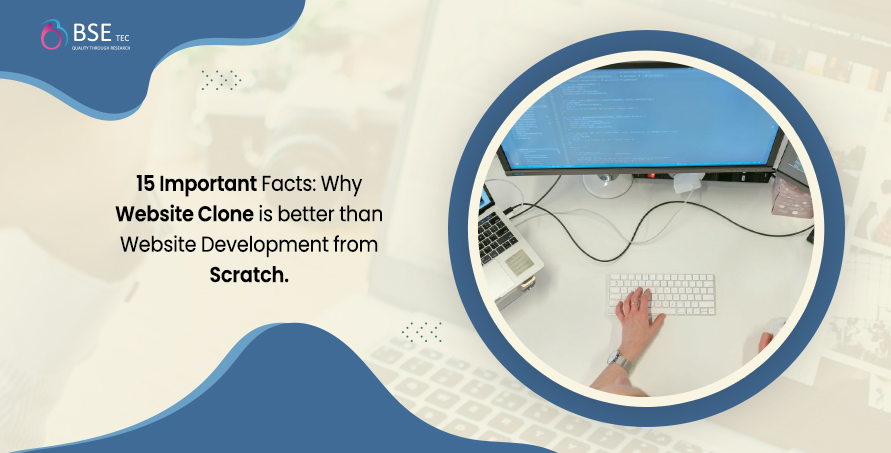 In the year 2020, The Best thing anyone can do is start a venture, and it doesn't even matter now that you are starting an online venture or a traditional business. One thing you will need at any cost. That would be a user-friendly online presence. Every entrepreneur knows that if you don't have a website then you are not even catering to the minimum part of your targeted audience. Missing to develop a decent website is not the duty of yours but it is an opportunity to grab. You can directly deal with your targeted audience and they can buy your product or service whenever they need and where ever they need. See by simply getting yourself online, you expanded your business everywhere and now the time is also not the barrier. The website is the face of your business online, So better make it good for your potential customers to come.
There are only two common ways of web development
Development from scratch 
Development from clone scripts
Development from scratch : Developing a Web platform from a scratch is a little exhausting task. If you are a professional developer then the coding part will be okay but you also know it will take a lot of time of yours and if you are not from a developer's background then you can imagine how much time and resources it will drain of yours. Developing it from scratch means you have to plan, collect resources, assemble, and launch. All these tasks will not only affect your time but also it will affect your quality if you do all on your own. And we didn't even start on cost yet.  
Development from clone scripts : Clone scripts are easily available in the market and that too with the latest technology available. Development using clone scripts is so easy that you just have to buy a website clone for a web development company and they will take care of everything regarding technology in your platform. They will simply deliver the final web platform fully functional under your brand name. Also, These clone scripts are affordable, and they save much time for entrepreneurs in setting up the platform with ready-made features. 
Here are 15 important facts: why website clone is better than website development from scratch
Faster to launch : In website development, If you are going for developing from scratch then it will take a lot more time to develop and launch, but in clone development, It just a matter of hours to get your website published. Because in clone development, everything will be ready. You just have to customize it according to your needs and desires. 
Customizable : In Clone development, You will get all the technical documentation with clean coded scripts, and you can modify codes and can reuse them for customization. But in development from scratch, You need to start again from the beginning to customize. 
Testing Advantage : The clone website that you buy is already pretested by software development companies and you can directly start using, But in website development from scratch, you have to imply testing process on your own. 
Features : In clone development, you are also getting all the readymade features required according to the nature of the website, But in Website development from scratch you have to look for every feature you want, And this process will drain your time and money the most. 
Exclusive features : When buying clone websites, Web development companies also provide exclusive features and exclusive benefits to give your platform a luxury feel and more value. But In website development from scratch, Your all energy and money will be gone in finding and buying each feature individually. 
Technologies used : When buying website clones from web development companies, You can be sure that the platform is developed with the latest technologies available in the market. But when developing on your own, Finding the right technologies with the latest implementations could be an exhausting task. 
Early entry : If you are going for a clone website, Then you can go with a launch in no time but if you are developing from scratch, You can only launch after developing the whole with all the customizations and testings. 
Codes : In clone websites, You will be getting open source codes, with user-friendly languages. In website development from scratch, You will be using technologies that are required according to you. 
Regular updates : In clone development, Your clone service provider will take care of your technical updates for no extra cost for a particular period to make sure your platform works fully functional. And when you develop from scratch, You are on your own because you have to keep track of new updates and everything. 
Trends and Market analysis : When there is a technical partner on-board with you, They will not just provide you clone website but also act as a pillar of your venture by taking care of all the market analysis for you along with that they keep track on the latest trends going on related to your platform in the tech world
Customer service : Clone script provider always provides you free installations and premium customer supports to give you full technical support with maximum interest and resources. But in the case of website development from scratch, Maybe you need to hire an in-house team for these purposes and they don't come cheap. 
Front Cost-saving : In website development from a clone, You are getting a website loaded with the latest technologies and readymade features also that are ready to launch at just affordable dollar prices. You will save every cost that includes salary payments, features cost, installation fees, developers fees, and many more. 
SEO friendly websites : The clone websites provided by web development companies are always SEO friendly and you don't have to work more on making it on google like search engines. This is the best and most convenient benefit that comes for free with clone websites. 
Demo website : This is the most convenient thing in the clone websites that you can directly see and analyze to see what type of final website you will be getting. How every feature works in real-time. So that there will be no chance of confusion after development. 
Technical partner for the long term : Like we said earlier, You are not just buying a clone website but you are also buying the technical expertise for the long term and they will be on your side to assist you and help you whenever your platform needs. That is even without any extra membership cost. You can't get these benefits by working on it on your own. 
How do you find the best PHP clone websites? 
There is an end number of clone providers in the market but, you can differentiate clone providers with the best clone development brand by knowing more about the after-sale services they provide and the basic and exclusive features they will be providing. At BSETec, We always say that serving with the best in class after service and with transparency is the only key to develop a long term relationship with clients. You can also go through their portfolios and their client's final websites or you can directly see their demo websites to know about their outcome quality in depth. Also, You must see and compare the cost and benefits to see the difference that you are getting. Also, Find out what type of clones they are providing.
For example, At BSETec, we provide clones like
NetworkPlus – Upwork clone script

LivePlus – Live streaming script

DreamPlus – Ecommerce solution

AssetPlus – Zillow clone script

SchoolPlus – school management system

ExpertPlus – Udemy clone script a

nd many more. 
How much does it cost to build a website from a clone?
It purely depends on the nature of your website to get an exact amount of how much it will cost, but we can give you a rough idea. If you are creating a website like udemy from brands like BSETec then, the clone will cost you just around $299 for the enterprise premium version and normally every clone ranges around $ 299 for the enterprise version and you can quickly know about the open-source clone for your particular project in minutes by commenting below. Our experts will be right back with you with all the details you require.
Takeaway
In the whole discussion, We saw that clone development is far better than developing a website from scratch. It is more suitable for the cost and time-saving factors. Also, you are not getting any same designs or platform, You can customize anything in that according to your desire. The thing you are getting the same is inspired concepts. With clone scripts, you are getting an updated technology with many exclusive features related to your platform within the cost. And you will be getting many add ons options also. So going for clone development will be the best option you can opt. For in terms of every factor we can see. In case of any enquiry, You can directly get in touch with our product experts at BSETec