4 Major Things To Consider Before Creating an eCommerce App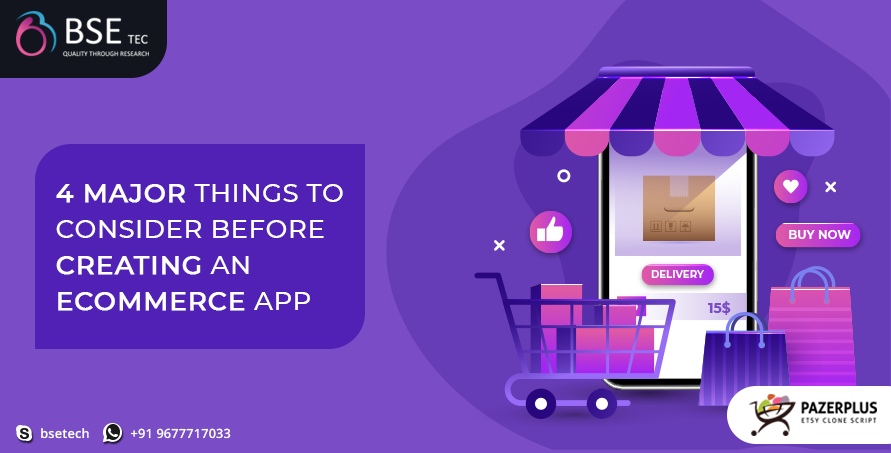 From bath salts to bestselling books, there's a market for almost anything and everything online. Infact, people trust the authenticity of the product when they shop online and buy themselves distinctive and high-quality goods and products. Online businesses are booming– with more and more people turning to eCommerce solutions for satisfying their necessities and luxuries. But, the ratio of users using an eCommerce App is much higher than the ones turning to a website. And thus, a huge number of young and old businesses and entrepreneurs are developing their own eCommerce apps using digital solutions like Clone Scripts. Best Etsy clone script– PazerPlus is one such example. 
Why are eCommerce apps more popular than websites?
Apps create a loyal customer base, and almost 67% of the customers who shop online prefer to use mobile applications of their preferred brand or company.

Mobile traffic accounts for 60% of all traffic, and mobile sales are going off the hook.

Surveys say that 79% of the people who have a smartphone have at least one shopping app installed. Apps load faster than websites.

Humans tend to have short attention spans, and if he's in the mood to shop, he won't tolerate slow loading; which is common in websites. It kills the user experience, which in turn will make them more likely to turn to some different brand or app the next time they want to purchase something.
Rule the eCommerce Marketplace with our Money Making eCommerce Script
In this extremely saturated market of eCommerce, the competition is undoubtedly high. Launching an eCommerce app is not a 'why' question anymore. It's a question of how to do it correctly. This is significantly more important if you want customers to keep coming back to your app.
So, to stay ahead of your rival companies, you are compelled to have a keen idea about what makes an eCommerce app widely admired, like your personal favourite eCommerce app. PazerPlus ticks all the boxes when it comes to a good eCommerce app, such as–
EASY REGISTRATION PROCESS–

 
The "login/sign up or register yourself" section for the users should be as easy as a cup of tea. 

It should take the minimum amount of time and shouldn't be lengthy where you need to fill up a lot of personal details. 
People keep browsing and scrolling for different options available in the e-market, and end up buying what they don't even intend to buy. 

Keeping a simple yet attractive user interface is a very powerful thing to consider while building an eCommerce app.
The check out option should be quick and easy. It should ask for minimum details, such as name, address, contact details and payment method.
MULTIPLE PAYMENT GATEWAYS– 
In this new era, some people still rely on Cash On Delivery, and some on wallets or UPI's. However, your app should provide the same, keeping all the kinds of customers in mind. 
The customers should be given a chance to keep the items they probably want to buy in the future. 
If the item the customer buys is defective or it doesn't fit, the return option should be lucid and simple. 

Users should not be afraid that they cannot return the item once they purchase it. 
This is one of the best features when you compare a website with an app. Push notifications can inform you about the best offers, deals, discounts, and seasonal sales in real time.
Users rely a lot on the reviews given by other customers and their opinions after they buy the items. 

It increases the credibility of the app.
But, to make an effective and efficient eCommerce app that brings in more visitors, increase sales and recurring customers, we need to consider the following before we build an app.
Things to consider before building an eCommerce app
FIGURE OUT THE GOALS OF YOUR BUSINESS–

Before jumping upon the eCommerce marketplace, you need to have a crystal clear understanding of your business goals. To know that, you should know where you stand now. After identifying your needs and wants, you have to get very specific with your short term and long term goals.
TARGET AUDIENCE–

Whom do you want to serve through your app, whom do you want to provide access to, what is the average age of the customers, what are their interests, what do they read, etc. are some of the questions that you need to figure out before you create the app. The more specific you get, the more it will shape your app for a particular niche of users you want to attract. 
CHOOSING THE RIGHT TECHNOLOGY–

Now that you are done with figuring out your goals and customers, you need to choose the right technology. You can opt for Progressive Web Apps or Native apps, in which the app has to be compatible in both Android and iOS. It should be easy to access and have a seamless mobile experience.
PICKING A REALISTIC BUDGET–

Remember that your budget is going to decide your E-commerce capabilities. Your budget is directly proportional to the features, functions or customizations you want to implement in your eCommerce app. 
If you are a budding entrepreneur, or cutting low on budget, it's not feasible that you can invest a high amount on developing an app from scratch. Rather you can opt for top rated clone scripts, like the Etsy clone, PazerPlus which has the design of the most popular eCommerce apps like Etsy, Amazon, etc. They are going to increase your visibility and also, you save a lot of time and energy and can develop the app within a short span of time.
CONCLUSION–
Now you have the knowledge and prerequisites to curate a successful eCommerce app.  If you want to start with yours today, we at BSEtec have helped numerous companies to create their own app with the variety of clone scripts available. Visit our site to find the best selection of website templates, with great tools and customization options to upgrade both the developer and user experience.