4 Smart Uses of AI in the ELearning Industry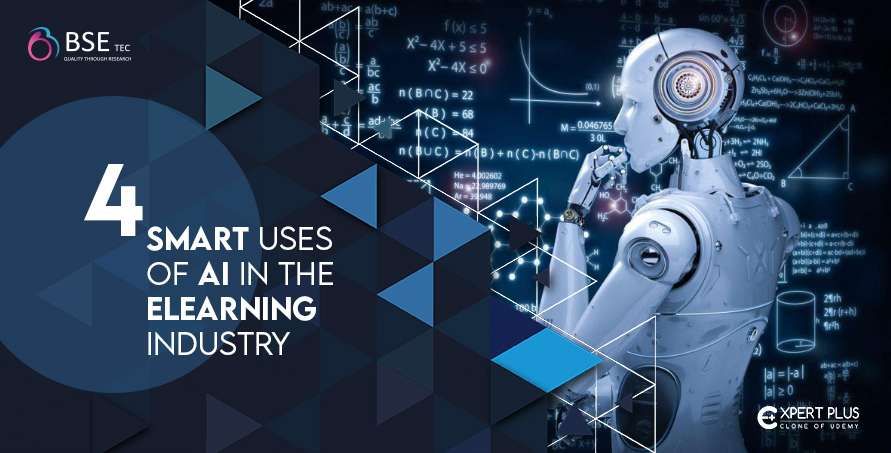 The introduction of AI in every industry is making it easier for entrepreneurs around the world to make virtual platforms more credible and user-friendly from the initial stages. Artificial Intelligence in the elearning industry sounds like we are making it more high tech and for smart people but it is not the case. Ai can only increase the user experience by enhancing the performance of every part of the learning management system. You should always go for udemy clone scripts like Expertplus to make these technologies more effective and to make them fully functional all the time because you are required to have a technical expert that can make it through.
AI for Customization :

 Customization is the key to the development of the elearning industry completely and we think AI can also do a very good job at it to maintain its benefits while making it more advanced. AI for customization means we add many tools that are AI-based to help boost up every way of getting more customization on every task. For instance, we will use AI to analyze and process more data to make it worthy for us to generate a more customized experience for users.

AI for stimulation :

 You can also use AI-based tools like AR augmented Reality, VR Virtual Reality, MR Mixed Reality, Or Virtual Assistants to make some advanced content with responsive nature to make it more valuable for learners to come online and learn in a way they never learned before. 

AI for Data Management :

 Data is the new and most advanced asset in the world right now and companies are spending millions and billions on its management so that they get to know more about the consumers. By getting AI work on data management, you can save so much time and effort as AI can do it many times more efficiently and it allows us to get more information about our customer's behavior based on data. 

AI for more security :

 Security and data privacy is something that we have to do without saying. And it is a kind of entrepreneur's responsibility to maintain some levels of security over the platform to preserve the trust of every user. We can make our platform more than secured if we do it with the advanced tools of Artificial intelligence. We can integrate with services like blockchain to make sure our platform is non-breachable, and in that way, we can make it more fast and secure in no time.
By using the udemy clone scripts like ExpertPlus you are not only getting an advanced clone script but also you are getting the liberty of working with the most advanced technical brand BSETec where you don't have to go there and here, You will get every advanced technology right away in the single hood and also along with that you also get many additional benefits that make it more worthy to use like Free installations, free system updates, and premium technical; support of the BSETec professional team. You can even claim the free of cost version of this udemy clone script at Expertplus today for development.
Contact Details
Email : support@bsetec.com
skype : bsetech