5 Business Ideas to Develop with Augmented Reality App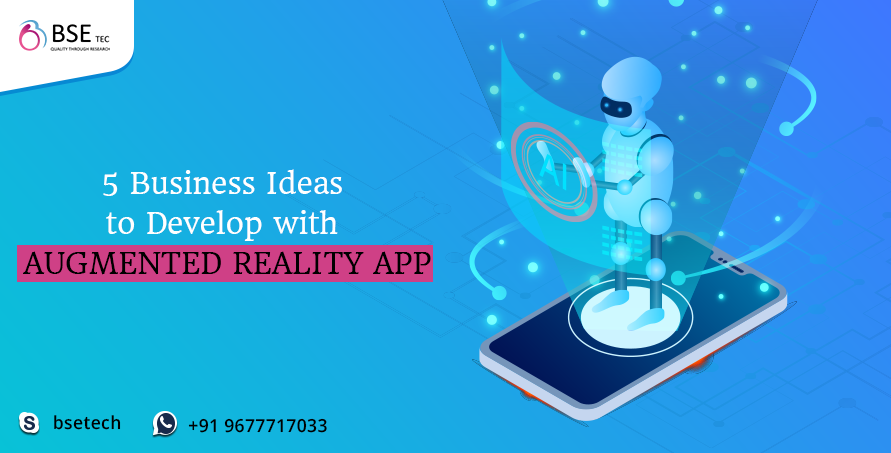 Artificial Intelligence is a broader term to understand, and based on its every feature or usage it has its own merits. But there are some kinds of features of AI that are developing another industry with more scope and when it comes to developing a more interactive and efficient interface there are many features and tools of AI that can be used very delegate. 
AI-based features like Augmented Reality are one of them, As Augmented Reality is one of the most advanced and most popular features of AI that provide a more responsive and interactive experience in many uses. AR is basically an interface where we utilize mobile cameras with AR filters that provide 3D graphic representations to give a more responsive and interactive experience over the application. It is efficient because it doesn't require any headsets or setup to experience, and you can directly use it efficiently with the Augmented Reality app. 
Today we are here to discuss 5 business ideas that you can develop with this high-end technology
AR in Elearning :

 E Learning with Augmented Reality would be the biggest trend of the future, and it is the right time to use it as the common technology and you can start that era by developing an elearning app with integration of advanced AR technology. The Augmented Reality possibilities in enhanced knowledge sharing are endless as it provides a user experience that can develop your course completion rates and retention rates among learners around the world. You can develop an elearning app through an advanced udemy clone script-

ExpertPlus

to get this technology with full fledged elearning software in no time. 

AR in eCommerce :

 The eCommerce industry can also be benefited from this technology and we have seen many examples in real-time also that are using this technology in this industry. Global brands like IKEA, Lenskart, and many more are eCommerce brands that are using AR to give customers the feel of the product first hand before they even buy them virtually. You can also develop that advanced

eCommerce marketplace

with the integration of an AR interface to give that kind of user experience in real-time.

AR in Social Media :

 Social media industry is all about user experience and user-generated content. You can develop social media apps like

Instagram

with AR integration to get so many things that users can find interesting. For instance, you can develop AR filters for videos and photos for your social media platform or even you can develop many other uses based on your creative skills to get the most out of it.  

AR in maps :

 This will be the future, and you can be part of this futuristic idea by developing an AR-based navigation software where instead of using maps people can navigate through real-time with their camera with AR-based interactive instructions. This is an idea that we may see by moe brands in the future and you can be an early platform for this kind of advanced platform development. 

AR in explore app :

 You can also develop a pure Augmented Reality app with an advanced interface where you can develop a platform where anyone can get any information about products and explore new things about the things around us with the help of integration of search engines with it.
With the BSETec, Platform development opportunities are endless by using technologies like AR. There are many technologies that you can additionally get with this technology to develop the most advanced application with the latest technologies available in the market at an affordable cost. You can check out the more advanced scripts provided by BSETec to see what you can develop in real-time, and also you can get in touch with us today to discuss more about your idea by submitting your contact details at the communication address below. 
Contact Details
Email : support@bsetec.com
skype : bsetech