5 important benefits of Artificial Intelligence must needed In the E-commerce Marketplace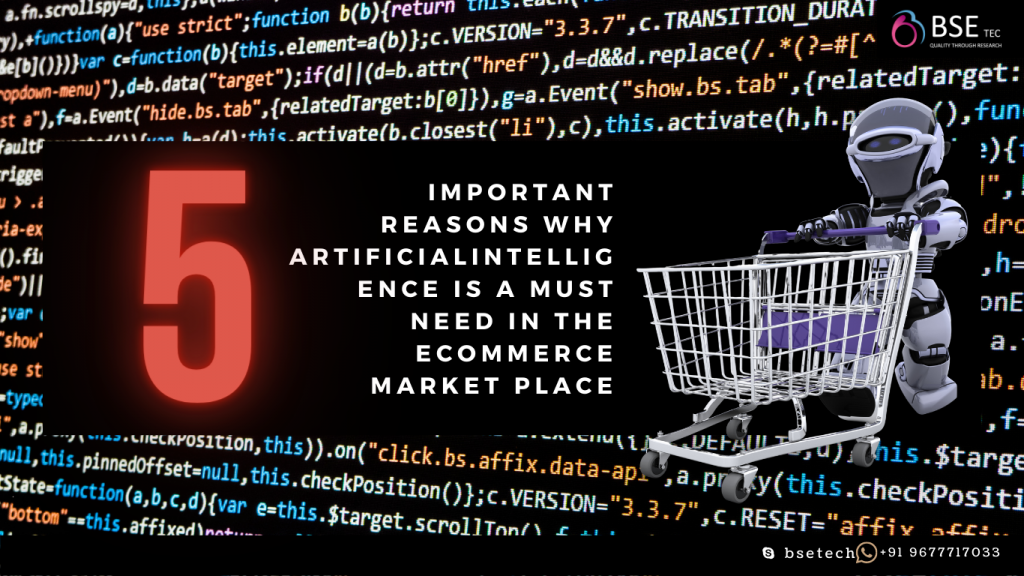 The ECommerce marketplace is a rapidly growing industry, and the year 2020 is the best year to start an ECommerce platform. Every small, medium and large product is coming online to sell their product to consumers as this is the only way now because of the global pandemic and lockdown. Ecommerce marketplace development is very convenient and is affordable if you go for the right resources that go with your mission and idea of a unique and advanced platform. Many advanced Etsy clone scripts are available in the market with many loaded readymade features and the latest technologies and tools for the development of a perfect ECommerce marketplace. 
We believe that technologies like Artificial Intelligence (AI) can be the best choice to utilize in the ECommerce platform. AI can be beneficial in many areas when it comes to online selling, and we at BSETec are very motivated to provide this technology in the safest way possible. We also created PazerPlus – an Advanced Etsy clone script that allows you to develop your platform with the latest technologies available with the more user-friendly enhancement tools. 
Here are 5 important benefits of AI in an Ecommerce platform
Exceptional recommendation experience :

 In an eCommerce platform the recommendations are very important and they need to be accurate to make it better for consumer's experience and also to increase sales. With AI you can enhance your recognition tools on the eCommerce marketplace. When you go with the clone script provider that is working in this technology in depth like us, Then you get the leverage of the development of a more advanced platform.

Real product experience :

 There are AI-Based tools like Augmented Reality and Virtual Reality that you can utilize in your platform to make it easy for your consumers to experience every product in reality. There are companies like IKEA and Lenskart that are already utilizing these technologies by giving real experience to consumers of their product before they buy them to enhance the decision buying experience. 

AI Enhances Data Analyzing :

 AI is known for using it for data configuration and analysis. You can analyze and process the mass data easily from time to time to make your platform better and safer for your audience. You can analyze the product buying analysis and buying patterns to recommend more related products so that customers can find their product easily on your platform. 

Personalization Experience :

 Personalization experience is something that is a trendy and very popular tool to attract more customers to your platform. With the mass users and bulky data of the customer buying patterns, AI is the only tool that allows you to analyze it better, and it makes the customer experience more convenient to adapt. 

Technical Advantage :

 When you develop your platform with the clone script providers like us. Then you have the advantage to get this high-end technology along with the perfect eCommerce marketplace. When you get on business with us then you can be sure of the security of your customer's privacy and data over eCommerce solutions. As we use high-end technologies like AI-based tools and services to make it more secure for you and your clients to be on this platform.
We at BSETec always believe that the customer experience and security is the king of any market. We created a PazerPlus-Etsy clone script for entrepreneurs like you. It is loaded with many readymade features, and it develops your platform with the latest technology available in the market to make it fully functional 24/7. You can explore all its features and beautiful development in a free live demo today.
You can directly get in touch with our product development expert right now by commenting below or by dropping a message on the given details today for getting all the answers regarding an advanced Etsy clone.
Contact Details
Email : support@bsetec.com
skype : bsetech