5 Ways Instagram Changed the Tech World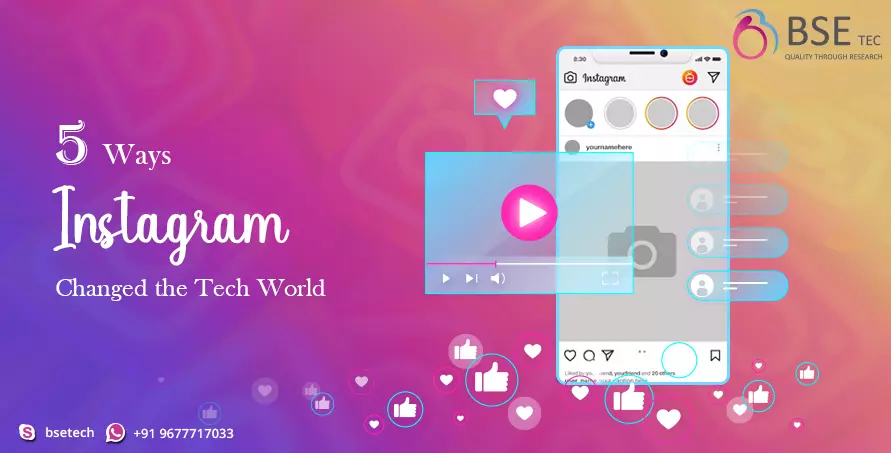 Instagram transformed the world, not just technology. Instagram has dominated many of our lives as the most well-known social media platform to date. In many ways, it established the standard for social media platforms and significantly impacted how we interact with technology and one another. Here is how it has changed our world and the tech world.
An Effective Engagement:

Instagram was one of the first platforms to demonstrate what genuine user engagement looked like to the tech industry. Instagram has been the most potent platform for user engagement in the entire history of social media, while Twitter and Facebook had several hit-and-miss moments. Instagram regularly updates the platform with new and cool features to make the users hooked to the platform. Several other tools they've introduced help people connect with one another, from the advent of

Augmented Reality

filters and Reels (to make up for the ban on Tiktok in countries like India) to contributing reactions to stories.
A Significantly rise in Photography:

The rise of photography is one of Instagram's most notable contributions to both the technology revolving around photography and a significant shift in world culture. Instagram has helped Cameras and smartphones (Cameras) to evolve better, Instagram also spurred the market to develop more advanced camera parts. In simple words, Instagram made everyone a photographer. Filters gave individuals more confidence in what they could do on Instagram and served as a basic building block for photo modification. This improved average photos, which in turn inspired individuals to create more.
Going Live:

The ability to broadcast live on Instagram transformed the game when it comes to content, albeit feeling odd in the initial stages. Instagram has been the only platform where going live has developed a forum for content creators and viewers to connect, as well as partner on live streams together, even though they weren't the first to do it. Instagram has more live content engagement than any other

live streaming platform

which even big brands are utilizing as a digital marketing strategy! Since it is a mobile-native app, it fosters a more personal atmosphere for real-time communication.
Let's Get Musical:

After partnering with the music streaming service, Spotify, Instagram was able to embed music into Instagram posts. This allowed users to contextualize events occurring in real life by applying various tunes to various tones of their Instagram posts. The community reacted well, and Instagram is now a fantastic tool for discovering music in addition to being a way of easily integrating music into the content.
Using Augmented Reality's Potential to its Fullest:

People found it difficult to interact with

augmented reality

before Instagram realized its full potential. While apps like Snapchat and B612 were the first to debut face filters, Instagram took the idea of Augmented reality and made its potential to be available for everyone by adding them to Instagram stories. This gradually evolved AR filters into something huge businesses have taken note of as well, with the future of them only getting bigger and bigger. They started off as a fun way to add more interactive material to your Story.
We can help you design and build a feature-rich app like Instagram. We may tweak the Instagram clone app development if you want to add some unique features. Share your concept with us, and we'll work with you to make it a fully functional product. For further information and a live demonstration, please contact BSEtec.