5 Ways To Incorporate Augmented Reality In Education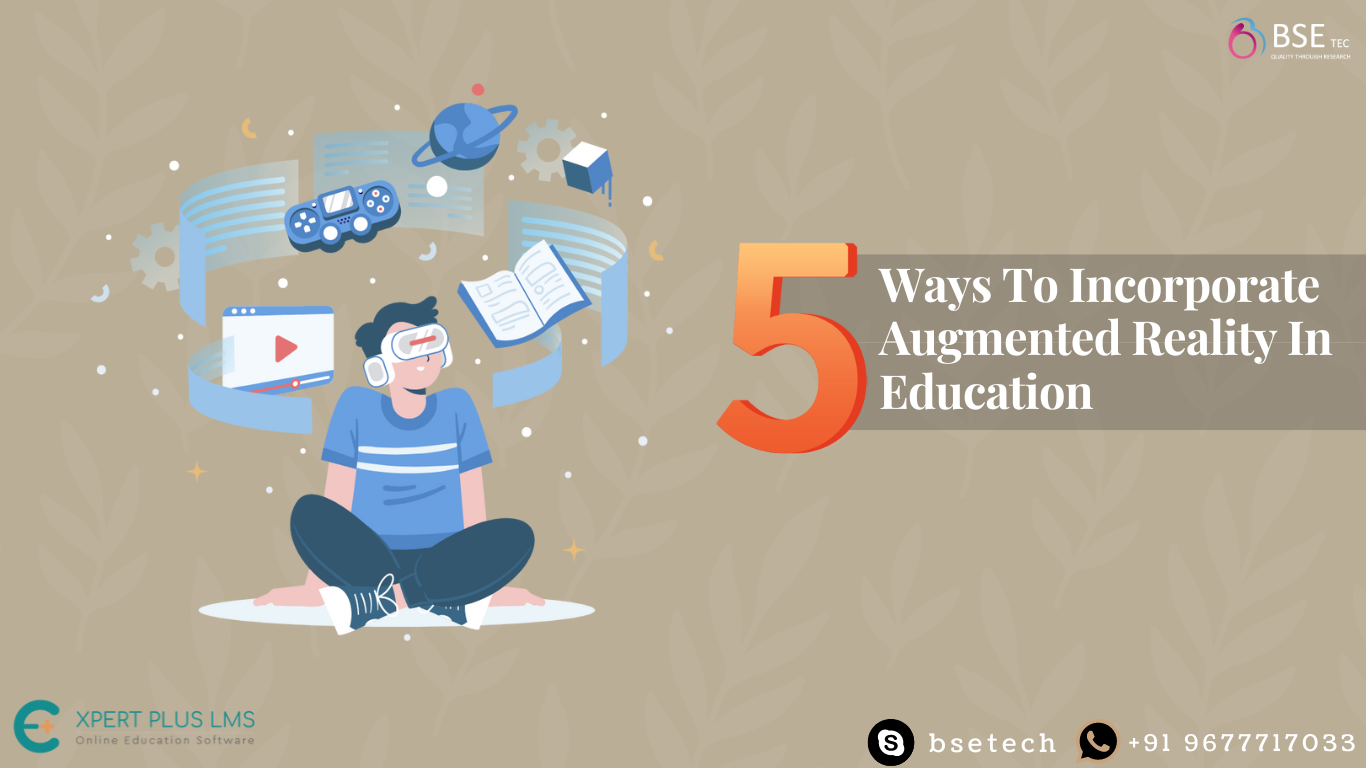 Traditional educational systems as we know them are becoming obsolete. They are becoming increasingly digital as a result of technological advancements. The online education technology business, or EdTech, is predicted to reach $680.1 billion by 2027, increasing at a 17.9% annual rate. Augmented reality is unquestionably one of the most prominent trends in EdTech. With the value of augmented reality in edtech expected to exceed $5.3 billion by 2023, a plethora of opportunities for educational institutions and businesses will undoubtedly emerge. So, it is always better informed about the billion-dollar emerging techs to grab the chance when it emerges. Well, now you are an online tutor, and instructor at an online course marketplace on websites like udemy, how do you incorporate Augmented reality into your courses? Well, then this blog is for you. Here are a few pointers on how to incorporate Augmented reality into your online education platforms.
Augmented Reality Apps For Kids
It's no secret that children are early adopters of innovative technologies like augmented reality. Some of the most inventive augmented reality teaching apps are designed for children. AR developers are developing apps inspired by the success of PokemonGo that will transform the way youngsters read books, look at art and posters, learn science, and do school lab experiments.
Augmented Reality In The Classroom
The usage of augmented reality apps directly in the classroom is likely the most popular application for augmented reality in education. In this situation, they can assist the teacher in explaining a subject, providing a visual representation of the material, and helping students in testing their knowledge in practice. You can discover an AR app for practically any discipline, including chemistry, geometry, biology, linguistics, and even programming. 
Augmented Reality For Professional Training:

Nowadays, the typical shelf-life of a given professional skill is about five years, which means that organizations in both the corporate and government sectors must regularly educate and re-educate their staff. Here are some examples of how organizations across industries are utilizing augmented reality for workplace education and training.

Augmented Reality In Healthcare Education:

Medical occupations necessitate a high level of skill and accuracy because any mistakes might have a severe influence on the health and well-being of patients. In medical education, augmented reality is typically used to help students study through interactive visual representations, to build simulations and train medical students, and to practice surgery or other medical procedures on virtual patients.

Augmented Reality In Military Training:

Some of the most extraordinary examples of augmented reality in teaching come from the military. Soldiers are usually required to relocate to a certain location for military training, which consumes time and money. AR can create an environment that closely replicates the area where soldiers are supposed to operate. Similarly, by projecting digital pictures of weapons, adversaries, and vehicles onto AR glasses, AR may simulate a combat scene without exposing soldiers to danger.

Augmented Reality For Manufacturing Training:

Manufacturing provides some of the most remarkable instances of how augmented reality may be used in education. Previously, learning how to handle sophisticated machinery needed extensive preparation and theoretical understanding; today's personnel may complete their tasks by following real-time instructions projected on AR screens. Furthermore, businesses may now hire people with minimum abilities and experience and train them on the job with AR instructions.
Aside from the learning experience and extensive knowledge that augmented reality software provides, what distinguishes it is its capacity to engage students in the course. In augmented reality apps, student engagement is quite remarkable. So, if you are an online tutor, use this augmented reality feature in your course to stand out from the competitors. If you are an instructor looking for ways to establish an AR-enhanced online course marketplace website like udemy, check out ExpertPlus LMS, the best udemy clone script to launch your udemy clone app. For additional information and a free live demo, please contact BSEtec.