7 Food Delivery Trends For The Coming Years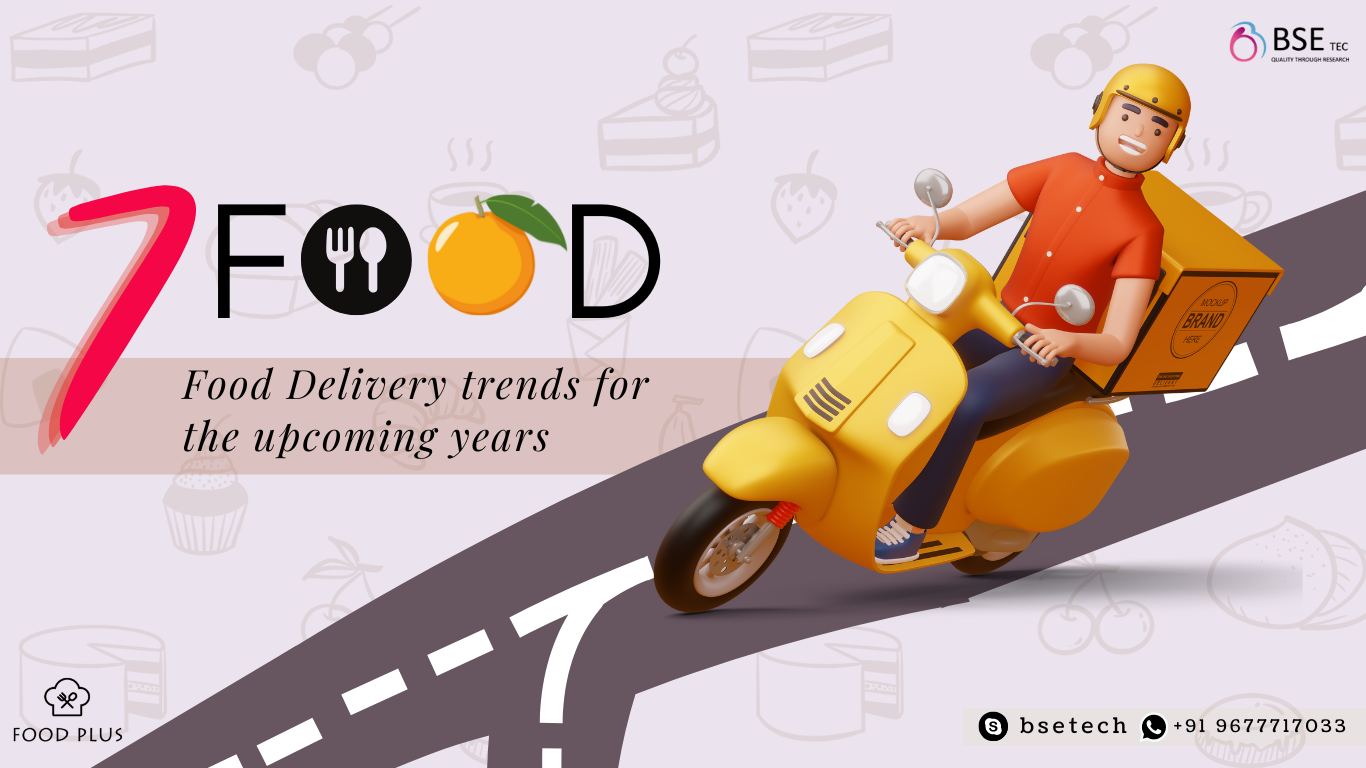 The advent of appealing, tech-driven, and user-friendly apps coupled with changing customer expectations has led to the major Ready-to-eat food delivery sector. With the pandemic, the food delivery sector got an enormous boost and came as a savior for the worst-hit restaurant business during lockdowns. Here are some of the food delivery trends that are expected in the upcoming years, to give you an insight into what is in the forecast so that you can gear up yourself in the food delivery industry game in advance.
Delivery of Groceries:

We are in a 5 or 6 days work week culture, almost both parents are working professionals and they get only weekends to spend time with their family and children. This has led to an increase in demand for in-house grocery shopping. People don't want to spend their time traversing through the supermarket aisles and standing in the never-ending queues. Grocery delivery will be a big market in the upcoming years because of the speed, reliability, and flexibility. With instant delivery and scheduled delivery options, there is no doubt Grocery delivery is going to be a major hit. It is a safe and time-saving option for getting your groceries delivered to your doorstep.

Delivery by Robots:

It's official. Robots are taking over the world, one

food delivery

at a time. Kidding! But many giants like

Doordash

are working on robot deliveries by collaborating with starship technologies. Starship Technologies has already launched

robot food delivery

on the University of Tennessee campus, to deliver food for students in multiple locations on the campus. 
The robots' dependability in avoiding traffic and stolen goods has been contested by many. Through Starship's cutting-edge technological security procedures, the robots are kept incredibly safe. The optimal path for the robot to travel for efficiency and safety is determined using satellite imagery, which the robots use to navigate from place to place. Twelve cameras, sensors, and radar are used in each robot's individual situational awareness bubble to help it avoid objects like vehicles, animals, and people. With advancements in Artificial Intelligence, delivery by robots is going to be hash one trend in upcoming years. 
Do not worry if you are concerned that someone might steal your food. The high-pitched shrieking noise that is made when unauthorized people attempt to pick up the robots has discouraged many from trying to steal from them.
Delivery by Drones:

One of the coolest innovations that many businesses around the world have attempted is drone-based online food delivery. Since 2012, a lot of businesses have taken the initiative to use drones to deliver meals to their clients. Though Dominos delivered Pizza through drones in Newzealand in the year 2016, they are working on it. But the latest

food delivery service

tech giant Zomato used a drone to deliver meals in about 10 minutes. It traveled 5 kilometers at 80 kph with a payload of 5 kg. TechEagle, a drone startup, was acquired by Zomato to carry out this work. Smart move by Zomato to acquire drone startups, they are geared up for the big game!

Contactless Delivery:

Contactless Delivery is the most prominent means of delivery, though the trend started with the pandemic due to social distancing, it is likely to continue in the upcoming years as well.  Many food delivery services like GrubHub provide the option to receive contactless delivery after placing their food orders. In this instance, the representative merely leaves the lunch delivery at your door.

Virtual Kitchens:

Cloud kitchens are another name for virtual kitchens, which exclusively create meals for delivery. Additionally, they are among the lucrative developments for food delivery in 2022. You only need enough space to set up your kitchen alone, without any eating area. You'll be able to properly manage the order distribution process as well as save money. Many providers like Swiggy have already set up their ghost kitchens as a hassle-free cost-effective measure.

Crowd Sourcing:

For

food distribution companies

, finding qualified drivers and keeping them on board can be challenging. Furthermore, you can't always depend on the flow of traffic. Therefore, it is preferable to choose to crowdsource. One of the effective trends in the

food delivery sector

is crowdsourcing. You can make use of the nearby distribution area drivers. After this, you might employ them to bring the food much earlier than scheduled. This will hasten the process of

distributing meals

. There are numerous businesses operating in this manner.

Delivery by Self-Driving Cars:

The idea of autonomous vehicles has been around for a while. And it has consistently maintained corporate firms' interest. It is included on this list of the top trends in online meal delivery for this reason. Almost all of the newest trends in meal delivery are being addressed by DoorDash. In order to test self-driving cars for dinner delivery to customers, the company earlier this year partnered with General Motors. In San Francisco, they intended to test the automobiles. The global market of autonomous vehicles is expected to hit the $556.67 billion mark by the year 2026. So, don't say we didn't say! Get ready for the big show with the food delivery by self-driving cars trend! 
These are the market trends in the food delivery sector. Hope this article helped you to give an insight into what's going to be the trend in Food delivery service! Looking for easy ways to launch your food delivery app? You are in the right place, you can launch food delivery websites and apps seamlessly with the top-notch GrubHub clone script. Contact BSEtec for more details and a live demo session.