7 Quick Ways to Make Money Investing in Realestate business 2020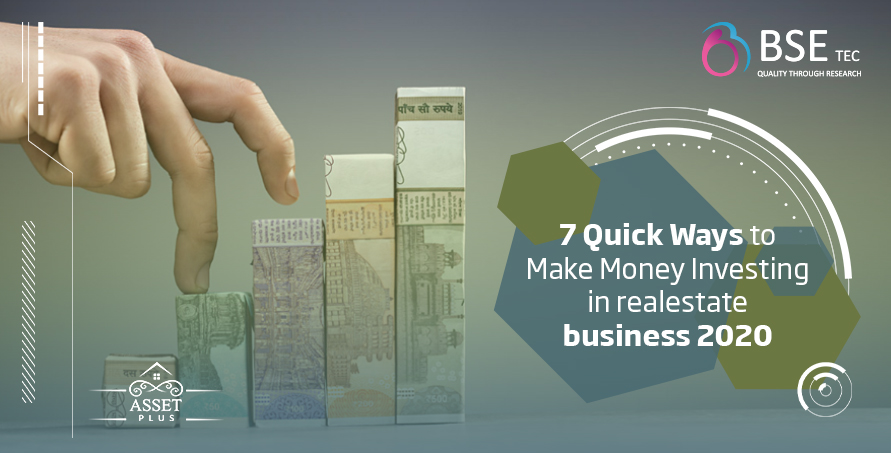 Real estate is always one of the best sectors to invest as it is one of the dynamic and high functioning areas. Every year, new business models and strategies arise and even the beginners can cope up with the challenges that come up. Now, experts do advise that the beginners can avoid high-risk investment such as flipping houses which involves huge capital and requires great knowledge in the field. We have gathered 7 easy ways in which you can earn money through real estate investment.
Invest in residential rentals : Buying and selling of properties may be dynamic but the flux in the market rates makes it uncertain for the investors. The safer way to invest is to buy a residential property and rent it out especially on long-term rentals. Compared to multi-family homes, it is advised to go about in buying single-family homes. The reason is that the latter is easy to buy and requires less maintenance. Another advantage is that the tenants usually stay longer and are loyal to the house owners which is essential beyond the money factor. You can also list your homes in the real estate app or website. To create a real estate website for yourself, use Trulia clone script or Zillow clone script. We would recommend you to try the Asset plus app.
Turnkey properties : For a beginner, turnkey properties are the best way to invest. It involves investing in the properties owned by companies and the investor only has to invest a little amount, there is hardly any need to spend on the renovation as the organisations take complete care of the process. So, if you are a beginner, you can start investing in turnkey properties and reap the benefits.
Put out your own house for rent : You can buy a house with multiple floors and rent out several floors and live in one of them for free. You can manage the expenses with the rental income that you get from letting the other spaces in the house. It could be a villa or an apartment but must be a multi-family home. This is also known as house hacking which helps in gaining some basic knowledge in real estate business management.
Rent out for Paying guests : Besides hotels, people look for paying much affordable guest accommodation and have the look and feel of a home. Various companies like Airbnb, Goibibo and OYO offer the option to collaborate with them and help you get more customers. It is best to buy such a house in tourist places where there is a great scope as travellers and foreigners lookout for places to lodge.
REIT : If you are not willing to buy properties as you may feel that it is hard to manage and maintain, you can invest in what is known as Real Estate Investment Trusts. By doing so, you can get your share just like in stocks and mutual funds. You can save a lot of money right from maintenance expenses to looking out for tenants. But to simplify that process, you can create a real estate market place using real estate website clone.
Create a real estate app :  You can use a property listing script or real estate PHP script to create a real estate website. Now, when you are done, you can manage the app as thousands of people upload property details for buying, selling or renting. This is one of the best ways to invest as the world has converted into digital medium usage in recent times.
Invest in investors : By lending money or investing money on projects by the real estate investors who have the potential, you can learn how the flow works and at the same time, your share reaches you promptly. Sometimes, real estate owners even those who are genuine find it hard to get investors. Supporting them in tough times allows building a good rapport with them.
To learn more on how you can invest in real estate and if you want a real estate website for your venture, feel free to reach out to us. We'll help you out with our asset plus Trulia app clone which is the best of its kind property listing script.