You Will Never Thought That Owning A Upwork Clone Script Could Be So Beneficial!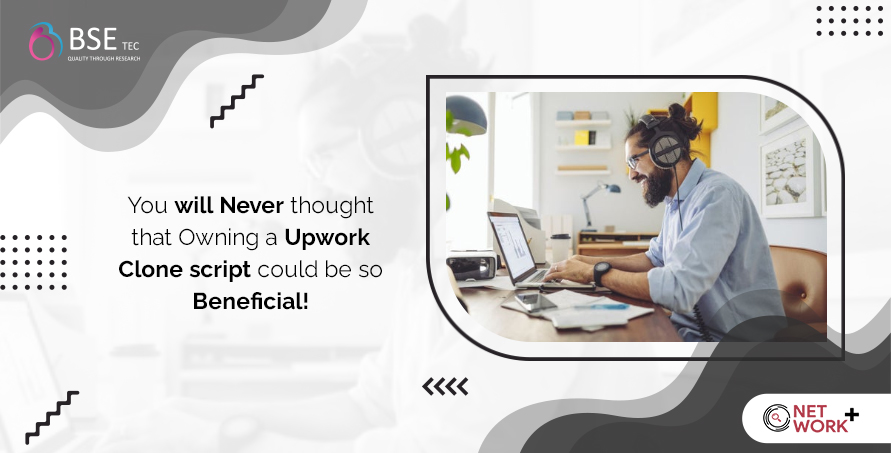 In the year 2020, The demand for freelancers and the freelance marketplace is rapidly growing. This is because the skilled professionals are thinking about freelancing as a career option. After all, in freelancing they can work in a way they like. They can do work on a project basis with flexible hours and good Payout. There is nothing like location barriers in the freelance marketplace. For freelancers it's more than awesome that they can work from anywhere for anyone at any time. Entrepreneurs who are thinking of starting an online venture, They may give the freelance marketplace a thought. Freelance bidding websites are very successful because it is a one-stop solution for freelancers and clients from all over the globe. At BSETec, We exclusively created a NetworkPlus-Upwork clone script to encourage new entrepreneurs in starting their online marketplace.
Let's discuss how the Upwork clone script is beneficial for you:
Engagement :

 Freelance websites always get the highest engagement on the internet because of its two side demands. First, It's the best place to hire skilled freelancers at a reasonable cost for a particular project from around the globe. And secondly, It is the best platform for freelancers to get valuable projects at a good payout from around the globe. If you are thinking of starting a profitable online business, Then now is the time to get an opportunity in developing a

freelance clone

. 

Premium features : 

There is an end number of premium features you are getting with the Upwork clone script. That you can use in enhancing the user experience on your website. In a freelance website, features play a vital role. Because freelancers and clients will only come on your platform if they see the valuable features to explore. The advanced clone scripts like

NetworkPlus

are the one-stop solution for A to Z features of the freelancing marketplace.

Features like:

Advanced Admin dashboard
Single view design
Responsive design
Bidding management
Freelance and client reviews
Client and freelancers account management
Escrow system
Chat rooms
Membership management
Profile management
Rehiring Freelancer/Reuse Job Post

Easy to handle : 

Scripts like

Network Plus

are very easy to manage. starts from its advanced admin dashboard, You can manage the whole freelance site easily by the admin dashboard. The

Readymade Upwork clone

scripts are easy to set up and we at BSETec always are on the backend of your business to make it fully functional all the time by providing you regular technical updates and free installations. If any problem still arises, You have our unbeatable customer support at any time. 
Starting an online venture is the best decision you can take in this virtual era. The development of the platform via clone script is the best option if you want to save money and time. We always act as technical expertise with our clients and we take our creativity at another level to make their platform fully functional and effective at every level. For a better understanding of how the Upwork clone script works, Take our demo now at https://www.bsetec.com/upwork-clone/