9 Things You Probably Didn't Know About AR In Udemy Clone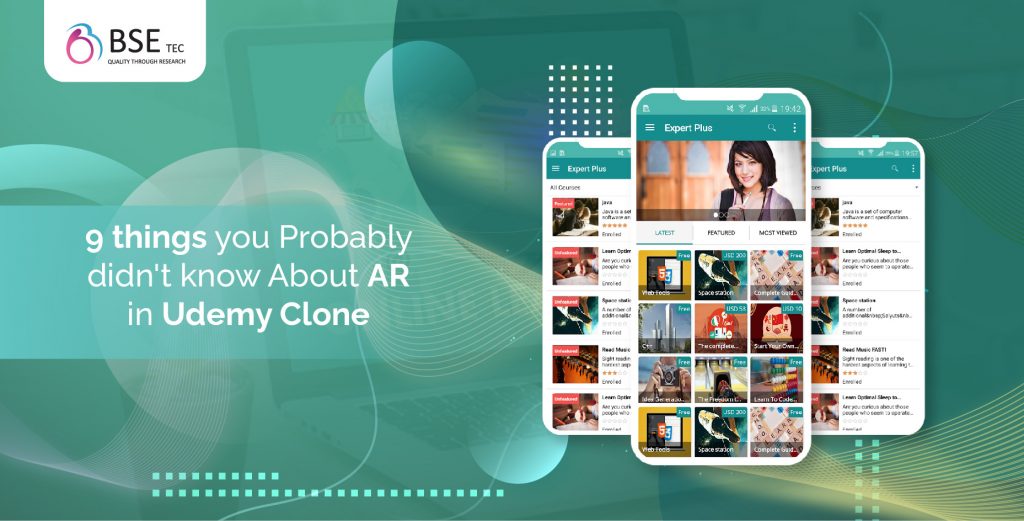 In the year 2020, In the time of COVID-19, We are all fighting together by staying home. Along with businesses educational institutes are locked down now for a long period and institutions are promoting online learning more to make sure studies should not be compromised. Entrepreneurs around the globe are also working hard on developing valuable learning management systems to help students and tutors. And entrepreneurs are not just giving the perfect platform to learn but also they are uplifting quality standards of these platforms by offering more than just video lectures by collaborating with the latest technologies like Augmented reality. In order to offer technologies like AR in eLearning software, They need to develop the platform with the best Udemy clone script with the latest technology like ExpertPlus to make it fully functional. We at BSETec came up with some points to know about AR in depth-
Adds value : 

 Augmented reality (AR)  is something that brings additional value to your eLearning software by making learning more fun and engaging with students.

Augmented reality enables the wider scope of education with more futuristic tools. 

Opens door to next level learning-

 Augmented learning is something beyond perfection because learners can experience the things they can't in reality. Like bringing dinosaurs in the classroom to know more in the depth of the human body. All are possible now. 

Boosts up the platform engagement : 

Tools like AR bring more students on your mobile apps because students always look for a platform that has something new to offer and something interesting. 

More completion rates : 

When students are getting an interesting platform that provides something by which they can stick to course with interest then there will be more completion rates in every module. 

AR requires the best platform : 

To use these kinds of high-end technologies with the best performance then you need to find the right

udemy clone script

like

ExpertPlus

Which is created with the latest technology and which is easy to customize. Also, scripts like ExpertPlus are so easy to handle that a non tech guy can also manage the tutorial site at ease. 

AR for sharpening skills : 

The majority of the audience on online learning software are the ones who are coming there only to learn specific skills and gaining a valid certificate. With an AR enabled platform they will have the liberty to enhance their skills with less time and with more efficiency.

Beneficial For web-based courses :  

Technologies like AR are best in class for the web-based course for making them more efficient in the online learning website. It creates an organized personalized path in online learning that help students learn more in-depth topics ]

Marker Based and Location-Based AR : 

These are the types of AR. The marker-based one is used in image recognition and it also works well with 3D images. Location-Based AR is when you use geographical tools such as GPS to identify objects and make them functional. 

AR requires a technical backend : 

Customizing your clone script with this type of technology works fully functional when it runs on a good platform with the latest technology and it requires regular updates and monitoring. That's the reason you should choose the right script with the right technical expertise on your side to make your platform accessible and functional at every time. 
Along with all these points you need to know that if you are in a way of developing the next generation eLearning software then you also need the best script with advanced features to make it fully functional and easy to use. ExpertPlus is the digital software solution for you because it not only provides top-Notch features but it also brings our team of professionals who will work on the regular updates for your platform's technology in making your platform better. For better insights of ExpertPlus. checkout https://www.bsetec.com/udemy-clone/