A Guide to Become a Successful Entrepreneur in the E-Learning Industry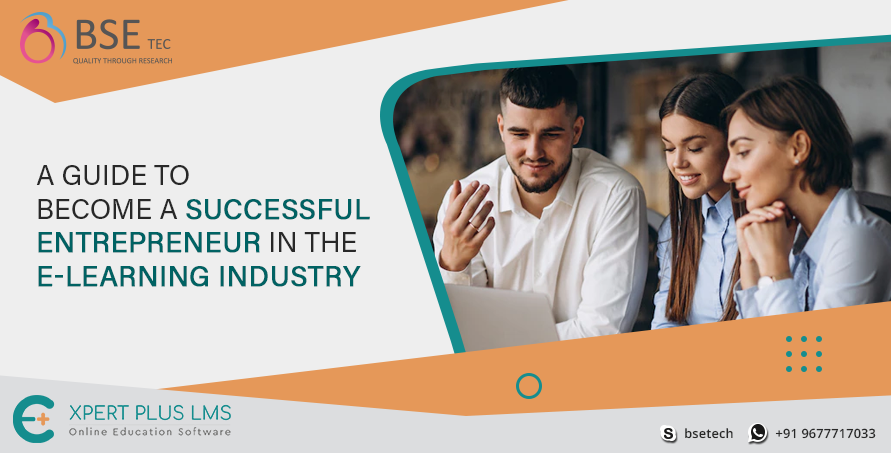 In recent years, the eLearning business has been getting extreme popularity and with rapid innovations in technology, it has become one of the most reliable modes of education. With the advent of the coronavirus pandemic, the schools, colleges and other educational institutions have been shut down and the students, teachers, and everyone had to be confined in their homes. In this time of need, the demand for online learning platforms like Udemy, Lynda, etc. increased severalfold. 
Why is eLearning so successful? 
eLearning is not just a fad or trend, it has transformed the structure of learning fundamentally and gave rise to a more personalized form of studying, giving a better educational ecosystem that even the traditional classrooms have not been able to provide until now. 
In generalised learning, it does not look at the way a child learns- however, in eLearning– auditory learners, visual learners and kinesthetic learners– all are equally benefited, so it's a win-win situation for all. 
What is the cost of creating an eLearning platform like Udemy? 
So, now that you are thinking of creating a platform like Udemy, you should know that building Learning Management Systems like Udemy, Moodle, Lynda, etc. from scratch is really expensive and takes a long time to get fully developed and functional. However, if you opt for Udemy Clone script– like ExpertPlus LMS, then you can create a very similar platform and that too without costing you a hole in your wallet. 
So, how do you become a successful entrepreneur using the Udemy clone? 
Well, Expert Plus LMS has a number of features that makes it the best in this industry. 
User-friendly interface – In an

LMS

, it is extremely important that you have an interface that is user friendly and is visually appealing and eye-pleasing. The users are going to spend a lot of time viewing and learning the courses, so it's crucial to make it simple to navigate, yet– attractive to look at.
24X7 Access – It is a given that the best feature of online learning is that it is accessible 24X7. You can even browse and learn the courses at odd hours of the day, and from anywhere around the globe.
Integration of AI, AR and VR – Having an LMS that is personalized according to your preferences, and shows you courses and recommendations according to your search patterns is done by the integration of AI and ML. Furthermore, AR and VR can be implemented to make learning more fun and engaging.
Discussion Forums – Forums for discussions, debates, quizzes, questions and queries have been provided in ExpertPlus LMS. It helps the users to interact with one another and doesn't let the engagement ratio drop.
SEO friendly – The most important of all things is SEO.

ExpertPlus LMS

is Search Engine Optimized which gives you a bigger room for becoming a success. It brings in organic traffic and ranks your site higher up in the search engines like Google. 
Summing up
So, if you are considering investing in creating an LMS and want to start your entrepreneurial venture, then why wait? Contact BSEtec today and get your live demo of our Udemy clone!