A sneak peek into corporate E-learning for 2020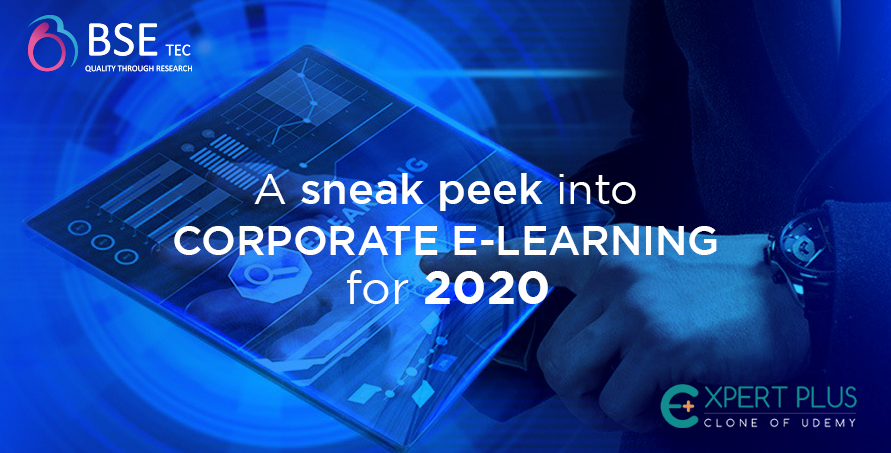 Corporate learning is one of the essential parts of the employee development programme in every company. The reason is that the employees are expected to stay updated with the current trend. Earlier, the employees were given lectures and projects to give an extended corporate training. But it consumes a lot of time and the method is now outdated as better alternatives have come. Employees find it easy to learn online through interactive modules, rather than long lectures and seminars, with which not only can they learn easily but also at a flexible time.
Beyond what was expected and predicted about the year 2020, our lives have changed and everything has become online to eradicate the spread of Covid-19. Be it shopping or work from home, we all rely heavily on the internet. So, it is important to understand the available tools and make effective use to ensure that we don't lose out on everyday activities at large.
Let's look at major trends in the corporate E-learning tools for 2020:
Gamification:
Learning is always considered as a burden by the millennials, a lot of memes related to learning, assignments and such are the evidence that students gradually lose interest in learning as they progress to higher classes. The same applies when they come for a job. They already have a 9 to 5 work schedule and aside, learning can cause them to lose interest. To make the process appealing, gamification can come to the rescue. The concept is to convert the study material into the fun-filled app, with more activities that are engaging, interactive as well as interesting. Including points, rewards and certification can also encourage the employees to learn more.
Video-based learning:
Video-based learning does not necessarily require high-end equipment, just webcam or mobile recorded videos can reach the target in a better way. A lot of vlogs and YouTube videos are widely watched and the creators hardly use any external devices. Videos help in remembering a lot of things rather than classroom learning. Videos can also simplify the portions in the textbook.
Immersive learning through AR, VR and MR:
The existing LMS and E-learning software companies are exploring the ways to integrate with the Artificial Intelligence application. Immersive learning is the most engaging way to learn as it pulls the complete attention of the learner. It can be a different experience and hence the employees would love to learn when it is adopted in the corporate learning as well. With the invention of VR headsets and other tools, we are likely to turn towards AI-based learning very soon and perhaps, many companies already have such a facility.
User-generated content:
We are in an era where there is great independence for anyone to publish their content easily and share their knowledge through various medium. So far there have been a lot of tools through which people have been sharing. Now, user-generated content can come into E-learning as well. Many people have started to handle online workshops and classes on various skills, which gives them a good income and also, people can learn remotely. Relevant user-generated content can be used as a learning module for the employees. For instance, an expert in soft skill may have curated video content focusing on soft skills. Such a video can be a good resource for the trainees in a company.
The above-mentioned trends are just the tip of an iceberg while there are more sophisticated methods that will soon be used commonly to learn online. If you want to create an E-learning website, use an udemy clone script like Expert Plus. It is one of the best clone scripts that you can avail with most advanced learning and teaching tools. The app is available for android as well as iOS besides the web.