Are Delivery Drivers Becoming Robots? We are entering an era of delivery via robots and drones!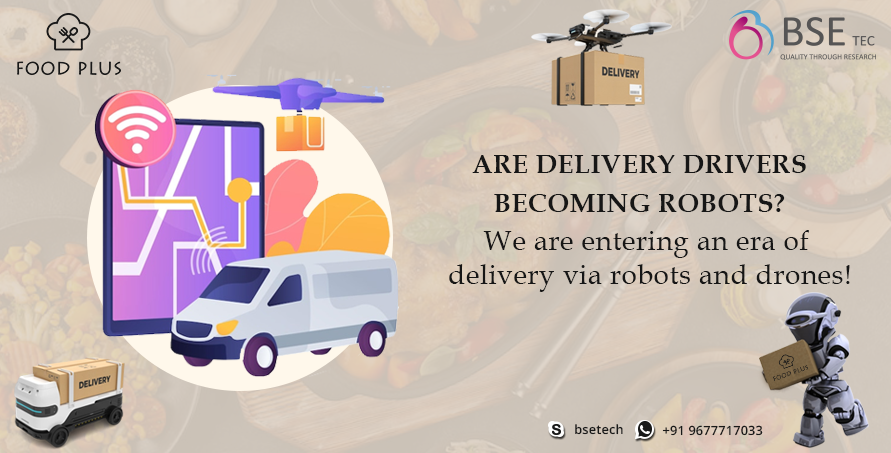 Your package has arrived! This is the most anticipated text message we like to see when we place an older, whether s a food delivery service or an amazon package. We expect super fast deliveries! People are working to improve user experience by increasing delivery speed, efficiency, and fewer errors.
The elimination of human error and a significant reduction in delivery time are the main benefits of choosing autonomous deliveries. When it comes to agent-driven deliveries, food delivery and e-commerce players must contend with a number of difficulties. Thankfully, automating deliveries can easily fix the majority of them. 
A few possible resolutions include:
Reassurance of contactless deliveries.

Saving the wages of delivery drivers.

Avoiding delivery agents' misconduct, faced in some cases.
Many logistics and food delivery giants are experimenting with deliveries through drones and robots. Are we really entering an era of delivery via robots and drones? Definitely yes! Here are a few examples of that.
Uber Eats Attempts Robotic Food Delivery
Uber Eats is currently testing self-driving food delivery in the Los Angeles area. According to TechCrunch, Uber is working with Motional, an autonomous vehicle company, and Serve Robotics, an autonomous sidewalk delivery company, to make this transition a reality. "We want to make Uber the best platform for all AV technology partners—to leverage the power and scale of Uber's platform to bring safe, dependable autonomous technology to consumers worldwide," an Uber Eats spokesperson told Gizmodo in an email. "These one-of-a-kind pilots are among our first steps toward incorporating autonomous technologies into Uber's strategy to be the one global platform.
Significant Investment by Walmart in DroneUp, a Nationwide On-Demand Drone Delivery Service
Walmart is expanding drone delivery this year to six states, enabling a lot more customers to get stationeries or dinner ingredients in less than 30 minutes. Simply put, if it fits safely it flies because customers can order items weighing up to 10 pounds for a delivery fee of $3.99. "I have always been driven to buck the system, to innovate, and to take things beyond where they have been," the Walmart founder claims.
Robotic last-mile delivery: A $1 billion market by 2030?
Last mile delivery refers to the transportation of goods from a distribution hub to the final destination, such as a home or business. The last mile of the delivery chain is the most expensive, frequently accounting for more than 50% of the total cost. 
In recent years, numerous businesses have been creating autonomous mobile robots, drones, and vehicle technologies to automate this process. Technically, a 200k unit fleet size could be predicted until 2035.  So why still waiting? Launch your own food delivery platform instantly with Food Plus, the best Doordash Clone Script. Contact BSEtec for more details and a free live demo.