Are We Ready For Drones To Do Their Thing?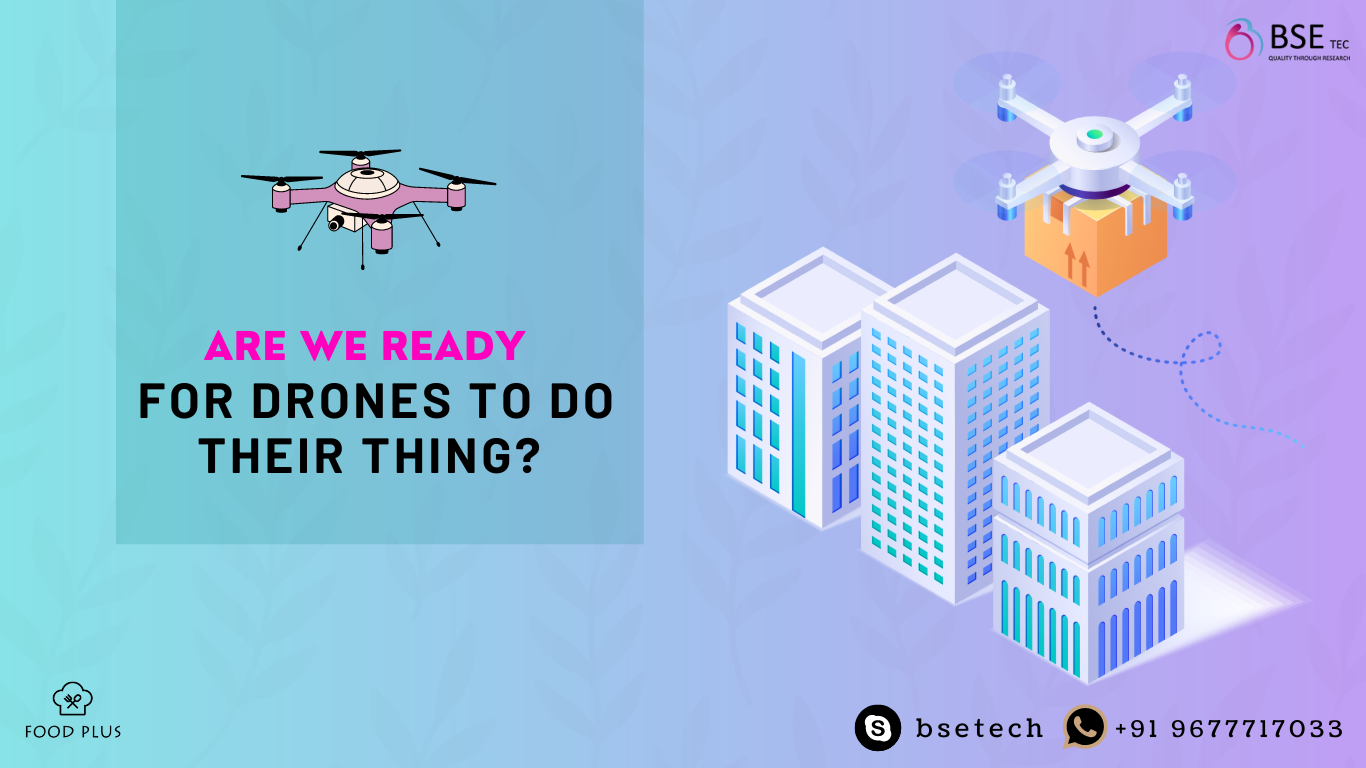 Drone use for commercial purposes has received a lot of attention recently, thanks to Amazon's announcement that it plans to utilize drones to deliver items to customers. This is a fascinating and transformative idea with numerous intentional and unforeseen repercussions. Drone delivery of food, groceries, pharmaceuticals, and other products may begin sooner than you think. Here are many ways how drones may be used in various sectors.
Drones in Logistics:
Last-mile delivery often accounts for approximately half of total shipping costs. It's a pricey market, with a €50 billion forecast by 2028, where drones might provide an efficient and cost-effective answer. According to the UVL Robotics study, utilizing drones to carry parcels in metropolitan areas will, at the very least, become more common in the near future.
Drones in Food Delivery:
Drones in food delivery aren't really in the future, the drone delivery era has already begun! The ST Engineering Group is researching food delivery by drones in urban settings in partnership with the meal delivery business food panda. As a supplement to food panda riders, the drones should be able to pick up and deliver orders at authorized pickup spots around Singapore through permitted flight routes, where food panda's 12,000 riders will be waiting to finish the last-mile delivery.
Air you Ready?
Previously, drones could only convey little packages. However, a new system class is emerging that can carry loads ranging from 70 kg to 500 kg, depending on the aircraft. This means that new delivery models may be more efficient and cost-effective than existing helicopter, truck, or ferry infrastructure, particularly for commodities with significant social or economic value in locations underserved by current infrastructure. If the proper rules are implemented, remote, rural, and offshore communities can get crucial supplies via autonomous aerial systems.
Drone deliveries in Healthcare:
Drones might carry medications and supplies to patients receiving care at home rather than in a hospital environment. Outpatient care and possibly home-based care will replace hospital-based treatment in the future. Drone technology may make it easier and safer to deliver home-based care for numerous illnesses. When a clinician visits a home patient, blood can be collected and promptly sent to the lab by drone for testing. The provider's medications, medicines, and therapies may be delivered to the patient's home via drone.
Food delivery drones' future:
Drones can reduce driver idle time and costs and supply chain inefficiencies. A drone system can make deliveries in under 5 minutes for less than $1. By 2026, the delivery market will be worth more than $6 billion. During the projected period of 2023 to 2030, the drone delivery service market would develop at a CAGR of 14.5%. If the current trend of regulatory body relaxations continues, delivery drone operations can access additional airspace, increasing their delivery reach. According to numerous sources, drone food delivery services are about to take off in the UAE, closely followed by the United States, Japan, South Korea, Singapore, and Australia. Food delivery is going to be a big thing in the future! 
Thinking about launching your own food delivery app? Check out FoodPlus without further ado. Food Plus is the best Doordash clone script to launch an online food ordering and delivery service. Contact BSEtec for more details and a free live demo.