Are you looking for a periscope clone to drive your business forward?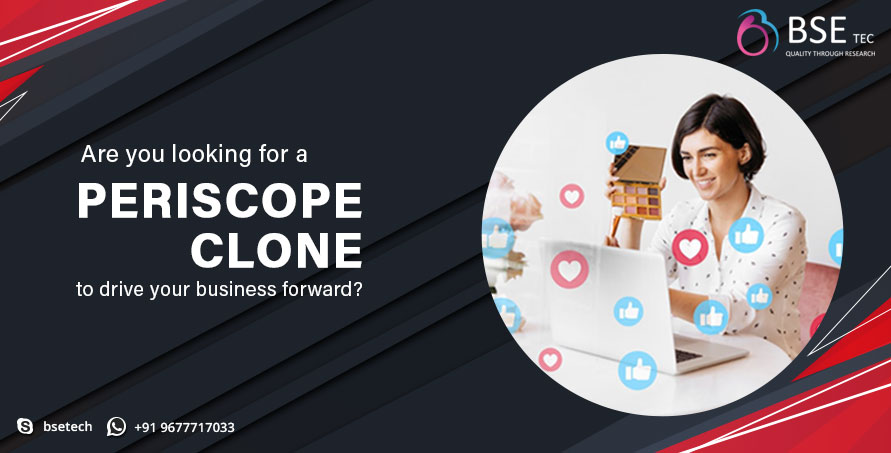 Periscope is the global brand of live streaming where users can socialize or broadcast their lifestyles, products, or any other actions with anyone using the platform. Live streaming is not today's technology but it is today's trend indeed. Today live streaming is always preferred by the users than the recorded feed as users can get connected to the author of the live broadcast directly via live comments and pop-up messages. Live streaming is evolving from a single feature now to a full-fledged industry. In the time of Covid19 global pandemic, Global brands such as Apple, Google, Samsung, And others even used Live streaming for their biggest launches throughout the year, and the audience even liked it. 
Live Plus is the best Live Streaming Script.
How Live streaming software can help you as an entrepreneur?
Live streaming is all about letting users go live on your platform where they can interact with their targeted audience directly. It is quite a great tool for businesses around the world as they get live interaction along with quick feedback and reviews from the customers. Even the corporate houses are using live streaming software to have global meetings and all-time video live streaming in their all offices. Live streaming software can also be useful for foreign interactions and live online classes for businesses and learners around the world. 
Know Why Starting a Live Streaming script would be profitable in the Year 2021
As an entrepreneur, you can develop a live streaming clone script to cater to the mass audience where users can come to broadcast their social life and influencers could come to have their content on the live app to interact with their audience and businesses could come to present themselves to their direct customers. The development of such a live app is even easy today and it is making a great revenue for entrepreneurs as live streaming is in trend. You can monetize your platform using Ads and business integrations. 
Development of the live streaming software 
Development of Live streaming software today is much easier as we have the Periscope clone script. As the name goes, It is the clone script that allows you to develop live streaming software like Periscope. But it does not mean you are copying the platform, It means you are using the well written coded script that is loaded with the basic features and operation to develop your live streaming website with the live app with your design and customizations. 
We have LivePlus to offer you today, That is the advanced periscope clone script available in the market to get all the features and integrations you would ever need to get success in the live streaming industry. This open source periscope clone script is also very clean coded and that is the reason it is fully customizable to have any new technology and integration in features or working of the Live video streaming. We suggest you check out the free live demo of our Periscope clone script right now to see how LivePlus develops your live streaming clone platform with the advanced features to have in periscope clone. 
We at BSEtec are also encouraging new entrepreneurs and this is the reason that we believe that you should get some additional benefits along with the live streaming clone script that includes Free installations, free system upgrades regularly, and free technical support from our professional developers for three months. 
Get in touch with us to know more about the advanced customizations and integrations in LivePlus.