Why Starting a Live Streaming script would be profitable in the Year 2021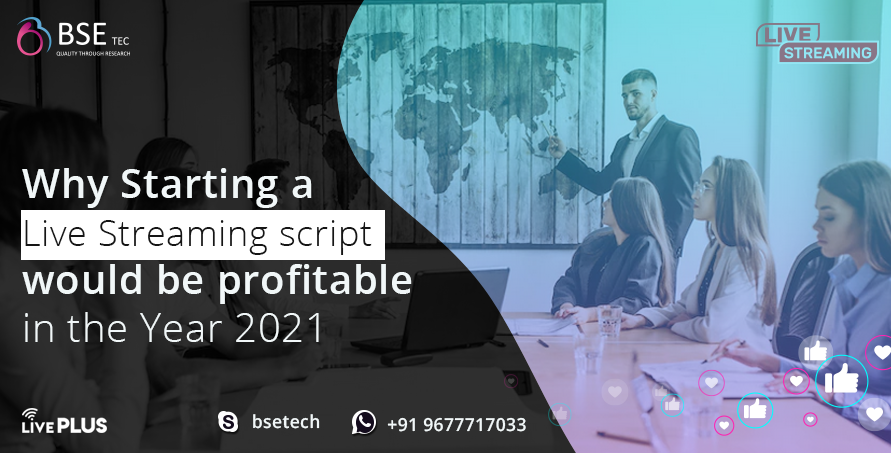 Live streaming is the most profitable industry, and we are excited about this industry as we saw it growing from a feature to a full industry. Live streaming is not the new industry as we are doing live streaming for a very long time but it was not recognized earlier as an opportunity. But from the introduction of OTT and other major social media platforms, It is now getting into the hands of mass users. Development of Live streaming software is easy nowadays as all you need is the live streaming script, and you are good to go. All the technical aspects would be taken care of by the clone script provider. We at BSETec also created a Live streaming script called LivePlus. LivePlus is the advanced live streaming solution loaded with many readymade features, and it develops your platform with the latest technologies available in the market. 
Why LivePlus can be profitable for you?
LivePlus : Periscope clone script is for this generation of entrepreneurs as it allows them to develop live streaming software with the latest technologies available in the market. It comes with many readymade features like the Kurento streaming server, Wowza stream engine, Multiple broadcasting, Admin Dashboard, Signal sign in, user management, and many more. LivePlus is suitable for many applications.
For instance, 
Corporate : It is suitable for the development of corporate in-house live streaming software.
Sports : Best for streaming sports events for the global audience and it is most profitable as viewership in this category is very high.
Media : It is very productive for streaming Category and genre-based streaming on demand.
Music : Suitable for on-demand music streaming and for virtual live music concert streaming for a global audience.
At BSETec, We always support entrepreneurship with exceptional clone development services and technical guidance that is the reason you get many things extra along with the advanced periscope clone script. For instance, You get free installations, Free cost system updates regularly, and premium technical support from our professional team. You can check out its free of cost live demo to see how this live streaming script develops your platform. 
You can get in touch with our expert also if you have any more queries regarding LivePlus by reaching out from the given details.
Contact Details
Email : support@bsetec.com
skype : bsetech