Boost up Maximum Outreach amid the Lockdown by Developing an App like Udemy to Establish Virtual online classes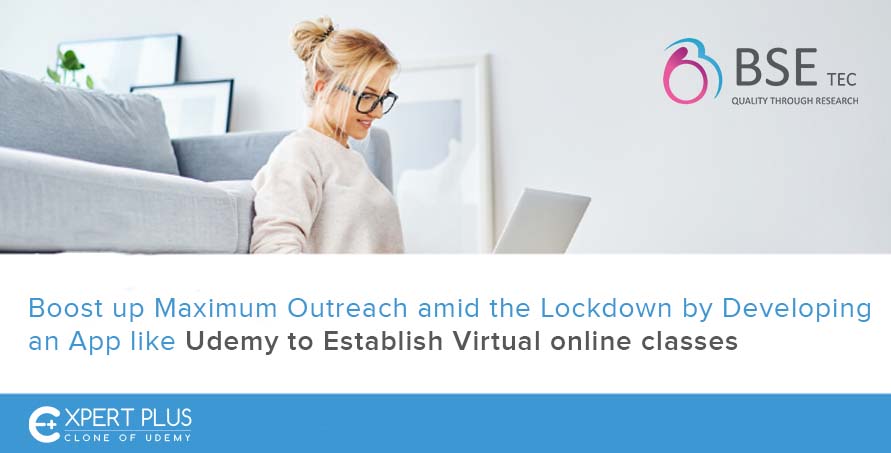 COVID-19 has resulted in the shutting down of schools across the world. One of the rising concern is that the students are missing out on their portions and the exams are pending. This situation is likely to make them lag in academics. However, online learning programmes have led to a distinctive way of learning, virtual classrooms, video conferences and webinars are being organised everywhere and the result is that many students are getting to learn flexibly right from their home. An LMS Software is one of the tools used widely to get certified courses online at an affordable cost.
Students who have access to the internet would find it easy, but those who don't miss out on a lot of things. To bridge this gap, the internet is becoming available even in remote locations. Also, the increased usage of mobile phone has turned out to be a great advantage as it is a feasible platform to conduct online classes seamlessly. To create one such app, one can use coursera clone or Lynda clone codecanyon and obtain similar app at an affordable cost.
You can also get free udemy clone download from online but some websites only offer trial version's source code. So, to get full white-labelled, you need to hire a clone script provider and get your LMS software designed as per your need. Once you are ready with the app, you can begin your venture and thousands of students and tutors across the world would benefit out of this technology. Expert Plus is a coursera clone script which can be used to create such an LMS. It has features such as hi-tech learning, which is very helpful to make the online learning experience both interactive as well as informative. Other features include an internal messaging system, reviews, certification and so on. The app is highly responsive and compatible with any device. Both Android, as well as iOS users, can access the app or web version. Make learning an everyday thing using Expert Plus coursera clone app.