BSEtec Breaks New Ground with EMOTEARPLUS – The First Face Sticker Augmented Reality App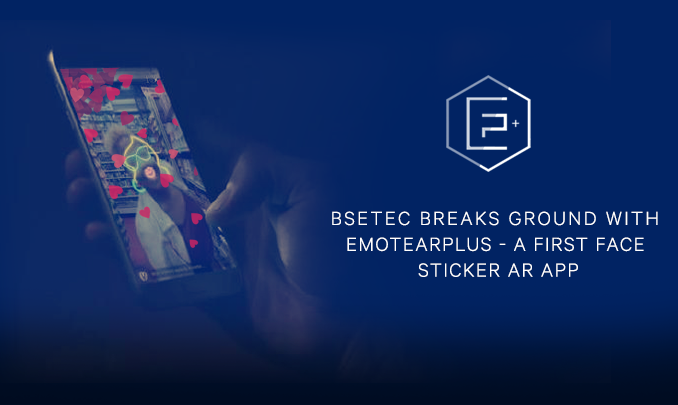 The first step is always harder and now our effort in Augmented Reality has reaped fruits. BseTec's first and foremost live facial tracking and face sticker augmented reality app has been successfully launched and it has been another milestone for our dedicated and industrious team members. The best part of EMOTEARPLUS is it allows live recording and sharing of face emoticons, right from the app.
Being inspired by the likes of Facebook camera and Snap chat lenses, we developed an all new face tracking augmented reality solution. We can now use this technology to give similar capabilities to our clients for their social media apps or websites, allowing their users to enjoy facial augmented reality, right inside their own platforms.
The EMOTEARPLUS has been a challenge to showcase our R&D efforts, to develop an in-house facial landmark tracking technology.  We can track up to 68 different facial landmarks on user's face in real time and use this information to project digital 2D and 3D objects on the user's face.  EMOTEARPlus has a collection of augment digital emoticons and animations, which can be applied on the user's selfie image to represent their reactions or moods.
To make it as a signature product of BSEtec, we have included the following functional and productive features:
o Facial landmark tracking (up to 68 points)
o Snapshot with emoticons stickers
o Live video recording of augmented feed
O Sharing on Facebook in real time
o Sharing on Twitter in real time
o React to user's emotions
o Show animated effects based on user's emotions.
visit & have Fun at https://itunes.apple.com/us/app/emote-ar-plus/id1237685154?mt=8
We expect your continuous support to make EMOTEARPLUS a grand success.