BSEtec Proudly Launched An Aristocratic Kabali Template "E-Ticket Online"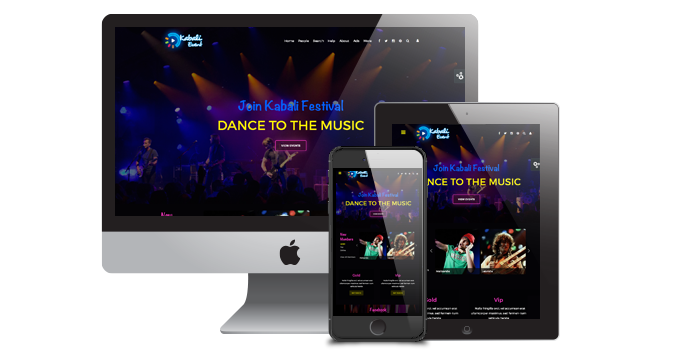 Our renowned music party website template KABALI TEMPLATE allows you to sell e-tickets online. We have implemented exclusive features in our template.You can build a site that promotes events with the Powerpack tools of Kabali template.
The biggest insecurity when it comes to selling your e-ticket online is whether or not you'll receive your money from the buyer instantly.We can create awareness among the target audience and gather a mass for a particular event.
Take an in-depth look at our Charismatic Features of parties & festivals community template,
1.We can customize the site by adding new colors, new logo, social media connections and also make it unique by posting a glamorous event poster on the webpage using this music community templates.
2.The exclusive feature of night party dolphin templates allows you to sell e-tickets online.
3.By admin panel create events, post tickets with different price range and easily collect money in music DJ party dolphin template
4.At a single click of music dj party community template, tickets availability price range, sold tickets count, people's details who booked the ticked will be shown to you.
5. Dj music website template's admin have a control to cancel the event, once it gets over. Instant report and analytics allows you to have control on the booking process.
6.Attractive splash page, the blocks like Members, Timeline, Our Groups, Site Stats, Blog Posts, and Quotes can be enabled or disabled instantly at the backend admin panel.
7.Order of the Layout blocks on the splash page can also be changed in this music dolphin templates.
8.Impressive Kabali template is fully responsive and has a awesome look at various screen sizes from PC monitors to tab and mobile.
9.Every people can customize this club responsive community template by the powerful admin panel.Layered psd file helps to instantly build a mock-up for a new page and to create preview images, to explain the visitors without hard hitting efforts.
10.Colour pickers at a backend of club party website template makes the user to change their theme rapidly in their desired colours.
11.The slider is an exclusive feature of Bse panel and it allows the user to take absolute control over the slider.
12.HTML5 & CSS3 framework Bootstrap is designed to help you develop new web apps for your sites.
13.HTML5 supports all the modern browsers and this coding helps you to insert audio and video to the website.
To feel on dazzling kabali theme :