BSEtec´s next release is Adorable Dating site Sweet hearts !
Sweet Hearts is yet another Premium Dolphin Template by BseTec team to build a wholesome dating site. This Love & dating community template is crammed with unique set of features, essential to build bridges and an easy to use admin panel.Apply your aesthetic ideas and perk it up to stand out and make every visitor to steal someone´s heart by this dating community theme.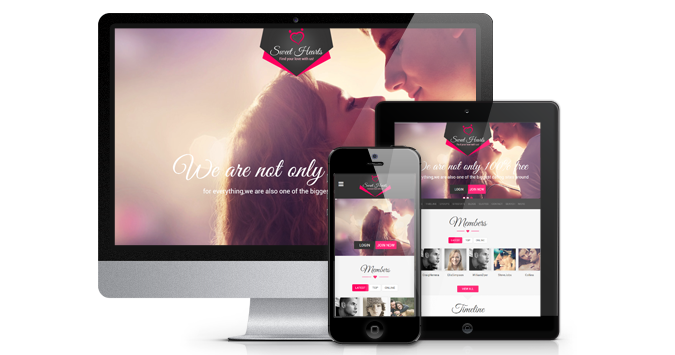 Amazing features like ,
1.To create attractive Splash page,Layout blocks, Members, Timeline, Our Groups, Site Stats, Blog Posts, and Quotes can be enabled or disabled instantly at the backend admin panel of love & dating dolphin community template
2.Love & dating website theme´s responsive design attract your targeted audience through any type of device Sweet heart provides a dazzling look when using through PC, TAB, MOBILE SCREEN.
3.Powerful admin panel provides a user to easily customise their requirements.
4.Without a hassle backend colour picker offers a unlimited colours to change the theme completely as our wish.
5.Exclusive feature of Bse panel is Slider which encloses entrancing responsive slider that allows you to generate startling slides to boast with your content.
6.Sweet Hearts is developed using this technique so that your site is updated with various charts and easy navigation.
7.Unlimited fonts helps to easily change wishful font style for header, designbox, footer and menu, throughout the dating community template´s theme.
8.In dating dolphin community template HTML5 and CSS3 supports the all browsers and codings helps to upload Video and Audio files.
9.Dating community website template comes with a layered psd file, which helps to instantly build a mock-up for a new page and to create preview images, to explain the visitors flexible .
To download this love & dating dolphin community template,