Can I get a job with Google IT support professional certificate?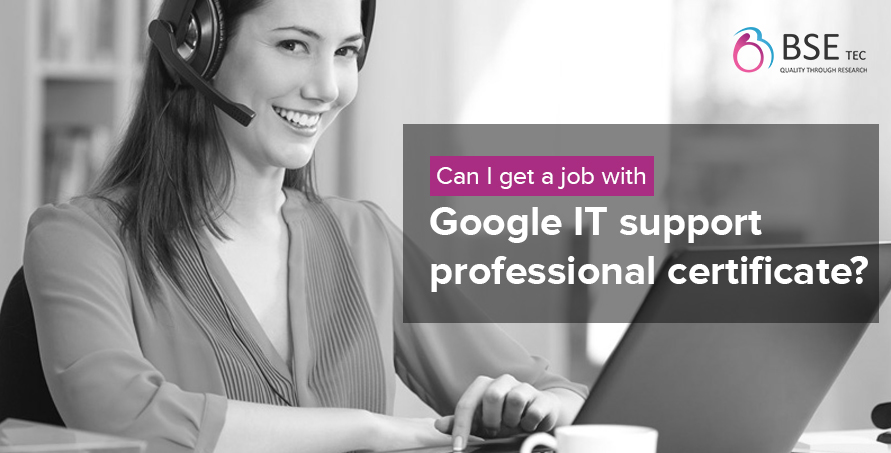 Google IT support professional certificate is a five-course certificate programme offered by google through coursera. The cost of the programme is less compared to other courses and can be availed by students overseas. The course is an 8-month programme and completely online which makes it flexible for the students. However, if you want to attend offline classes which makes you more committed in the learning process, you can subscribe to IT courses offered at an IT training institute in Bangalore.
As you learn the nuances and techniques that are essential for the IT industry, you are likely to mould yourself for the industry. Especially BSEtec, an IT training institute in Madurai has a systematic approach to teaching and learning with the experts in the field taking useful sessions. Plenty of exercises and activity-based learning has been schematised by the team. Best of all, the courses are divided based on the levels to make sure that you feel comfortable with the pattern.
Information technology is rapidly expanding and there is a lot of Indian as well as multi-national IT companies especially in Bangalore, the silicon valley of India. This pretty much makes a way for a great job opportunity for the budding professionals. In fact, it does not matter how many degrees you hold, your knowledge and experience are the areas that the employers look upon. Professional training from an IT company will give you an idea about how the industry is and gives a chance for you to prove yourself.
If you want to attend courses related to Information Technology, subscribe to our courses right away and get unlimited study materials, useful sessions and free soft skill training programme. To learn more, visit our website or contact us by filling the form below.