Create an Udemy clone to make e-learning easier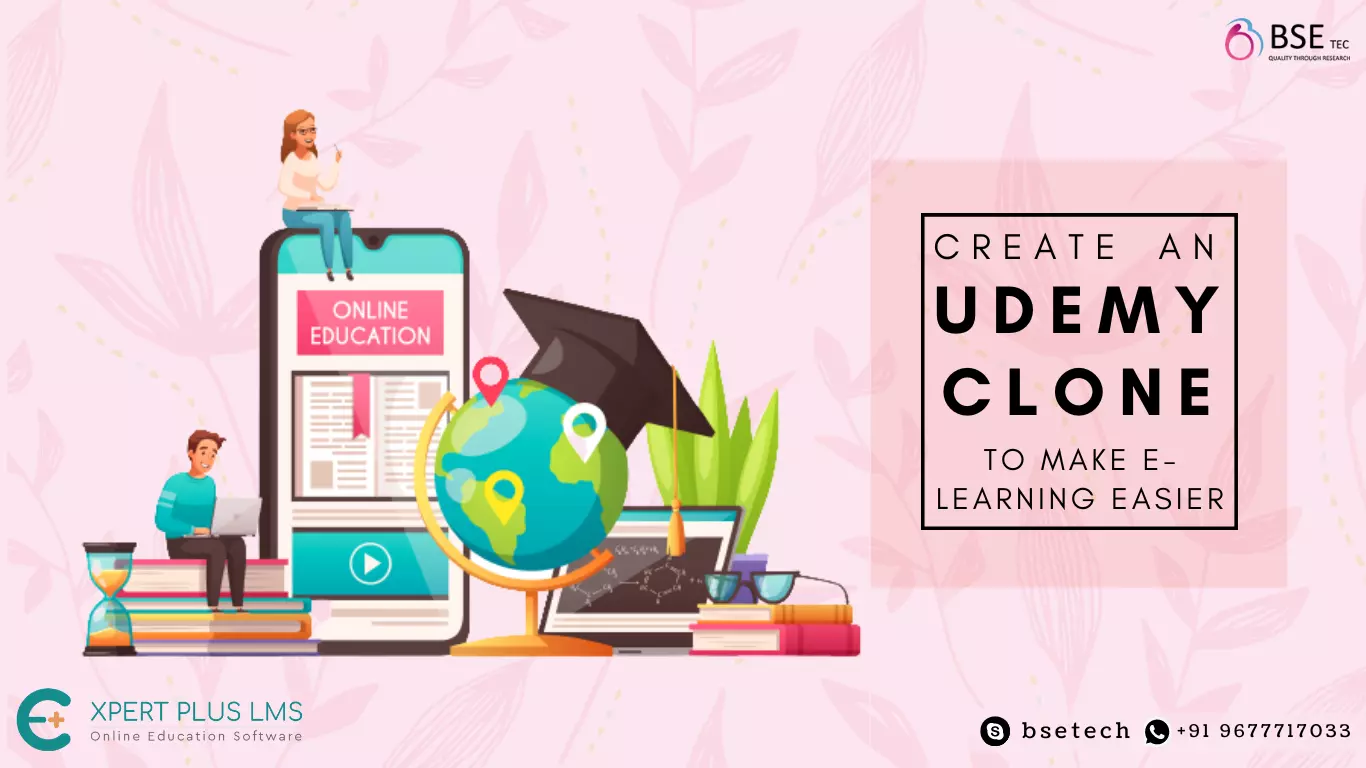 eLearning and digital development have progressed beyond the norm. As a result, the organizational landscape has shifted in an instant. COVID-19 pushed organizations to digitize their entire practice, including remote working, corporate training, onboarding, and employee development programs. Everyone's perception of Learning and Development has shifted dramatically as a result of the global shift toward digitalization. Students learning styles have also changed as a result of eLearning. Here is a list of the benefits of eLearning and how launching an eLearning platform is much easier than you think.
Access to UpToDate Content:

Unlike the waiting time for the latest edition of books in traditional studying methods, the course contents can be updated at any time. We need not wait for new edition publications, everything is updated digitally in real-time.

Accessible anywhere and anytime: Online classes can be accessed from anywhere in the world. Students have the opportunity to learn from the most qualified experts from around the world. Students can access online education websites at any time and from any location. They are no longer required to travel to educational facilities. Instead, students study from the comfort of their own homes. Traditional classroom teachings are a real drawback for people who work full-time or are unable to attend college or university.
Improved efficiency and Cost-effective: Paying for physical space, an instructor, hotel and travel expenses, and so on quickly add up. Especially if you need to train a large number of employees in multiple locations. IBM claimed that switching to eLearning saved them around $200 million. Furthermore, it is estimated that every dollar invested in e-learning results in a $30 increase in productivity because employees do not need to take time off to travel to training. They can learn on the job and apply what they have learned more quickly.
Sustainability and Reduced Environmental impact: Sustainability is the key to a better future. Humans depend on natural resources for everything. Though reading books is a good habit, the books are made by cutting down the trees, as we are moving towards a more sustainable environment, online education helps in achieving that sustainability since it is completely paperless.  Since eLearning is paperless, it contributes significantly to environmental conservation. According to eLearning course research, online learning programs used less electricity and produced fewer CO2 emissions than traditional campus-based courses. eLearning is a very environmentally friendly educational method. All of these advantages make eLearning the superior choice.
Fast Results and caters to every learning style: The traditional method is so exhausting and unlike online learning, it is instructor-centered. Being a student-centered approach and being able to access it 24*7, paves way for learning at our own pace and time. Therefore statistics show that online courses can be finished nearly 60% faster than in-person lessons. Different students have different learning styles and online courses cater to every type of student. The four types of learning styles are,
Visual learners are those who learn better when information is presented graphically.

Auditory learners prefer to listen to information.

Reading and writing – those who concentrate more on the written word

Kinesthetic learners enjoy being hands-on and using all of their senses.
Elearning Made Easier With Udemy Clones:
The open-source Udemy clone is without a doubt one of the best resources for developing an eLearning application. Many businesses have chosen eLearning clone scripts because custom development is not only pricey but also time-consuming. As a result, Udemy clone scripts like Expert Plus LMS come to the rescue, allowing you to easily build an app like Udemy without any prior coding knowledge.
The worth of the eLearning market is predicted to hike to $374 billion in 2026. Coursera and Udemy have risen to prominence as the world's leading eLearning providers. Creating a website similar to Udemy or Coursera can thus be a profitable business venture. Do you need a development team to create and launch an e-learning marketplace? BSEtec specializes in the development of online marketplaces for a variety of industries, including eLearning platforms. Contact us for more details and a free live demo for ExpertPlus LMS.