Despite being a Zomato best-seller, I still want my own online food delivery platform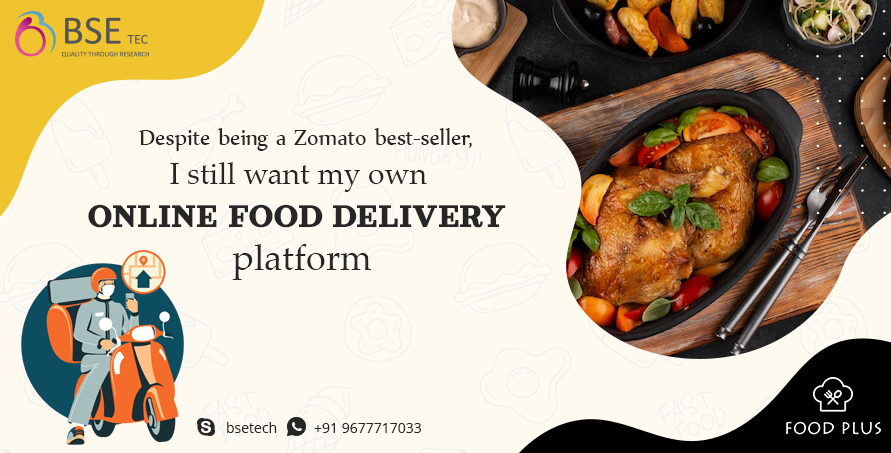 Many restaurants that are successful in third-party food delivery service apps like zomato and swiggy have started adopting their own food delivery software for online food ordering and delivery. This is because of the problems faced by these restaurants, how their profit margins are highly affected when they opt for such third parties. We will see brief points on why launching your own food delivery app is essential in spite of the customer base you have on third-party apps.
Negligible Commission Rates:

Food delivery services such as Zomato and Swiggy charge a commission to the restaurants that receive the orders, typically between 24% and 28% of the order value. This is just the commission for bringing in new customers for the restaurant partner; it does not include delivery fees. 

The food delivery companies also charge a certain premium from restaurants for the discoverability of their restaurants, placement on the app, and other promotional activities. So, even though restaurants have a customer base in third-party apps, they have to sell at higher prices to cover the commissions. The first reason why restaurants are launching their own food ordering app

is to reduce these commission rates.

Take Control of your Reputation:

These third-party apps exploit restaurants with massive commissions, and increased prices which affects the reputations of these restaurants. These high prices put a dent in the restaurant's reputation, there are many such tweets with images comparing the restaurant's dine-in bill and the online order! So, its wise to launch our own online food ordering services than getting exploited and damaging our reputation.

Build Your Own Brand Image:

In a food aggregator app, there is no distinct branding or colour that distinguishes one company from the others. They simply list your brand among thousands of other restaurants that serve similar food. But when you have your restaurant's own

online food ordering

website, it reflects the brand personality, the brand's mission, and vision, as well as a clear "Order Online" CTA that will not go unnoticed. 

Your restaurant's On- Demand food ordering software

contains all of the elements that a brand should have in order to attract customers' attention. You won't be just a restaurant that is listed among 1000 similar ones. You will have a brand that your customers will fall in love with again and again.

The Future:

The

On-demand food ordering and delivery services

are here to stay. We can't ignore the fact that people are now more interested in eating conveniently, they are not interested in spending long queues for takeaways, and many professionals don't have time to dine in restaurants as well in this fast-paced world. So, it is wise to convert all the challenges faced by restaurants while using a third-party app into opportunities. For example, instead of increasing prices on a third-party app, that frustrates customers as well as leaves a dent in your profit margins, investing in launching your

food delivery app

to serve your customers at fair prices builds customer loyalty and brand image.
Wrapping Up:
It is a common practice for restaurants to increase their prices on third-party apps like Zomato and Swiggy to ensure they do not pay the commission fees. Over the last two years, several restaurants have started accepting orders through their own apps and websites to save on these commissions and provide better customer offers. To launch your own checkout Food Plus, a Doordash Clone Script developed by BSEtec exclusively for restaurants and small dhabas to launch their own online food ordering system. Contact BSEtecfor more details and a free live demo.