Develop Your Website With The Remarkable Word Press Trends 2018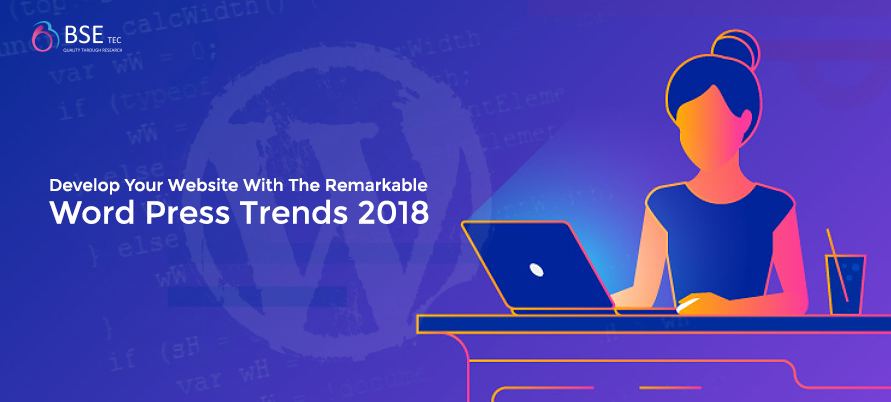 In this digital world, 2018 is considered as the WordPress development year. WordPress is becoming more popular among the developers and designers. Moreover, several creative and user-friendly websites have been developed using this Open source content management system. Therefore, below we will list latest design technologies that are likely to dominate in the upcoming year.
1. Adventurous Color Palettes
Web designing will be more eye-catchy when we implement colour psychology. The Colours can be wonders and magic, and help to improve your web design. However, we need to have the colour sense before choosing. Considering the best colours will enhance your web designs. For example: Websites like "Lush Cosmetics" and "inJob" used colours for their site look.
2. Rule-Breaking Typography
According to the developer's anticipation, 2018 is going to bring a vital change in the field of "Typography". Typography has dependably been an intense visual device, ready to create identity, inspire feeling and set the tone on a site all while passing on critical data. Removing Internet Explorer, several browsers can support hand-made typefaces that are empowered by CSS for web programs.
3. Hand-Drawn Graphics
If you want to give warmer and more personal feeling, you can use "Handwritten font" However, have you thought about utilizing other Hand-drawn factors to give your site life and offer viewers a better look of what you are capable of. For example, "Bully" and "Pow" literally used handwriting fonts to grab their customers.
4. Subtle Animation
There is several remarkable ways to add animation to your site. CSS will be the best tool to add subtle animations that easily grabs customers' attention. Or you can use WordPress plugins for faster movement animations. These animations truly enhance the visibility of your websites.
5. Sticky Elements
This is a pattern, we're, as of now, observing mostly, as website developer's, move far from excessively prominent pop-ups and more towards modern Pop-ups. As viewers turn out to be pop-up blind, this is a keen decision for the present moment. In any case, as opposed to utilizing the traditional pop-up box design, 2018 will convey more sticky bars to the bottoms and highest points of websites– and not only for limited time offers.
6. Website Push Notifications
Website push notification is similarly like mobile SMS notifications. Once your visitors have opted in, these notifications will be delivered directly to their websites. Moreover, it is another important tool you should have in your website developing process, in order to reach your customers in real-time.
7. Augmented Reality/Virtual Reality
Several web designing companies are now putting their core focus on the amazing latest technology "Augmented Reality". As we have already known lot about AR. Gaming industries are truly taking advantages of this innovation to attract customers. As 2018 is considered as the technology, AR is going to rule numerous industries.
8. Custom Graphics and Illustrations
Visuals are the vital key for the web content. They are interactive and engage people with some messages in it. Moreover, images are truly an important value in SEO when it is optimized in a right way.
Now you will clearly understand how to create the most attractive website by implementing the trends. Now we will discuss: The best WordPress Plugins for 2018 and The best Web Hosting Companies to Work within 2018
The best WordPress Plugins for 2018:
Defender
Defender is the security solution for your WordPress. It will offer your website with the protection, whenever, you need login protection, security tracking, downloading etc.
Humming Bird
Humming bird is truly your performance plugin. Optimizing your content and information on your WordPress is the duty of Humming bird. As a consequent, WordPress will run as faster as to the visitors.
SmartCrawl
SmartCrawl is the combination of Performance, Security and SEO. It is used to keep all posts, pages and images which will easily grab customers.
Smuch Pro
If your website contains N Number of images, then you need this plugin to protect your WordPress from the slow performance. It automatically compresses the images and resizes according to the website.
With the arrival of the WordPress web design trends, 2018 is going to be powerful and colourful. If you are looking for more information on web designing and more detail about the latest trends in web development, you can reach BSEtec, the leading web and mobile app Development Company. BSEtec has launched several websites with more effective tools and latest technologies. In order to view the portfolio and the products and services please visit: https://www.bsetec.com