Digital Transformation in Software Testing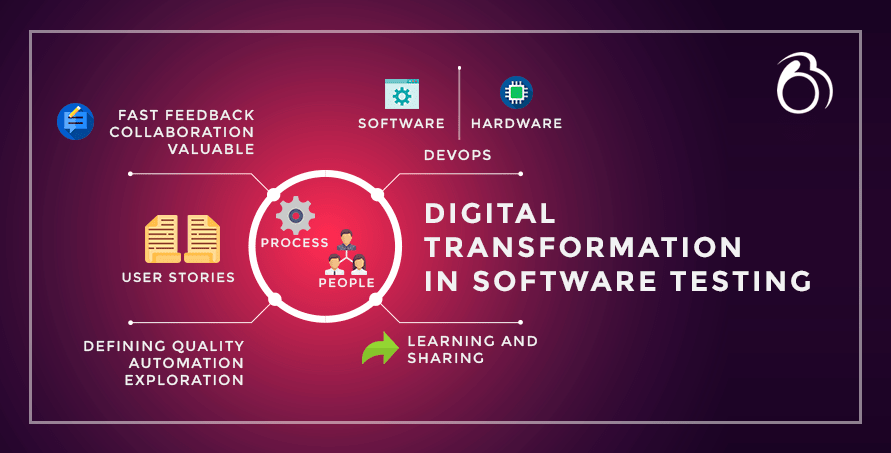 Advance Technology such as Test Automation, Cognitive and Artificial Intelligence, DevOps, the digitalization of industries that were previously slow to adopt new technologies, and the Internet of Things (IoT) is upgrading the changes that are breathing new life into the notion of testing as a career choice.
Few test professionals not update with the technical know-how to embrace New World tools and frameworks, and few are ready to grow in a career where the lines between business, development, and testing are continually blurring. Some test professionals have been trained or exposed to skills that are needed to navigate the map of the New World.
Digital transformation has required the necessity for innovation, development, testing, and deployment of applications. Post-deployment, customer feedback should be considered and absorbed into the product to improve its performance further. A growing range of organization adopting DevOps, that involves an end-to-end automation of processes, be it for development, testing or deployment process.
DevOps takes the Agile methodology a leap forward by involving all the stakeholders of an enterprise. The DevOps testing strategy includes continuous improvement of products to address the changing customer preferences. In DevOps software testing, the aim is to notice and eliminate glitches proactively to reduce the cost and time to fix issues which will result in a poor user experience. In the highly competitive digital market, poor user experiences can stymie a business's market readiness.
How can DevOps Enable Effective Quality Assurance?
It makes QA a collective responsibility rather than being allocated to a single department or organization.
It enables better collaboration between teams through a shift of culture.
It ensures quicker identification and elimination of glitches.
It is responsible for accelerating the time to market and keeps a tab on the software system quality through client feedback.
It provides continuous improvement of software through timely releases.
It reduces price due to the absence of rework.
It ensures continuous development, testing, integration, deployment process, monitoring and innovation of applications.
BSEtec helps their client by achieving Quality benefits by providing services including:
Automated and continuous Quality monitoring
Automated provisioning of virtualized test environments
Standardized processes, templates, guidelines & checklists for DevOps
Continuously monitor iterative development processes.
Conclusion
In the fast-changing digital landscape, the objective of reaching out to the clients and with better quality of products is paramount. DevOps specialists turn things around with continuous improvement, innovation, and deployment process.