Digitize Your Educational Environment With Udemy Clone App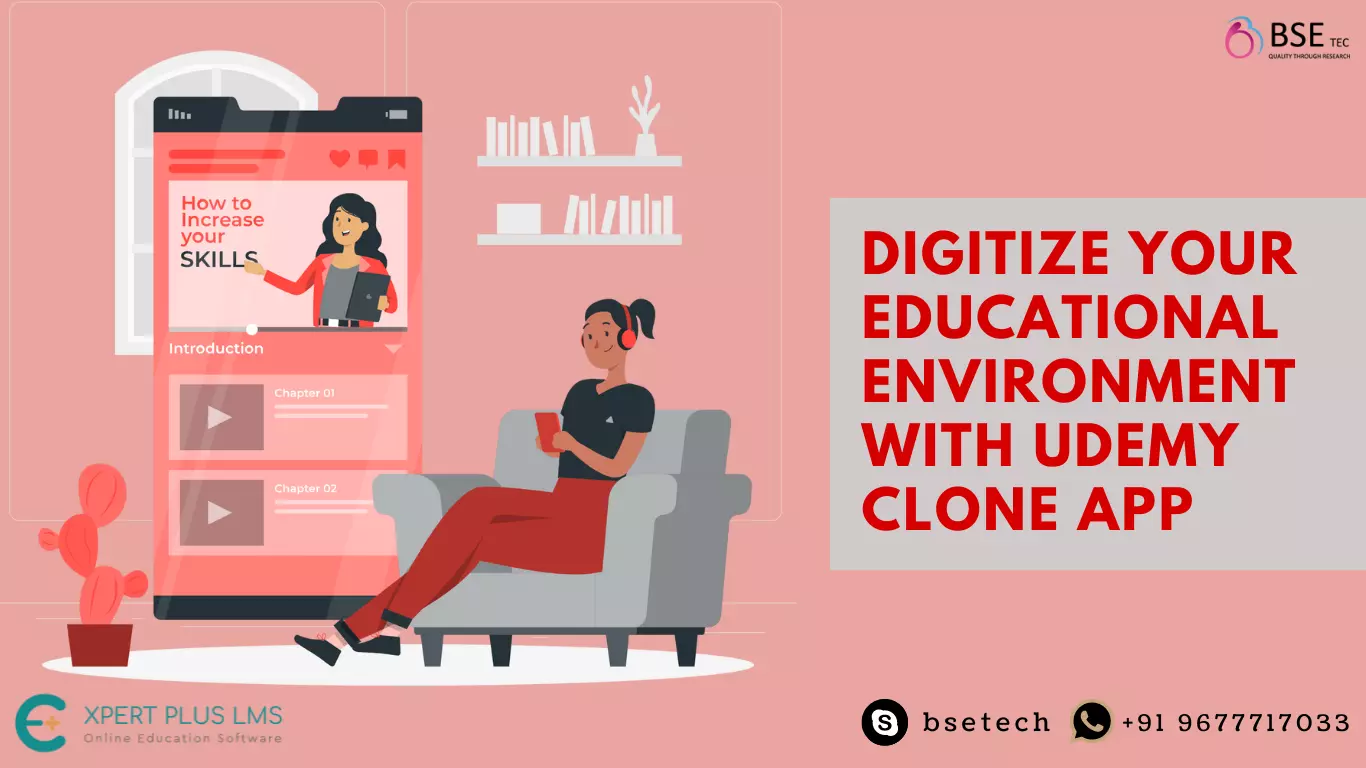 When it comes to projecting its market value in the near future, several reports on EdTech development use different statistics. They typically vary from $325 billion by 2025 (Research and Markets) to $375 billion by 2026 (Global Market Insights). Since most of these reports were published before the epidemic, we should expect this number to climb dramatically. There is no doubt that Covid-19 has accelerated the global application of e-learning platforms and imposed a quick paradigm shift in traditional education. Here are five easy steps that will help you start digitizing your educational environment.
Choose A Platform:

The first step is creating a digital learning environment using

suitable udemy clone app scripts

. Here are the basic things you have to look into before choosing your

online education platform

to digitize your course. How flexible is the

Learning Management Software

you are choosing? Can you make the changes to its functionality? Can you customize it? Can it be linked to other platforms and services? What about the LMS's scalability? What safeguards are in place to protect user data?

Set Up Your Classroom:

Once you've chosen a platform, you'll need to set up your classroom. This includes choosing a theme, adding images, and setting up your calendar. Since the

udemy clone scripts

have all the in-built features, all you have to do is drag and drop your resources, pdfs, and videos. Setting up your course with

ready-made udemy clone scripts

are easy as ABCs.

What's Involved In Creating A Course:

Creating a course on

Udemy like websites

is easy. All you need is a laptop with internet access and all the hosting and other support is given by the

software development company

you are partnering with to whom you are buying your

learning management software.
How To Choose A Niche:

The most important thing is to identify your area of expertise. You may use Google Analytics to see what topics people look up on the internet. If you are currently a traditional instructor, you might ask your existing customers what they would like to study online.

How To Find Out What People Want To Learn:

The prime thing is you have to choose what you are an expert at. You can also use Google Analytics to see what topics people search for online. If you are already an instructor who teaches traditionally, You can also ask your existing customers what they would like to learn online. 
How Can Expertplus LMS Help You?
There are several platforms available for teachers to use to create an online course marketplace to launch their online education. Each has its own strengths and weaknesses. Google Classroom is free and offers some features not found elsewhere. But when you opt for customizable udemy clones like ExpertPlus LMS, you have more options for customization.
Test Your LMS: You test drive an automobile before buying it. Demos are essential for gaining a sense of the learning platform and determining whether it will assist you in reaching your objectives. Contact BSEtec for more details and a free live demo.