Discover How Crypto Currency Exchange is Evolving in European Union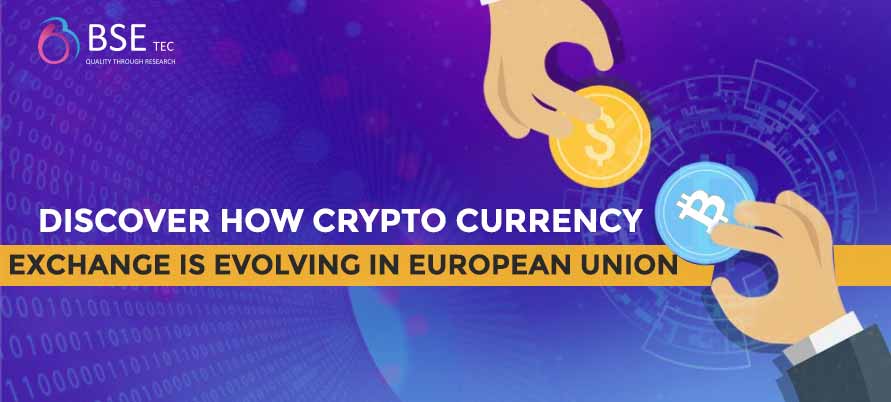 A crypto Currency exchange is a digital marketplace for customers to purchase and sell cryptocurrencies like Bitcoin using various currencies. Through this Exchange, Bitcoins can be exchanged into legal tender or other cryptocurrencies. Moreover, these exchanges are serving as a Middleman for dealers of the digital currencies. Cryptocurrencies exchanges are business websites that enable the business dealers to exchange their crypto coins. Furthermore, in order to exchange or to trade cryptocurrencies, the user has to register and create a trading account on these exchanges by providing the identity information for verification. However, some of the exchanges also provide the casual trading with demanding an account.
The development of Crypto Currency Exchange is rapidly increasing as the demand of these digital currencies is going beyond the expectation. However, before landing in one, customers should make sure of what to be considered before fixing the exchange for their digital currency transactions. This is similar to the problems and possible drawbacks in making a decision of where to do banking, or creating an online brokerage account. Moreover, remember that not at all like banks and stock exchanges, Bitcoin exchanging is to a great extent unregulated by most nations, despite the fact that this is changing as its popularity increments.
There exist 3 types of exchanges:
Trading platforms:
In this type of exchanges, users are charged for fees for all their cryptocurrencies transactions. Moreover, when it is in direct trading.
Direct trading:
The exchange rates will be set by the sellers themselves while trading.
Broker:
In this module, the brokerage websites enable the customers to purchase digital currencies at the rate chosen by them (Brokers).
As per the European Union, no VAT or GST should be put to the exchange between Bitcoins and other currencies. However, taxes are applied when goods and services are done by using the cryptocurrency Bitcoin. But in 2015, the Court of Justice of the European Union announced that Bitcoin should not be taxed and should be considered only as the means of payment. This leads to the discrepancy between the European Central Bank and members of EU based on the incorporating of conventional financial regulation on the digital currencies. Moreover, the year 2017 is considered as the year for ICO, Initial coins offering, the year 2018 is anticipated to be the year for Crypto Currency Exchange Development.
Considering the development of Cryptocurrency exchange, BSEtec offers a safe, secure, supportable and fully integrated Crypto Exchange for the commercial purpose of building own exchange for cryptocurrencies. Our exchange software provides a beneficial solution and true essential thing to promote an effective exchange portal. Let us view the features of its software
 Our Software Features:
Affordable Maintenance charge: Our software is truly affordable with low cost maintaining the charge. This is the best and cheapest solution launched with low maintaining charge.
Real-time request implementation: Our exchange software offers the real-time request implementation with the capacity to process numerous transactions in a second. It provides the great quantity of exchange engines.
Highly customizable: Our exchange software is highly optimized and customizable and can easily be incorporated in third-party platform. Its flexibility and uniqueness help to save time.
Safe and secured: Our software is designed with fully secured and safe back office to manage all customers' activity and core functional logic tasks like manage currency; coins, wallets, referrals, deposit, withdrawals, order, reports etc.as per your set up trading rules.
As cryptocurrency exchange is becoming more trendy among the people and the business, BSEtec strives to provide the best service in digital currencies exchange. Considering the technology advancement, Bsetec puts their core focus on those innovations in our services and products. To view our portfolio and services, visit https://www.bsetec.com