Discover the Importance of Live Streaming With Our Periscope Clone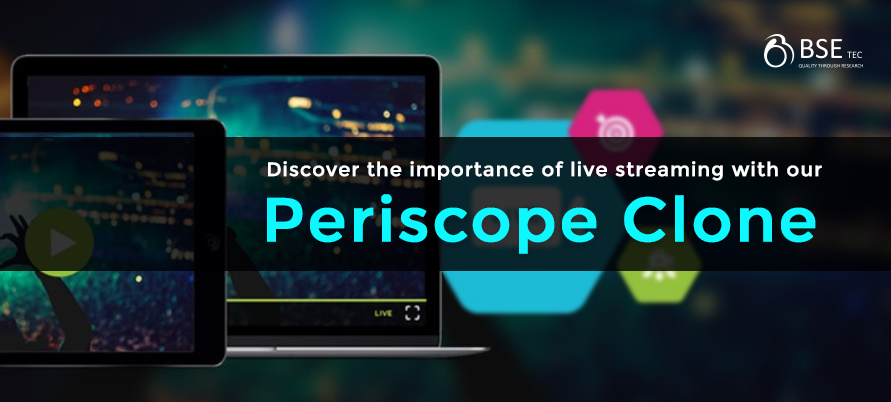 In this digital world, everything becomes live streaming and people are more interested in watching any information or news in a live mode. They truly prefer, the latest updates to be broadcast, as quickly as possible. In our past years, live broadcast has taken place only on reality shows and in broadcasting any hot news. Only news channel people have been used to this. However, the trend has been totally changed. People are using LIVE streaming videos to convey important information; the reality of the people; the latest happenings in the cities; broadcasting the celebrities' marriage, etc.  As these live videos are giving the strong impact on the people, everyone is looking for an innovative and creative platform to broadcast their live streaming videos. Let us view some of the people who are all in trend in using this concept.
Broadcasting the live streaming videos can easily attract the viewers' attention. Now numerous persons understand the importance of live videos and are taking advantages of this idea. News channel people are using this live broadcasting on what is happening in their area, inside the city; outside the city, state, countries, and around the world. These videos will give the true information about the current situation of the world. People who love to showcase their talent to the world, especially the BAND PEOPLE, broadcast their live concert using the live streaming video applications. Some politicians will also be taking a favor of this live video concept to convey some important affairs and some most important events to the people. Even our family members are not the exception to this. Some people broadcast live videos of their family ceremonies to their important relatives, who are not able to attend the functions. Moreover, even in recent days, several marriages are broadcasted in live to the people or to their family members. Let us view some of its advantages below:
Live streaming videos are always of high quality, as they need to be broadcast to the people without any flows and loadings.
When people love to watch live videos, there should be a wider audience potential.
You have the adaptability to utilize various types of substance and multimedia, including pictures, message, and live visit.
Ease, simple, comfortable and convenience
Utilizing live streaming apps implies you will have somebody to help you if unforeseen issues do emerge.
Several tracking tools and analytical dashboards are available to estimate the outcome revenue of your live events.
Live streaming videos can be viewed with the help of your smartphones. Therefore, it enables anytime and anywhere access.
Live videos are completely ad-free. Hence, we will not be distracted by the interesting events.
Build your own periscope clone as it is simple and easy. It is also affordable.
Considering the importance of LIVE streaming videos, BSEtec, the leading technology solution provider, recently launched the innovative and creative software to create an effective platform "LIVE PLUS" for your live videos. LIVEPLUS is a live streaming script of the famous PERISCOPE. With its remarkable features, it has already grabbed numerous customers. Moreover, to make video streaming app clone even more interesting and more accessible, Bsetec has implemented additionally 3 stunning features like Multi-language support; Social Network Login; and RTL Support. Let us view these features in detail:
Multi-language support:
Live plus can be supporting the languages like Indonesian, German, French, and English. Therefore, people in Indonesia; German; France and English speaking people can easily download and view in their own languages.
Social Network Login:
This feature enables users to access LIVEPLUS with the help of their social networking accounts like Facebook & Google+. Moreover, they can login with their email address also.
RTL Support:
Apart from Indonesian, German, French, English, Live Plus will support Arabian language also.
The above-mentioned features will certainly make the audience look towards LIVEPLUS. Live plus can enable customers to broadcast their live videos and create an impact on others. Enhance your live streaming videos with our most selling product LIVEPLUS.