Do You Know About UI/UX Design Trends For 2018?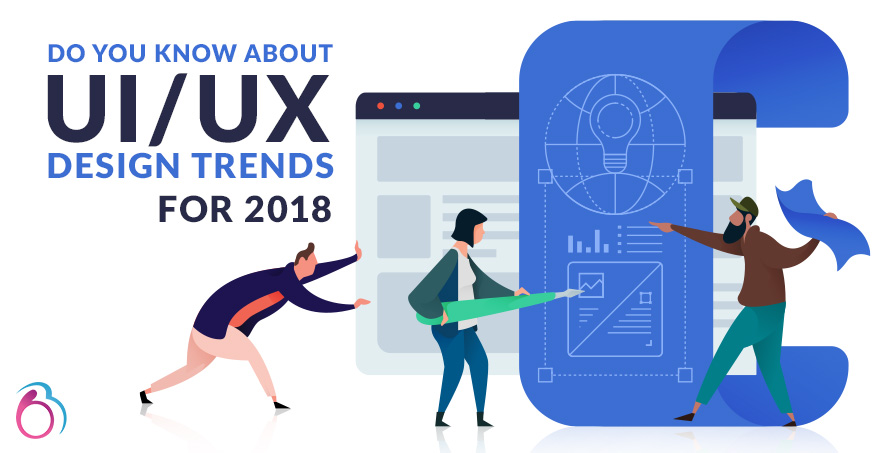 Everything moves rapidly in this mobile world. Several innovations are taking place in this competitive world to compete with their opponents. To stand in the game of mobile UX design, developers need to strive hard and must have foresight for the preparation to face the new challenges around the corner. Now let us view 12 Mobile UX design trends in 2018.
Easy access: The first and foremost feature of UX design trend is "Linear workflow. In this methodology, users will have a clear view of the process from the beginning to the end. Moreover, this workflow will estimate the timings required for the task completion. In addition, designers use the "Progressive Disclosure: technique to make information or actions visible only when they are in need of.
Gestures Paired With Animation: More focus put on motion design and micro-interactions. As a result, the most basic interactions with a device are gesture-based which can be paired with animation.
Content-Centred Experience: Simplification of the content will help you to focus on the message. Designers used "Decluttering??? method, a technique of removing irrelevant information and prioritizing relevant information by putting content first and elaborating clear visual language. Eliminating all visual clusters can help users to focus on the core message.
Full-Screen Display: With the arrival of Samsung S8 and iPhone X, the full-screen display becomes a trend. In 2018, designers are concentrating more on full-screen display with full resolution. Moreover, considering the users' requirements, designers are developing the app in full pixel that the image will not break when viewed in a full-screen display.
Vibrant colours: Colours is one of the most popular aspects in designing. It plays a vital role in mobile app functionality. Colours can easily grab users' attention; set a mood; influence them with emotions and actions. Vibrant colour apps will always be at the top list. Moreover, it will be the part of the functional experience. Users will always love to see their notifications in several colours.
Emotion experience: Till 2017, all our emotions will be expressed with the help of emojis. However, in 2018, we have got a better way to express our emotions. Face recognition will be used to provide more effective relevant reactions. Animojis – Animated emojis which will respond to the facial expressions via iPhone X camera.
Video Dominance: As per some survey, 94% of the population prefer Portrait orientation (Screen rotation) to watch videos and news. Consequently, the developers are certainly concentrating on mobile app orientation to enhance the visibility of the app or website.
Biometrical Authorization: Biometric authorization replaces our traditional password method. In 2018 biometrics will be more accessible and we'll see more use of biometrics for authentication and identity management purposes. Users can open their applications by providing their pictures as their password. The system will recognize our face and opens the apps.
Conversational design: People love chatting with friends. That is why Chabot and voice-activated assistants, powered by artificial intelligence, will be a hot trend in 2018. Businesses will have real-time automated conversations with their customers.
Advanced Personalization: Since mobile is playing as a partner or friend when are about to travel. We constantly use mobile apps for searching location. Moreover, these apps use location data to provide us relevant information about our current location. Personalization truly depends on adapting users' layout. Each user will differ from other. The app can be personalized as per our convenience. For example, adjusting the colour; brightness; font size and adjusting volumes; etc.
Augmented Reality: Already we are enjoying AR apps like fun cameras and some game apps. Moreover, now it became the best solution for Real-life problems. Augmented Reality is rapidly extending its usability in our real-life problems. For example, AR Measure can be used to measure the real world objects without utilizing our traditional measuring tape.
Cashless payment: In today's digital world, every payment has been happening only with cashless payment. Every person prefers only this method. In 2018, we will be having Apple Pay/Android Pay as a default option for transactions.