Essential skills to become a successful Blockchain Developer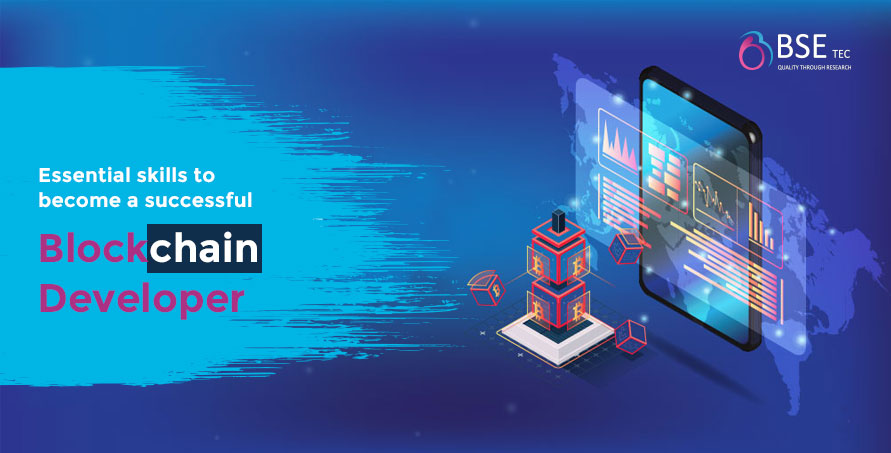 Blockchain development has a great scope in the contemporary world and as you become an expert, it would generate a lot of revenue for you and in turn, the digital revolution would have a positive effect as well. To be a part of this digital revolution, you need to get professional training through specialised courses. Start with the basics and then proceed deep into the blockchain essentials by learning algorithms to facilitate supervised machine learning.
Once you understand the principle and the concept of blockchain, learn about ICOs and Ethereum which is a commonly used platform in the blockchain. Under Ethereum, you would need to understand about solidity; a special language for smart contracts and truffle which is a popular framework in Ethereum.
However, solidity is only a part of the DApp codebase, it can also be written using any languages such as Python, C++, or Java etc., So it is equally important to focus on all the programming languages before stepping into blockchain development. If you lack skills in coding, it is hard for you to become a good developer. To hone your skills, you could take up online courses or even a full-time course in programming languages from a verified training institute. It is an added benefit if you get to learn from the industry experts.
Apart from ethereum, there are various frameworks such as Hyperedger, your focus should also be in understanding and getting familiar with these platforms. Building DApps also requires understanding two parts, the front-end and the back-end. The front-end is just like any other mobile app or website development that is done using languages such as HTML, Java etc., while the backend requires the understanding of cryptography as the blockchain development is highly reliant on cryptographic functions.
Once you are familiar with the DApp development, it is time to learn about data structures, bitcoin and then try to develop a few DApps to check your progress. If you think it is hard to do a self-learning we understand your difficulty, which is why BSEtec has come up with "Professional IT Training" with streamlined courses based on the difficulty level and the courses that are very essential for new-age technologies like blockchain development. Also, we hire industry experts to take classes with practical classes and advanced learning tools. To learn more and apply, contact BSEtec right away.