Establish a profitable live streaming solution in Business using LivePlus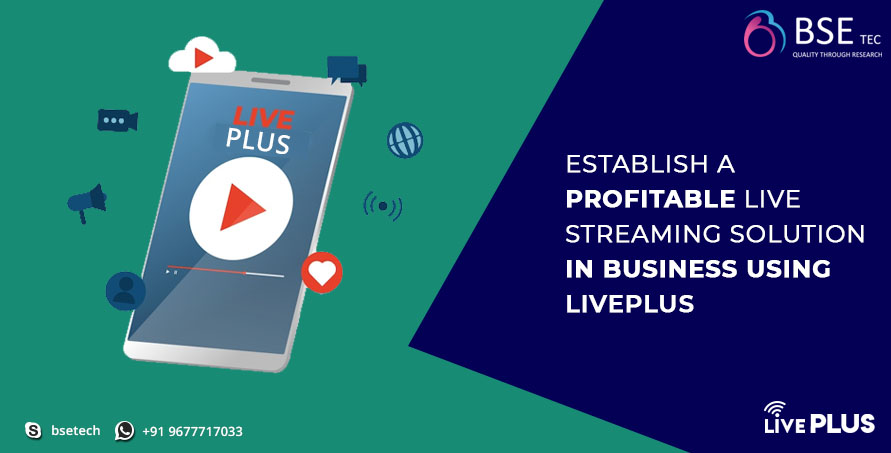 Developing an online learning platform is the best thing you can start in the year 2020. Live video service is getting in the spotlight, with the rising reach and engagement in this category. The first live streaming service was trending because of social media integration and other entertainment purposes. But now it is getting popular as a full-fledged industry. Development and making it successful is a very unique and diverse task. It requires a lot of work and focuses on various points. We can tell you one thing that the development and another technical part can be handled by the companies like us but the implementation and execution of the business model is the part where your execution will require. 
Here are some points to remember while developing a successful live streaming solution
Plan on Paper

 : At first, We suggest you plan your whole business model on paper, Where you can list all the things you require and how everything will work. In this step, You will just answer the important questions. For instance, What are the required resources, What is the motive and introduction to this model.

Targeted Audience : 

Now after identifying the model and motive, You need to decide, What targeted audience you are catering. In video streaming apps, There are many categories like some are for entertainment only, Some are for businesses only, Some are universal, etc. 

 

Revenue Generation

 : It's a crucial point to decide, Its the time where you now decide how you will earn money on the live streaming software. You also have to decide, If you are going to charge as a subscription upfront from customers or you just want to monetize your video streaming app and keep it free for consumers. 

Find a clone script : 

For the development of the finest live streaming software, We suggest you go for a Live streaming PHP script. Well, the Clone script is the finest and smartest way of developing a new platform. It is affordable and updates your platform within a shorter time. You can check out LivePlus- periscope clone script created by BSETec for development. LivePlus is the best because it develops your platform with the latest technology available. Also, It comes at a very affordable price. Along with the Clone script, You will get the best in class

readymade features

and additional benefits from BSETec. For instance, Free installation, Free cost system updates, and premium technical support. With the open-source live streaming script, you can do any customization with your platform. You can check out its free live demo right now to see how it works at

LivePlus

. 
After Finding your clone script, The clone provider will handle the development and technical work, And till the time you can work on your marketing and other team strategies. So that when your platform is ready, then you can directly enter into the business with the boom. For more details or any guidance on the development, You can get in touch with BSETec.