FAQs On Freelance Script That You Should Know Before Buying!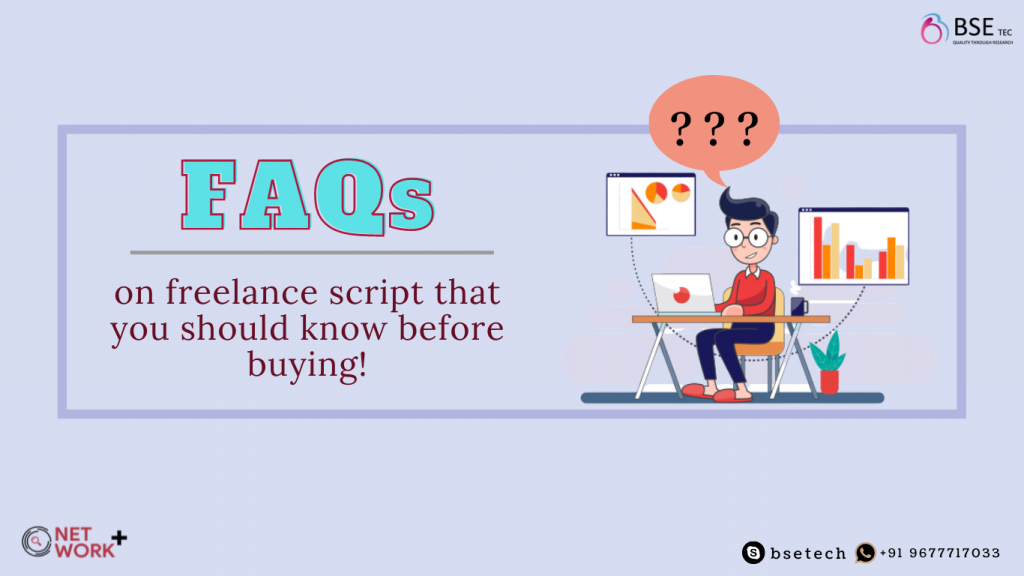 A platform that hires talented users from all over the globe and connects them to potential clients and gives them the freedom of doing a job with flexibility of time and place is something that has revolutionized the way people have been working for years. These platforms are increasingly becoming popular and are gaining prominence all across the digital world as freelance marketplaces. With the gig economy on the rise, many companies, entrepreneurs and businessmen are investing in the development of such freelancer platforms like Upwork, PeoplePerHour, Fiverr, etc. However, from-the-scratch development of an app or website like Fiverr or Upwork is not only time consuming but is quite expensive and has the potential to make a hole in your pocket. Therefore, freelancer clone PHP scripts like Network Plus is here at your rescue by helping you create a seamless and efficient freelancing platform in a matter of days. 
FAQs on Freelancer Script
So, if you are new to understanding the world of freelancing clone scripts, then the following FAQs might come in handy–
What are clone scripts exactly?
Clone scripts are the replica of popular websites or apps, with similar features and functionalities that can help you create your very own app with high quality and effective performance. 
Can we customize the freelancer clone script?
Yes, Freelancer PHP scripts like Network Plus have deep customizable features, with a wide array of templates, color schemes, and themes to choose from. You can even integrate different functionalities like AI and Machine Learning in your freelancing platform if you so wish. 
How to start building the platform?
You need to do a lot of market research before you jump into the development of the final website or app. That is because before you invest your valuable resources like time, money, and energy, you need to be 100% sure that you will have a high ROI. After you are done with your research, you can start with the development of your freelancer platform. 
How to create a revenue model in my freelancing platform?
Like you have in Upwork, you can have revenue models in the form of bidding fees, commission fees, premium membership plans, project listings, Ads, and also in the form of Connects. 
Which payment gateway is the most secure for freelancers and recruiters?
The escrow method of payment is the most secure because it helps to keep away any fraudulent activity or exploitation of either party, by providing an intermediary between the two by keeping the money safely. This payment method is being used in Network Plus. 
So, if you are interested in creating a platform to bridge the gap between freelancers and recruiters, you can count on the freelancer app clone script, NetworkPlus by BSEtec. It is the best quality clone offered in the industry. Contact us for more details.