Food Delivery Industry: Making Way For The Niche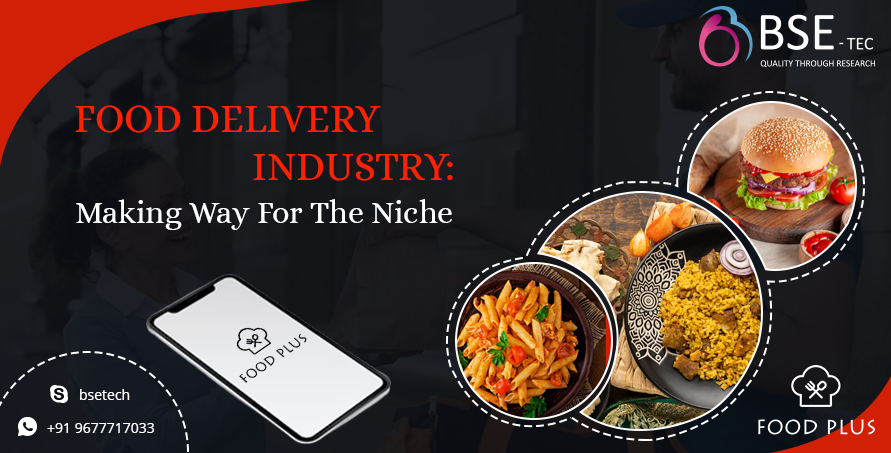 Success in the food delivery industry requires a combination of innovation, quality, and customer service. By breaking the clutter, layering the groundwork, and creating a niche, you can differentiate your start-up from the competition and build a loyal customer base. As a food delivery start-up all these can be challenging, but here are some ways you can do it.
Breaking the Clutter
Differentiate your business: Find a unique selling proposition that sets your food delivery start-up apart from the competition. For example, you could focus on healthy food options, local ingredients, or niche cuisines that are not commonly available in the market.
Create a strong brand identity: Invest in branding and marketing to create a strong identity that resonates with your target audience. This includes creating a memorable logo, designing a user-friendly website and app, and using social media to connect with potential customers.
Layering the Groundwork
Build a Solid Infrastructure: Invest in a reliable and efficient delivery system, such as partnering with a reputable delivery service or developing your own in-house delivery team.
Ensure quality control: Focus on delivering high-quality food that meets or exceeds customer expectations. This includes partnering with reputable restaurants, ensuring food safety, and maintaining consistent quality across all orders.
Creating a Niche
Identify a gap in the market: Research the market to identify unmet needs or underserved niches. For example, you could target a specific demographic or geographic area, or offer a unique service such as meal planning or catering.
Build partnerships: Forge partnerships with local restaurants or suppliers that align with your niche, and build a network of loyal customers who appreciate your specialized offerings.
Establishing a food delivery app can be more challenging, but there are several ways to overcome these challenges. Here are some tips that may help,
Identifying your targeted customers can help you narrow your focus. Focusing on the targeted audience gives you more wins and conversions comparatively.
Offer a Unique Value Proposition
A product's value proposition is the functional, emotional, and self-expressive benefits your brand provides the targeted audience. This includes what and how you deliver your products to your customers and how you differ from your competitors. To offer unique value propositions you need to develop decisions around the need of your targeted customers as it represents the relationship between the brand and the customer.
Understand your Customers
Truly understanding your target customers gives you great insights into the product-market fit. So, conduct market research to understand your target audience's needs, preferences, and behaviors. This will help you tailor your app's features and user experience to meet their needs.
Build a User-Friendly App
Design an intuitive, easy-to-use app that allows customers to easily browse menus, order food, and track deliveries. Ensure that the app is optimized for mobile devices and has fast loading times to provide a seamless experience. Also, make security your first criterion as these apps involve online payments.
Partner with reliable Restaurants and Delivery Partners
Partner with reputable restaurants and delivery providers to ensure quality food and timely deliveries. Conduct thorough background checks and vetting processes to ensure that your partners meet your quality standards.
Brand development does not happen overnight, it involves a strong strategic foundation and marketing hacks. Trends, behaviours, customer desires, and business opportunities shape the market, so, it is good to invest in the best marketing strategy and tests like A/B testing to get a better ROI from your marketing and digital marketing campaigns. Additionally, you should have a better CRM to measure the data and should be able to convert those data into actionable things that provide tangible results.
Offer Incentives and Rewards
Encourage customer loyalty by offering them incentives and rewards like loyalty points, free deliveries, and discount coupons. This will encourage repeat business and help you build a loyal customer base.
Focus on Customer Service
By providing valuable customer service, companies can have notable business growth and can recover customer acquisition costs while improving the bond between the company and costumes. Providing essential and great customer service fosters brand loyalty and business growth.
Overall, establishing a food delivery app requires a focus on customer needs, reliable partnerships, and effective marketing. By prioritizing these factors, you can overcome the challenges of establishing a successful food delivery app. The food delivery industry is booming, and with the right software script, you can carve out your own niche. Get in touch with BSEtec for a free demo.
Did you find this article useful? Let us know by leaving a comment below or join us on Twitter and Facebook.