The Future of TV and Video Livestream Business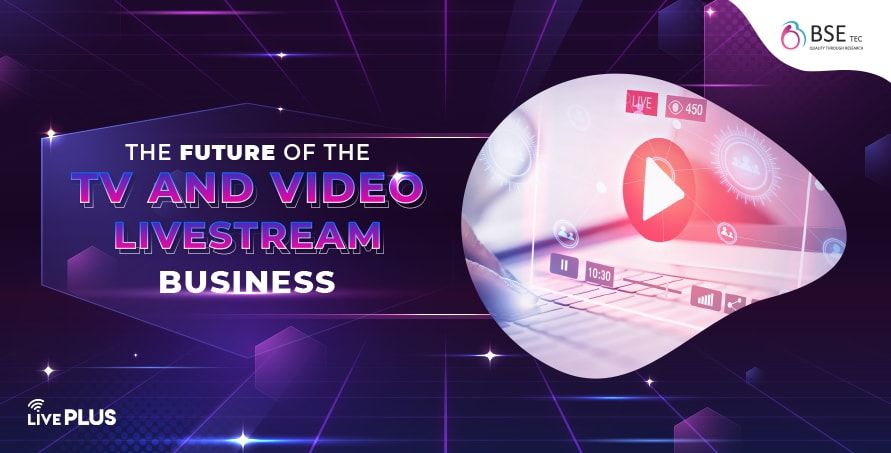 When we talk about entertainment based on Live Tv, We always get excited about the fact that we would watch something new and interesting. But the real thing here is now the audience is bored of watching recorded videos and content where on the other side live streaming businesses are experiencing a boom because live tv is currently in trend and getting more viewership than ever. Today businesses are investing in live streaming business models as they know that they can be the next big thing in the entertainment industry. Live streaming software or Live tv is the entertainment channel that gets higher viewership with more revenue generation. 
How does the future look like for Live streaming and Live TV?
The future of Live streaming businesses today are at the stage where businesses and users started noticing its potential in the entertainment sector, But for future, we can rely on the assumption that we may see much more advanced live streaming software coming up with the tools and features that would blend the social communication and entertainment itself at one place. 
If you are wondering what would that be? Here is the idea.
We think that live streaming software in the future would also enable its users to communicate better than most of the social media apps like Instagram, Facebook, etc with more advanced and entertaining content development tools. We think this is an opportunity for entrepreneurs to develop an advanced live streaming app to get the share into the future because today the channels that influencers are using would not stand for the long term. A channel like Youtube is already started to fade down the hope of new influencers and content creators as getting views and subscriptions is much harder due to the excessive UGC. Live video apps may be the next thing where influencers and content creators prefer to post regularly as they include more revenue generation models for broadcasters as well. 
For businesses also, Investing in live streaming software is much of a great investment as they can develop a customized live streaming software for their brand to communicate with their audience and even to establish great interaction management in the company work culture itself. These apps work on powerful streaming engines where you can get unlimited streaming and also start monetizing your streaming through local ads. The live streaming software is also a great source for businesses to launch new products or to hold online live concerts for a global audience.
How can you develop live streaming software?
LivePlus is the source you should check out in the first place as you would get everything in one place with that. LivePlus is the Periscope clone script that allows you to develop more advanced live streaming software in a matter of hours. It is efficient and scalable and comes under an affordable budget with different packages suitable for businesses, corporate leaders, and even startups. LivePlus Live streaming software script is also loaded with high-end technologies and tools such as 
Advanced and easy to use Admin Dashboard 

User Management System

Multi Broadcast

Revenue Generation tools

Live Chat

Live Comments

Profile Settings

Advanced development assistance

Powerful streaming engine

Fantastic framework

And Much More
Development of the live streaming software might be your chance to get your hands on the brand that could be the next big thing in the market like Bigo live or Periscope. It's all upon you if you want to develop your periscope clone with your customized ideas and marketing strategies or you just want to think about it. 
LivePlus is an opportunity we are offering today in the industry to give entrepreneurs all they require to establish the live streaming brand and we want you to talk to us about what you have in mind for this industry so that we can work together to make something that could change the future. 
You can drop your content details on the given email address or you can live chat with us by visiting our website, BSEtec.