How AI-driven robots and drones bring cognitive intelligence to Industry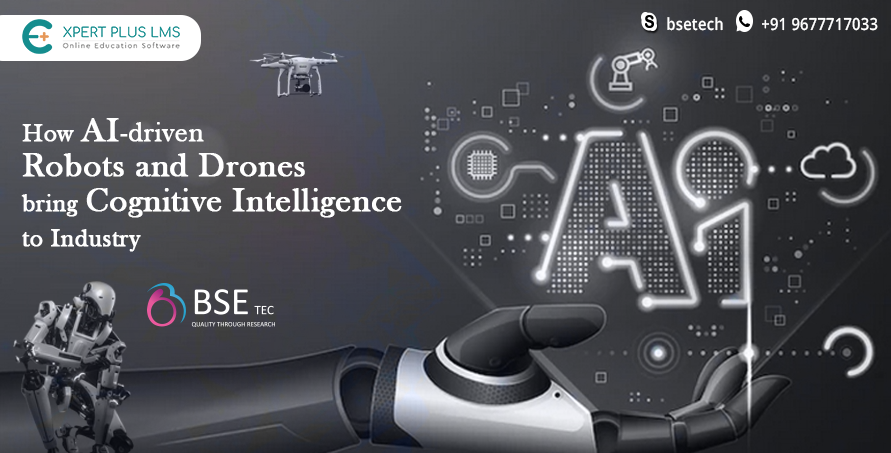 Definition cognitive intelligence is defined as human mental ability and understanding developed through thinking, experiences, and senses. It is the ability to generate knowledge by using existing information. It also includes other intellectual functions such as attention, learning, memory, judgment, and reasoning. So cognitive intelligence in the industry is used for inspection purposes, to check the quality of the product, looking for flaws that are not up to the standard. With the onset of AI-driven robots and drones, many industries have adopted them for inspection purposes.
AI in Automakers: AI can help original equipment manufacturers (OEMs) decrease manufacturing costs and predict car malfunctions while producing safer and more innovative products. Audi, for instance, is testing AI to identify tiny cracks in sheet metal with the help of computer vision — automatically, reliably, and in a matter of seconds. Here are some use cases in AI automotive that are commonly used now:
Сomputer vision for malfunction detection.

Enhanced quality control and decreased waste management process.

Predictive maintenance to improve the efficiency of production equipment.

Assistance with the creation of the products at the design stage and discovering algorithms to optimize the use of power units and build more efficient models.
Stats report that AI/AI-driven robots may increase by 20% of the production if incorporated along with other workers.
AI in Oil Refineries: Robotic inspection tools in oil refineries, which turn crude oil into consumer products. These facilities utilize precise chemical processes and need their equipment to function properly at all times. Manual inspections in these plants can also be dangerous because of the machinery involved.
Drones in Inspections: Imagine a Drone with incorporated AI inspecting the outside of a building and it sees a wet patch, "Maybe AI will highlight the patch, but the drone knows it needs to fly in closer and maybe change the angle to see the patch." These proactive decisions totally change the inspection mission." Drones can reach where it is risky and dangerous for human life.
AI uses data and machine learning (ML) algorithms to replicate and even surpass human decision-making abilities. It has the potential to take inspection and other plant operations to a different level.  AI-based solutions add value to products, speed up operations, increase efficiency, and reveal data that provide life-changing benefits.
conclusion:
Everyone can easily incorporate AI into their business strategy, even if they are a small business looking for additional ways to automate and streamline certain tasks. For AI-based software solutions Contact BSEtec.