How does Instagram make money?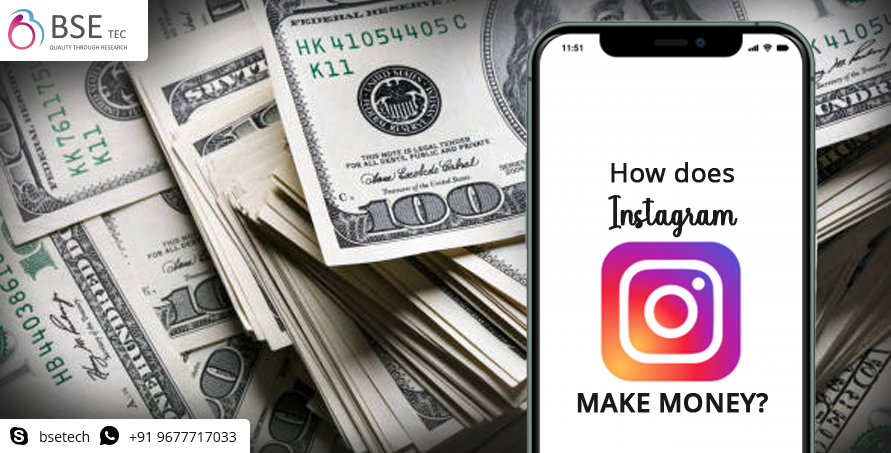 As of today, Instagram is the leading social platform for 21st-century advertisement. Instagram was launched in 2010, and it did not monetize any of the features back then. When it was bought by Facebook (now Meta) for $ 1 billion. At the time of the acquisition, Instagram was growing fast, but it had only 25 million registered users — minuscule compared to Facebook's hundreds of million users. In 2018, Instagram generated an estimated 6.84 billion U.S. dollars in revenue. The photo-sharing app's revenue is projected to more than double to 14 billion U.S. dollars in 2019. However, as per a report by Bloomberg, Instagram brought $20 billion in 2019 from advertisements alone. So let us see how Instagram generates revenue. There are 3 revenue resources from which Instagram generates revenues. They are,
Instagram advertising:

Like any other digital platform, Instagram also generates revenue through Ads. Instagram takes the liberty of showing ads on the feed, stories, Explore Tab, IGTV & Reels. The ads come in several different formats like photo ads, video ads, carousel ads, collection ads & Shopping ads. 

Instagram Shopping:

In 2016, Instagram introduced shoppable posts using which brands could tag products in posts like users tag friends. These tags take the users directly to the brand's website. In exchange for these increased conversions, Instagram would take a cut of the sale, similar to an affiliate program. In 2019, Instagram took the Shoppable posts a step further — users would be allowed to checkout within the Instagram app itself making the customer experience even more hassle-free, similar to the previous one, Instagram charged brands with certain fees for this feature.

Creator Tools:

You can convert your personal or business profile into a creator account to access features that make it easier to control your online presence, understand your growth, and manage your messages. The Creator Account on Instagram gives you a set of tools that makes it easier to control your online presence, understand your growth and manage your messages. By providing incredible features to creators and helping them earn through Instagram (Contents from creators, in turn, increases user engagement). As per a report by Verge, Instagram shares a 55% cut of the revenue earned from ads shown on IGTV and plans to pay them for ads on Reels.
  To Know More Build The Best Social Media App By Using Our Instagram Clone Script
Instagram generated an estimated $47.6 billion in revenue in 2021, This is huge, but not surprising! With 500 million active daily users on Instagram. If you are planning to create your own Instagram-like app development it is better to understand that user engagement is the key. 
Instead of developing such apps from scratch, it is better to opt for an Instagram clone script. These clone scripts are ready to use, pre-built and pre-tested, and have all the core features required for your app. Checkout, Social Media Plus, Instagram clone script created by a team of eminent professionals from BSEtec. 
Conclusion :
Hence, it is a great opportunity for upcoming entrepreneurs who are interested in starting their own social media platforms. Along with the social media plus (Instagram clone script), you get Free Installation, Premium Technical Support, Regular Technical Updates, and Full access to source codes. Contact BSEtec for a free demo and other queries.