How Fiverr Works: Business Model and Revenue Stream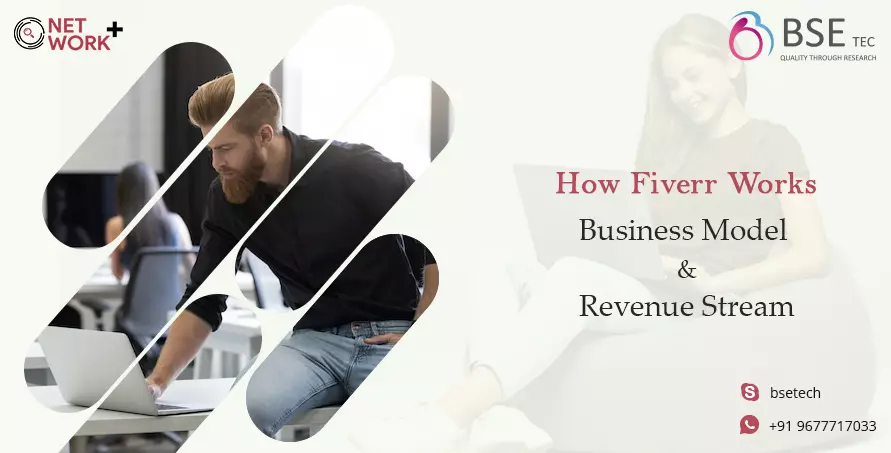 The inevitable global-wide pandemic made the working culture shift towards an on-demand, online, and flexible workforce a long-term global trend. With this trend, there is even more demand for Job marketplaces like Fiverr and Upwork. Fiverr is an online talent solution company that connects the world's largest pool of freelance professionals with customers all over the world.
Fiverr's revenue: The estimated United States freelancer market is $750B annually
and the Fiverr's current addressable market in the U.S. alone is over $100B. Fiverr is in over 160 countries, yet approximately 70% of revenue today is generated from English-speaking countries. The estimated revenue of Fiverr's revenue based on the Quater 1 FY2022 report is  $332 to $340 million.
Fiverr's Business Model: Fiverr is basically a Job Marketplace. A marketplace is where gig worker can register their services. A marketplace succeeds when our buyers and sellers succeed. In business terms, Fiverr can be easily understood as a typical two-sided network, with Freelancers on one side of the network looking for work in their domain. Fiverr's marketplace model takes advantage of a powerful flywheel effect: as more buyers join the marketplace, they bring in more jobs, increasing demand for the sellers. This attracts more sellers to the platform, who will list more service offerings, giving the buyers more choice, better quality, and more value for their money, resulting in more repeat and cross-category purchases.
How Fiverr makes money: Fiverr makes money by charging its users service and transaction fees. The company also sells courses and has a subscription model. 
Let's take a closer look at how Fiverr generates revenue in brief.
Service and Transaction fees:

The majority of Fiverr's revenue comes from service and transaction fees. When an order is placed, buyers pay Fiverr the Gig price plus a 5% service fee with a minimum service fee of $2. The Fiverr business section of the website allows businesses to access a pool of vetted and qualified freelancers to complete tasks. This service is monetized by Fiverr, which charges $149 per year for up to 50 users per account.

Subscription fees:

Fiverr's "Workspace" feature was designed for agencies that handle dozens of client requests per day. For this service, they provide a free tier as well as a subscription model. Users have limited functionality with the free model, which includes seller integrations, contracts, and payment processing options. For $24 per month, users get access to business analytics, custom-branded documents and contracts, and priority support.

Course fees:

Like Udemy, and Coursera, Fiverr launched its eLearning marketplace FiverrLEARN. Learn from Fiverr is an online platform for on-demand video classes designed specifically for freelancers and professionals. All classes are taught by distinguished experts in their fields. 
Future Growth: Fiverr depends on its users to grow its marketplace. The site is designed to improve the user experience for both buyers and sellers. Buyers can now work with their preferred sellers on a regular basis thanks to the recent addition of "subscriptions." Analysts predict that the gig economy marketplace will grow at a CAGR of 15.3% between 2022 and 2026.
Wrapping Up: 
This international demand for an on-demand workforce is significantly increasing. So, this is the most appropriate time and opportunity to invest in job marketplaces like Fiverr for our future growth. Want to create your freelance platforms like Fiverr or Upwork? You can do it in a matter of hours now, with Fiverr or Upwork Clone Script, Network Plus. Contact BSEtec for more details and a free live demo.