How is udemy clone useful in keeping up with the success trends of online learning?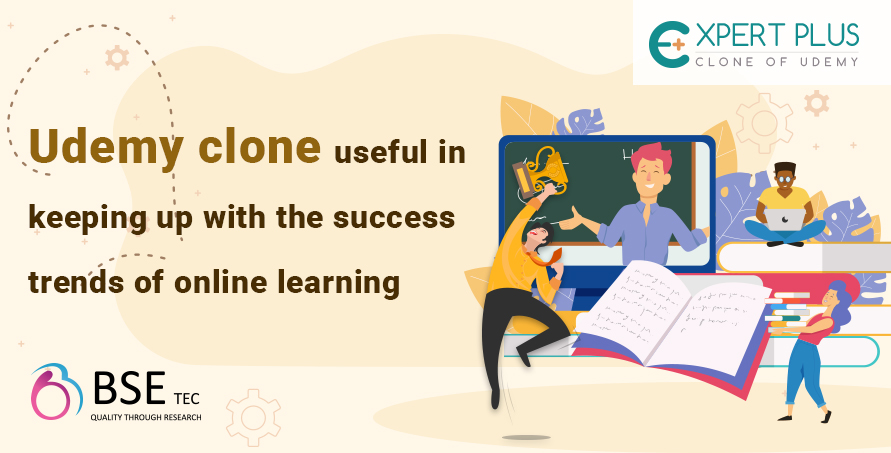 Online learning is growing day by day and many colleges and universities have started inculcating online courses as a part of their curriculum. This has boosted the demand for a quality online learning platform. Best app development companies like BSEtec are working towards fulfilling the need of the hour through various research and application.
The target beneficiaries for any app development company are the clients and their customers. Keeping in mind that both the target group gets maximum benefits for a significantly less cost, we have come up with an udemy clone called Expert Plus. The reason why an udemy clone script should be used instead of creating an all-new app is that it reduces the chance of app crash or error. This is especially because the business model is already a successful one and many people have already started making the best use of it.
For the client who is looking forward to making an LMS, we have created the script in such a way that they can operate it just like using the app. The management part has been very much simplified and so the super admin can handle the app without any hassle. For the user-end, the app has so much space to accommodate resources such as e-learning materials including ebooks, pdfs, audio classes, video presentations etc.
The udemy clone app is consistent as the script used is very effective, error-free and easily customizable. This gives an opportunity for the app owner to choose and alter the app based on what they like. Many tutors, freelance academicians can gain benefit out of this and in turn, the businessmen who own the app gets huge revenue out of this lucrative online education platform.
Reflecting the best qualities of Lynda clone and coursera clone script, Expert plus udemy clone script is best of its kind in its deliverance and performance as it has been created using cutting-edge technological elements, laravel framework is one of them that contribute as a building block of this perfect architecture of learning management software.
The demo app is available on app store and play store, check out the features and get your customized application right away from BSEtec.