How much does it cost to develop a mobile app like Udemy?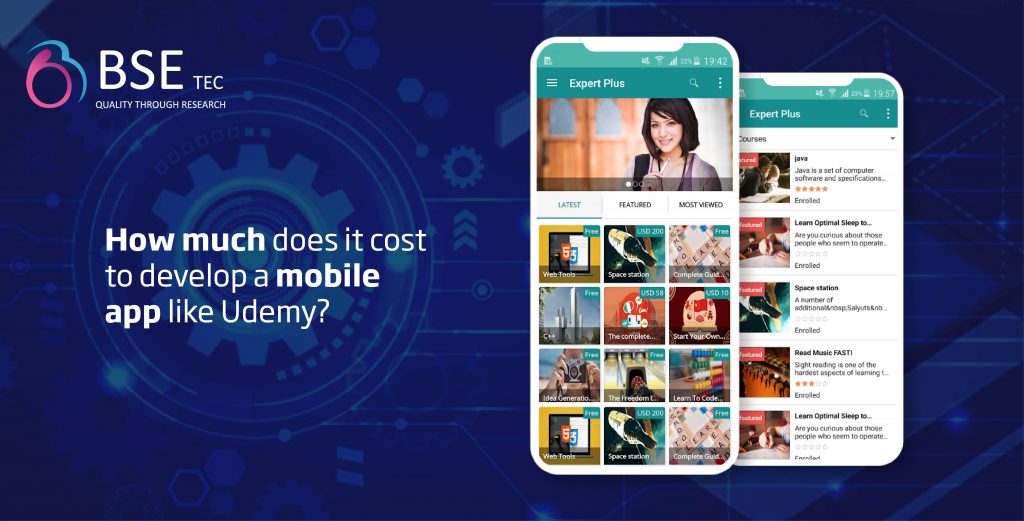 Udemy is one of the well-known E-learning apps, used internationally. Perhaps, some educational institutions have collaborated with the company to enhance better e-learning environment. Udemy offers career-based, academic as well as vocational courses. The tutors belong to different parts of the world and usually hold expertise in the field. With over 40,000 courses, the E-learning app holds the name of the largest library of learning resources.
Udemy app is attractive because of the variety of features that we can avail, besides, the app is highly responsive and accessible in any smartphone or even smart TVs. Yet, the building cost must have been enormous as they serve as they have top-notch features. This is one of the reasons why they serve as a model for aspiring entrepreneurs.
The cost to create app like udemy depends on which method you use to do so. You can either buy an LMS which is coded by udemy clone PHP script or create one from scratch. The latter requires more capital investment, time and various levels of testing to ensure better usability. However, buying an LMS script can cut down various costs without affecting the expected quality.
We have brought the facts for you to understand how much it would cost to create app like udemy. The cost to build an E-learning platform depends on the development model that you choose. There are various stages in app development such as researching, wireframing, evaluating technical feasibility, prototyping, designing, developing, testing and app deployment. Each phase takes several months and some high-end projects even prolong for a year.
According to Chapman Alliance, to create an LMS like udemy, the average cost would be $10,054(Basic interface and features) which also varies from place to place. But then, the report is quite outdated and now, the cumulative cost would fall anywhere between $35,000 to $1,20,000 based on the features and various other costs involved.
The year 2020 has seen a tremendous shift to E-learning due to the global pandemic of Covid-19, yet the prices have gone down despite the demand.
In fact, creating an LMS using udemy clone script costs much less than what it would cost to develop from scratch. For instance, Expert Plus, a udemy clone from BSEtec, offers free basic features on the trial version and the enterprise version costs $299 and you can get a quote for more benefits with us. As you buy the complete script from us, you get full access to the features and free installation. Perhaps, this is one of the easiest and cost-efficient ways to build a udemy clone app.
BSEtec has created the udemy clone with features that are eccentric besides the common ones available in the LMS.
Features of Expert Plus
udemy clone PHP script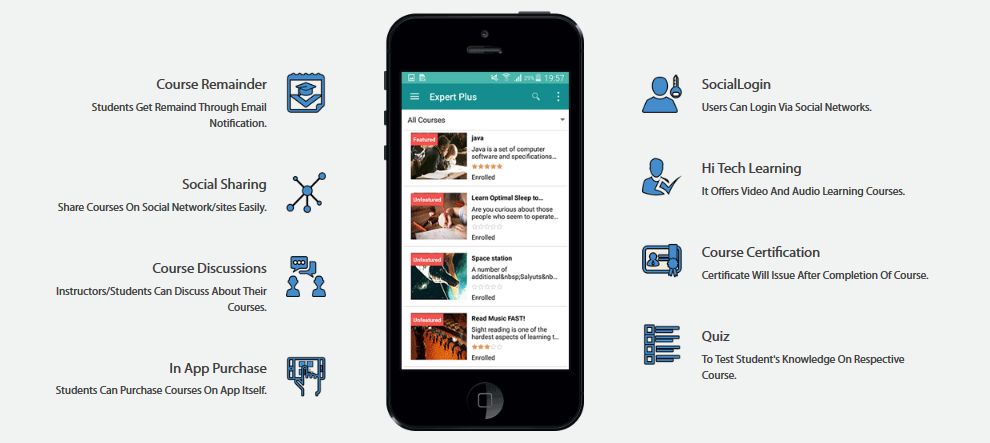 Bootstrap Responsive Design: The script is designed using the best micro-framework Laravel which gives the responsive design to the app. The app thus created is compatible with all the devices including smart TVs and tablets.

 

Hi-Tech Learning: To make the learning experience interesting for the students, Expert Plus offers hi-tech learning that includes the use of video, text documents and infographics in place of plain boring texts.

 

Quiz: Online tests and quizzes are the need of the hour as the students cannot visit schools or colleges now, so the online tests and assessments are likely to help the institutions and students in a great way.

 

Multiple Payment Gateway: Students can subscribe for any course regardless of their qualification, except for certain degrees. They can pay using any method such as PayPal and similar payment gateways.

 

Course Certification: The students get a certificate once they finish a course.  

 

Email Templates & Settings: The admin can send E-mails to the students for various purposes. It could be a promotional e-mail or subscription notification, etc., The admin can choose from the pre-defined Email templates and send to the students and the tutors as well.

 

Go to meetings: The classrooms have become virtual now and the students can clarify their doubts from the tutors on specified date and time as discussed and attend meetings through Go to meetings feature.
Let's look at how much it costs for course building in an app like udemy
According to a report by Sergiy Movchan, a leading expert in E-learning, it takes approximately 100-160 hours to produce 1 hour of ready online learning content. Besides, if the job is taken or split by experts, the cost can be reduced by 30%. However, if the app is easy to use for the tutors, it would take less time for them to create the course with simple yet comprehensive course modules.
For instance, if the tutor has a course material in the form of text. They can simply upload a video by lecturing the concept, stating some examples and case studies and also they can edit the videos with relevant infographics and related facts.
Expert Plus has additional features to make better learning and teaching experience. The features start from as low as $25. Here's a list of such features that can make your app versatile and unique, grabbing the attention of the educational institutions that are looking forward to collaborating with online learning platforms. Additional features include:
Business Package

: Additional feature for organisations that wants to purchase the app for their administration. The package lets an endless number of subscriptions for a course.

Advertisement Management: Ad is one of the main revenue sources for any company. Digital advertising is a great tool to earn online through LMS. So, you can get Advertising management at just $25.
Gamification: Gamification is a great way to make your E-learning platforms interesting as it includes various elements such as points, rules and achievements etc.,
Youtube Video Features: The tutors can include videos from YouTube and make it interesting for the students.
There are about ten more additional features such as big blue button, AWS S3, RTL content etc., The total cost of building an app like udemy using Expert plus turn-key script would just be around $400- $500 inclusive of certain premium features that you can add if required.
How can you stand out from your competitors
Select your target consumers

Study the needs and demands of your target consumers

Decide the tools that you are going to use and the features that you want to add

Have your unique selling proposition

Create the promotional message according to the users

Create the app as well as a website for your E-learning business

Try offering promotions and discounts on courses or membership
Here's what you can get when you use clone scripts to create an app like udemy
 

Scalable and flexible app

 

Responsive design and all-device compatibility

 

Easy navigation

 

Less investment

 

Global reach

 

Multiple language support
The list goes on and there's so much that you can do with the app. To start with your udemy clone app, try out Expert Plus free trial. We can tell you that our features would steal your heart and a wonderful educational venture is ahead for you to start. To learn more and try out our demo app, visit https://www.bsetec.com/udemy-clone