How successful Brands Are Using Live video Streaming platforms & How It'll Quickly Grow Your Brand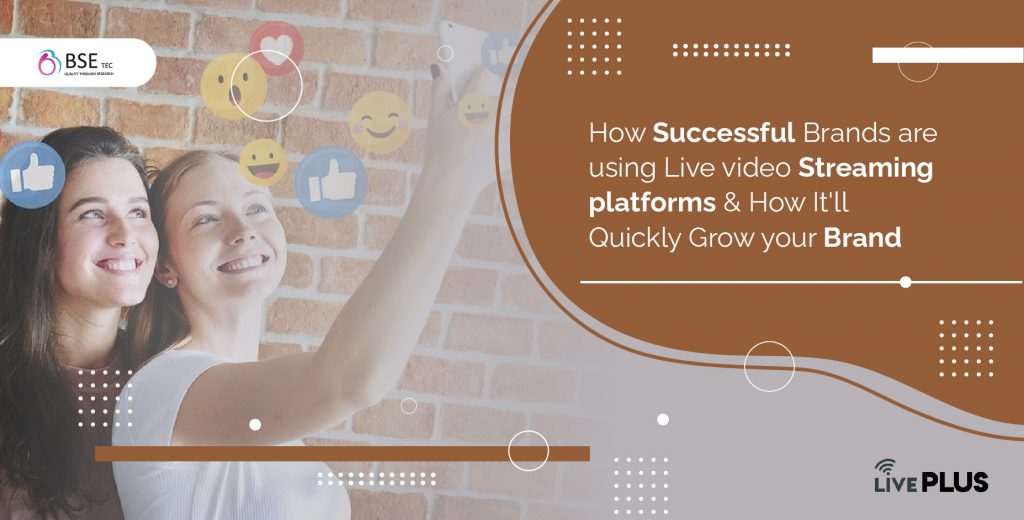 Live streaming is becoming a trend, and it is slowly becoming an industry. We should see this technology as the future of many industries, like online education, entertainment, sports broadcasting, and many more. It is an opportunity for entrepreneurs to develop a video streaming platform with the latest trends and tools in the year 2020 to get more market share in this rapidly growing industry. But the viewership, That businesses get on video streaming apps is magnificent. In the year 2020, It is even more in demand by users because the audience also likes to watch live videos and programs rather than recorded content. The various industries are now adapting Live streaming for their tasks to convey their message in the time of the global pandemic.
What are the various uses for Live streaming Platforms?
Video streaming apps are used by various industries now, and it has multiple uses. That's the reason the development of video streaming apps is trending. The major industries are-
Media and entertainment :

 This is the most popular and widely used because the engagement on live streaming platforms that generate content for the general public is fantastic. The majority of live streaming platforms offer video on demand and genre-based content for a more interactive experience, and the more user-generated content the platform receives, The more it grows. From a Revenue perspective, This type of video streaming apps gets more viewership and business worldwide likes to showcase their ads in these types of platforms. So this category is favorable for monetizing because you get a mass audience here with different categories of interests and likes. 

Live music :

 Yes, The radio is back. But of course, live music is different and the advanced version of it, But like radio, It is very successful. In this, We develop a platform with keeping our audience's interests in mind and design the music content in a way that it serves the audience with live playlists according to their preferences and interests. This business model is also good, But it is not available in the market with that advancement. If you want to develop a live streaming platform with the live streaming script, Then this can be your choice because the market share and engagement that you can earn here would be more compared to other applications. 

Education Sectors : 

Live streaming is also popular in the education category. It is popular here because of its advanced technology and tools to offer students worldwide. Not only independent learners But it also serves the mass audience worldwide with more educational topics. The platform can be used by tutors for On The Go learning with live tutorials and webinars. 

Corporate Sectors :

 Live streaming app development is now also getting the spotlight in Corporate sectors. Many corporates are adapting live streaming scripts for the development of their In-House Video streaming app for many uses. They can use All time live software in all their offices worldwide. Also, It is best for general meetings and interactions with mass employees. But instead of using other platforms, Corporates prefer to develop their app. 

Sports Industry : 

The most profitable use for live streaming can be international and national sports. The live streaming platforms are widely used by the sports industry to broadcast their National and International sports to a global audience at a time. It is the most profitable because it always gets the maximum viewership among all industries. 
How successful Brands Are Using Live video Streaming platforms
Many giants in various industries have already adapted the live video streaming for their promotions and launches in the year 2020. Let us tell you it was nothing more than successful for them Because the reach they got at a lower cost was the real success. Brands adopt live streaming for mainly Launches of their products and services for a global and national audience. Also, they use it for speeches and global audience interactions. For instance, We can tell you about some giant players in the industry that adopted this technology. 
SpaceX :

 The players in the industry, like SpaceX, started using live streaming for showing the world their live rocket launches recently. And their videos instantly got viral worldwide because of their compelling visuals. With the viral videos, It got free publicity and world recognition with almost no cost on promotions. 

Apple : 

In 2020, The worldwide player Apple used Live streaming for their event "Time Flies" launch. Because of the global pandemic, it goes all virtual, and it was very successful, and it reached a global audience to the comfort of their house.

RedBull : 

Redbull is a global brand that always tries to find innovative solutions to convey its message creatively. And this time, They also used a live video streaming app to promote and broadcast their latest Red Bull Guesthouse event very effectively. 

EA sports :

 Electronic Arts (EA) are the most renowned player in sports Video games on the planet. And their following ship is also very massive in number. They started utilizing a Live video streaming app for their recent video game Madden 15, Exclusively to give gamers around the globe the feel of the game concept and streaming. 
These were some players from different industries who already accepted the new normal of interacting virtually, and they are even getting more benefit from the virtual promotions and interactions in terms of revenue generation and enhanced engagement. 
How It'll Quickly Grow Your Brand?
For Brand development, Audience interaction is more than necessary. In the year 2020, When everyone got stuck in their homes due to a global pandemic, Even then, Some brands are doing their best to adapt New Normal with new resources like by developing platforms with Live streaming Php scripts. Businesses worldwide are promoting and launching their product on live streams and offering their services most efficiently. The only brand that adapts the change will survive this pandemic, And even you can take this change like an opportunity. We at BSETec are here with some tips to consider for your brand development with live streaming-
Interact more speak less : 

On the live video, Brands generally Talks a lot and don't interact with their targeted audience. With a Live streaming platform, you should ask questions to your audience frequently and also answer their questions. With this strategy, The viewers feel connected with your brand and find more relevance to your product and services. Who knows the one connection turns in sale closure. 

Try Demonstration:

 In Live video streaming, You can do a perfect demonstration of your product and services. By this, Your targeted audience would get the exact feel of the product. You can make them understand the fact that what they are missing by not having your product or service. 

The audience hates formal talks :

 When interacting with a targeted audience on live video, Don't go too formal. Instead, always have a little sarcasm and fun talks to make the stream more interesting and worthy of entertainment. The audience generally leaves the streams that only follow formal protocols. 

Promote less interaction more :

 Before even talking about your product or service on live streaming. Try to know more about the people watching your stream by asking them questions and by interacting with them. Then you can give them solutions connected to your product or service. This way, they will like your product or service more, and even it's more likely that they will make the sale If you interact directly as a brand with them. 
Which Live streaming PHP script is best for development?
There is an end number of periscope clone scripts in the market that can be the best choice for your platform development. We highly recommend you to go through from LivePlus. LivePlus is the most advanced live streaming PHP script developed by BSETec that comes with the latest technology available in the market to be fully functional all the time for live streaming services. These periscope clone scripts also have many readymade features. For instance, In LivePlus, We have features like 
Angular5 design

Kurento Streaming Server

Multi Broadcast

Single View Application

Wowza Streaming Engine 

Social Login

Users Management

Admin Dashboard

Notifications Management

Live Chat

Site Management a

nd many more.
LivePlus is best for development because of its best in class features and quality standards. It is the most innovative product of BSETec. With this clone script, You also get additional services like Free Installations, Regular technical updates with premium technical support. We recommend you check out its Live demo right now to see how every feature works in the final platform at LivePlus.
Conclusion :
We talked about the whole scope of Live streaming platforms with different industries, and in addition to that, We also discussed how brands nowadays are also utilizing this platform effectively. By using the periscope clone script, you are not using their design or copying them, but you are just getting inspired with that platform to develop yours. You can get the open-source Live streaming PHP script at a very affordable price with all the above features and exclusive benefits. You can directly comment below in case of any inquiry, and we will get back to you as soon as possible. For more insights on this clone script. Checkout LivePlus.