How to Build A Job Finder Application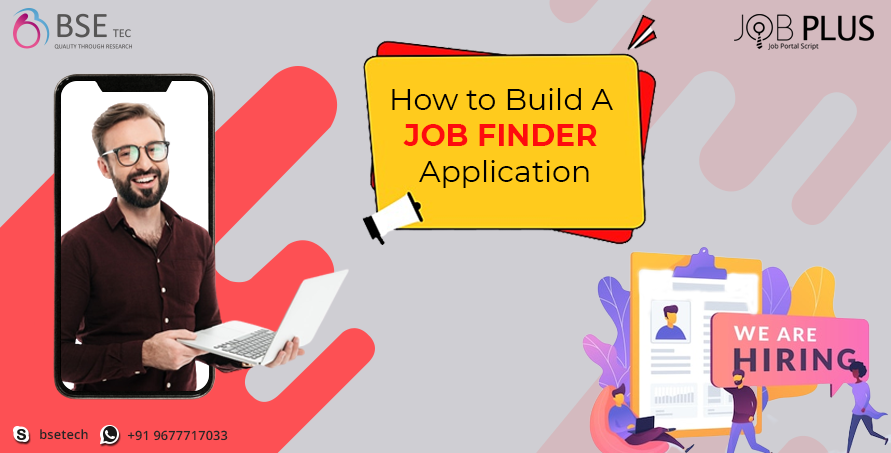 Finding and applying for a job ought to be simple. Job search apps are centered on convenience. This brings up two crucial issues when creating a job seeker application. With the increase in the number of graduates everywhere. There is a need for interfaces like Naukri or Monster to provide them with the right employment opportunities. Though building job portals are now easy with ready-made job portal scripts, you have to consider the following aspects before building your job finder platform.
Guide to building a Job Finder Application:
Factors to take into account before launching a job search website. Now, look at the main pre-development stage factors you need to consider.
Choose A Niche:

Indeed, the market has been dominated by job board titans Naukri and Monster. They take an "everything for everyone" stance. Every second, they gather enormous amounts of data from around the globe. As a result, it will be extremely challenging to compete with them at first. For starters, you could create a platform for hiring creative professionals. They work as painters, writers, editors, and designers. A great example of a website where you can hire qualified designers is 99designs. This site has a niche to hire only designers.

Select The Monetization Strategy:

Most popular job search websites are businesses. They charge various fees to generate revenue. They are,

Listing Fees:

Employers are charged a fee for having their offers listed for a specific amount of time. Dice, for instance, charges $495 for each job posting that lasts 30 days.

CV entry fee:

You give employers the option to view resumes of job applicants or pay a fee to access a database of applicants. When there are a lot of job seekers using the platform, the business model is very profitable.

Subscription fees:

Employers have the option to post an unlimited number of job openings each month when they pay a monthly subscription fee.
A Job Search App's Extra Features:
By offering the users the following features in addition to the previously mentioned elements, you can give them a 180-degree experience. These features allow for a more in-depth examination of how to create a business app similar to Jobberman or Monster.
In-App Communication:

Users and recruiters will be able to communicate with one another easily thanks to an integrated in-app communication option. The hassle of communicating across various platforms will be lessened.

Cloud Management:

By incorporating a cloud management system, all the data can be managed in the safest possible manner. With this feature, all the data can also be easily tracked and monitored.

Tracking of applicants:

One of an online job portal's most underappreciated features. It allows hiring managers to evaluate an applicant's level of expertise. Additionally, it makes it easier for the company's HR department to screen applicants.

Questionnaires:

The employer must know if a candidate is qualified for the position. The ability to design mandatory questionnaires will give recruiters the ability to select the best candidate based on their performance.
BuildingA Job Finder app:
Developing a job portal website from scratch is fuzzy, takes more time, and is heavy on your pockets. Opting for Clone scripts like Jobberman clones, monster, or Naukri clone scripts helps you to take your idea to market in a matter of few hours. These clone scripts have all the stellar features that make your job portal app stand out from other competitors as it's a white label solution that allows you to customize it to your interests!
You've come to the right place if you're looking to build a job finder or job portal app similar to Naukri or Monster. Check out Job Plus, the best Jobberman Clone script to launch your Job portal Website, and app, developed by BSEtec, a top software development company. We can help you with everything from ideas to design and development to marketing. Contact us for more details and a free live demo.