How to Build a Mobile App like Instagram?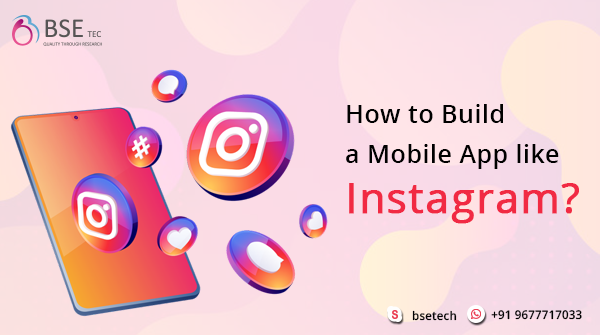 Undoubtedly Instagram is the most used and most influential social media. With nearly 1.2 billion users and 127 million businesses worldwide as of 2010, Instagram is the top photo-sharing app since it has more than 110 million active users every day, brands are using Instagram for giving ads to targeted audiences. A decade earlier, during its inception, Instagram was used as
Photo Editing app

Photo Sharing App
In the long run, it has established itself as the most influential social media platform with millions of active users per day. So this is high time to create your own Instagram-like app, by making use of the increased interest of people in photo-sharing apps. Here is the list of things you should know for developing an app like Instagram.
Market research: In order to build an app like Instagram, you have to do market research on your competitors, and the needs of your target audience and it is always good to be one step ahead of others in the market. Adding elements that are more advanced than the available Instagram-like apps brings instant recognition to your app.
Define Objective:

Back in 2010, Instagram was launched as a photo-sharing app. After a decade of giving tough competition to its competitors, Instagram now is a photo-sharing app with an e-commerce portal and an app for influencers and brands. So you have to be clear about the objective of the App you are launching.

Features:

Hassle-free registration process:

The first screen everyone encounters is the Sign-up page. Any App should include a hassle-free sign-up process. It should include various sign-up options like registering with an e-mail, mobile number, or username to keep the UX simple and easy. So it is important to keep the first sign-up process as simple as ABC without asking for many details.

Push Notifications:

User engagement is the only criteria that determine whether an app is successful or not.

Stories

: Statistics shared by Instagram stated, that 500 million users use stories every day. The main success behind Instagram's grand success is the team working behind the app, they constantly bring new features that keep the users engaged with the app. The story is an easy share of your day or to highlight a post or reel you just posted.

Search Option:

A search option is a great function to keep the user engaged. A user can look out for places, celebrities, people, and tags with the help of a search module. Along with this, search functions also provide suggestions in the search bar. Thus, making it easier for users to find the right person.

Direct Message:

From being just a chat exchange, over time Instagram updated features to add photos, gifs, and videos in conversations. DM is also an extended feature to share a post or story you like with your friends and family groups. This way, the Direct messaging feature engages more people in the App.

Photo Editing:

There are a lot of filters with diverse features for the users such as image resizing, geotags, masks, settings of contrast, adding text, and brightness. Recently it has added AI-integrated filters like finding age, what to expect in 2022, and other fun elements which became viral.

GPS Integration:

With GPS Instagram, they can know what's buzzing near them, or find who posted in the location they are now and add their location to posts, and access other images with

Reels:

With the Tik- Tok ban, Instagram introduced reels, where the users can create content similar to Tik-Tok, after the ban, when Instagram introduced Reels which was a huge success since all the Tik-Tok users moved to insta to create reels. And there is a separate feed for reels which makes the user go through other reels again it increases user engagement. Statistics report that there is an average of 22% higher engagement on Reels than the average engagements they've had from posts and stories.

Ways to Build an Instagram clone: There are 3 ways you can build an Instagram clone. Pick your platform which suits you better.

Do it yourself:

If you are techy, and you know the technical know-how, then you can develop your own Instagram clone.

Hire a developer:

Well if you have the cash to spend, you can hire a developer to build a platform for you. (Beware, this can get pricey.)

Instagram clone scripts:

There are ready-to-use Instagram clone scripts available in the digital market. Checkout

Socialmedia Plus.
11. Cost to Build an App Like Instagram: In doing it yourself, the cost involved is less since you are doing all the work on your own, but takes a hefty amount of time. And hiring a developer costs around $50000. The much better cost-effective and Pocket-friendly option is buying pre-tested and ready-to-use Instagram clone scripts.
To Know More Build The Best Social Media App By Using Our Instagram Clone Script
Conclusion :
You can build an Instagram-like mobile App at an affordable price! Let us break the ice without further ado, it is by opting for an Instagram app clone script. It doesn't require any coding knowledge nor is it too expensive. So, if you are looking to launch your Instagram-like mobile App business, Checkout the top-notch Social media Plus, Instagram clone! Contact BSEtec for a demo and more details.  
 To connect with us : 
Email id: support@bsetec.com
WhatsApp No: +91 9677717033
Skype : bsetech