How To Build A Successful Online Course Business In Less Than 2 Months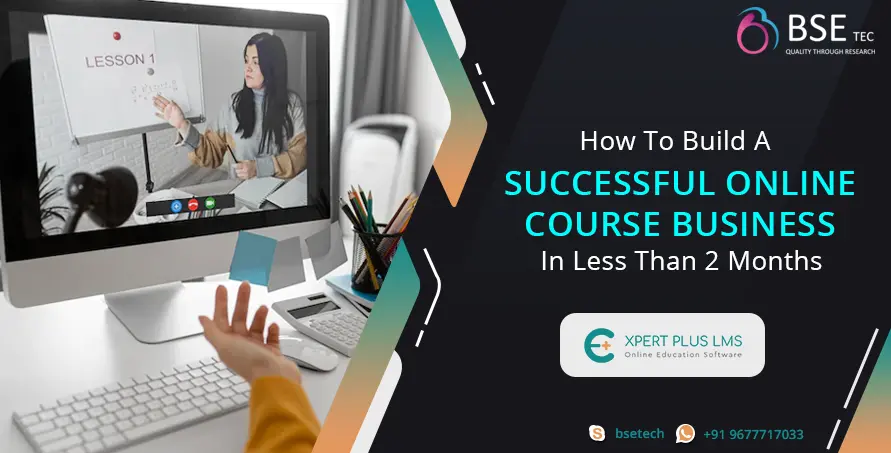 One industry that has grown considerably recently is creating and selling of courses online for a profit. It is projected that by 2026, the global eLearning platform market would rise to $375 billion from less than $200 billion in 2019. So, to enter this big revenue generating platform, let's first explore the factors that make selling online courses a successful venture. The step-by-step instructions below will walk you through the process of creating, launching, and getting paid for your online course.
Step #1: Create An Online Course
Make sure that there is a demand for your proposed course.

To make your course engaging and informative, decide who your target audience is and learn about them.

Create the course's written and graphic materials.

The subject matter, material, and learning objectives must be consistent. 

For creating courses, make use of the proper resources and tools.
Step #2: Select A Selling Platform
How To Choose The Right Course Selling Platform
Here is an insight about how to choose an online course selling platform if are unsure about the right platform. First, there are two choices when it comes to choosing a online course marketplace.
Why Self Hosted Platforms like Udemy Clones Are Best?
When you publish your course on Udemy, they have the students, and that you divide the revenue 50/50 when they perform some promotion for you.
Now, because Udemy wants to advertise your courses at a low price, when you do that, you're giving up part of your control in addition to certain things with Udemy. They want to sell a large number of your courses at a steep discount sometimes as low as 10$. But when you launch your own udemy like website, you have control over the prices and you need not share the revenue for all the hardwork you have poured in creating the course.
Step #3: Promote Your Course
The most important step in creating a successful online course is marketing! Not just marketing, to be successful you have to reach the targeted audience who potentially who will enroll in your courses. In short, you have to serve who are in need! There are three ways you can drive traffic to your course platform.
Create a blog:

Create a blog if you don't already have one. It enhances your reputation while assisting you in generating a ton of targeted traffic. Start publishing SEO-optimized content and Google will soon start sending natural traffic to your blog. Every visitor to your post is a potential student, so once you start receiving visits, marketing your course will be a breeze. 
Build an email list:

Due to its high level of personalization and lack of intrusion, email marketing offers the highest ROI of any form of advertising. The largest source of sales comes from your email list. In order to connect and establish a relationship, you must gather the email addresses of your users. Through your blog, social networking sites, and any other medium, there are various ways to accomplish this. 
Use the power of social media:

There are more than 3.81 billion social media users globally, making social media the largest source of traffic creation. Major social networking sites like Facebook, Instagram, Twitter, and LinkedIn make it simple for you to connect with your target audience. Create accounts, update them frequently, or publish your most recent blog posts to interact with your audience.
Wrapping Up: 
When you have a decent amount of traffic, automate the course marketing process with the help of third party APIs, to expand your business even more, start adding new courses.It is crucial to automate course marketing and selling so that you can concentrate on what really matters. Contact BSEtec for more details and a free live demo of the udemy clone website and app.