How to make a live streaming app like bigo live?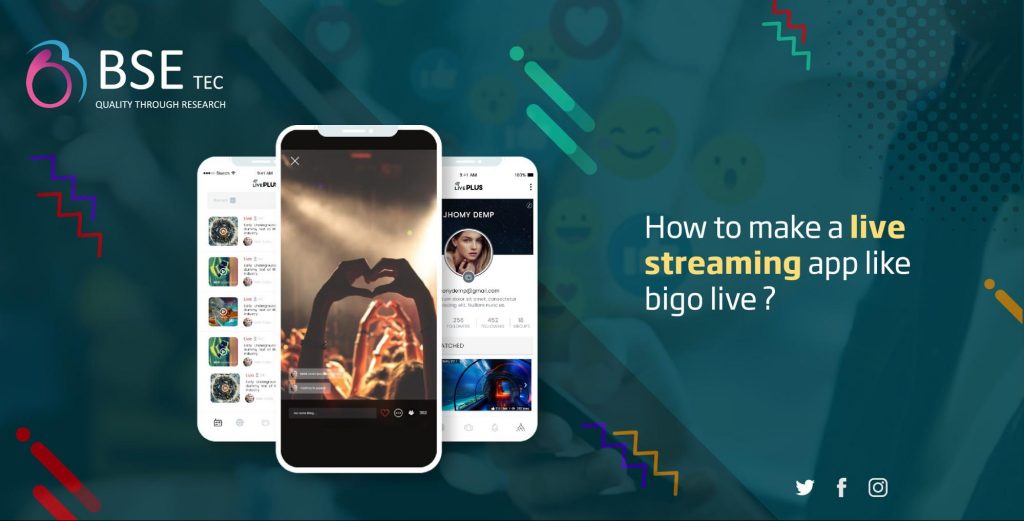 Bigo is a well-known live streaming app with users from more than 150 countries. The app has both live-streaming as well as short video platform called Like. Based in Singapore, the app has gained worldwide popularity since its inception. Bigo app envisions to be the best content platform for billions of people around the world. 
Similarly, Periscope is a subsidiary of twitter, specially crafted for live-streaming. It was acquired by twitter in 2015 and gained popularity within a couple of months after the launch in the android and iOS app stores. The app supported live-streaming through go-pro which gained a huge welcome from vloggers and mainstream content creators. Later, apps like Instagram, Facebook and YouTube also included the live-video streaming features to attract their users.
Why do live-streaming apps have the hype?
We are in a fast-moving world and sometimes we miss certain satisfying activities like tour and travel, due to lack of time and money. A virtual tour is something we all find to be a comfort as well as a cheaper way to know what's happening in the contemporary world. Live-streaming apps are the source of virtual tour videos from various parts of the world.
The best thing about live streaming versus live television is the engagement factor. While we can never interact or engage with the content presenter through TV, live streaming apps offer a unique feature to communicate with the hosts in real-time. Similar apps created mostly using a live streaming clone script such as bigo live clone script or periscope clone, hold features such as comment, heart, save option, join the live video and so on. Additionally, some of them have AI-based filters and other interactive elements. All such features add the interest factor to the live-streaming apps.
Some interesting facts on live streaming apps:
 

PR Newswire has published an estimate that the live video streaming market is expected to grow beyond $70 Billion by the year 2021.

 

According to StreamElements, internet users had spent 1.1 billion hours watching live video.

 

IAB reported that in 2018 about 44% of the people who watched live videos said that they rarely watched TV.

 

Go-global has estimated that by the end of 2020, live streaming would account for about 82% of the cumulative internet traffic.
That said, Live streaming is also an eye-opener for marketers and business owners. According to IAB, 52% of the live stream viewers prefer to access free content despite the ads rather than paying for a subscription to remove ads. Live video streaming provides a viable platform for advertising, promotions and perhaps the advertisers get real-time insights on the viewers and their demographics which help in customising the ads based on relevance.
Essentials to create a live streaming app like Bigo live:
 

Best live streaming app script: choose the script that has the most relevant and engaging features. Also, the script should be free from bugs and errors

 

A clear-cut idea on the niche: Although it is an open platform, the live streaming app also has its USP. Choose the area that you want to specialise in. It could be the best app for travelogues for which people use GoPros and the like.

 

Budget: Decide your budget and make sure that your script fits into it.

 

Features: Paid and free features are available with live streaming apps. Unless you feel it's essential, you can always stick to the basic features that come as default.

 

Launch and promotion: Make sure to create a catchy promotional message that is compelling for the reader.
5 steps to create a video streaming app:
 

Find the best Live streaming app script, we'd suggest you Live Plus from BSEtec.

 

Choose your theme and customise the layout and icons for your app.

 

Add the features that you want to include such as chatbox, privacy panels, social login etc.,

 

Explain how your app is different from the rest of the apps out there.

 

Launch your app in Google Play and App Store.
Features of Live Plus- live streaming app clone that you must know:
Mobile App features:
Social Login

: Users can log in using their existing social media handles instead of filling up forms.

Go Live

: Live discussion with an endless number of people from anywhere around the world.

Search

: The users can search for any broadcast using keywords or specific usernames.

Profile

: The video streamers can view their videos through their personalised profiles.

Notification

: The users can personalise their notification settings and prioritise, according to which the reminders pop up in their smartphones.

People

: The users can see the accounts of new users and check out trending broadcasts of popular users.
Live Plus Script is made using:
Angular

5: Angular is a JavaScript framework that is used to create reactive Single Page Applications.

Lumen

: Lumen is the best and fastest microwork by Laravel. That is used to create a seamless app interface.

Kurento Streaming Server

: One of the fastest streaming servers that support multiple video formats such as SD, HD etc., to enable non-stop live streaming experience.

Single View Application

: Live Plus is integrated with Single View. So, the pages on the application will perform rapid loading which makes the site more efficient to access.

Wowza Stream Engine

: Live plus is integrated with Wowza streaming engine for better scalability and reduced packet loss.

Multi-broadcast

: Similar to video conferencing, multi-broadcast allows to stream different channels simultaneously.
Additional Support from the team:
Free support and updates up to 3 months

Full access to source code
Premium technical support
Free installation
User-friendly admin panel
Take Away:
You can create an app from scratch but considering the cost and time involved to create one, experts would always suggest you to choose an existing app clone script to create the app, because:
 

The scripts are created after days of testing and implementing. You would not even require to perform beta tests.

 

The scripts come for very less cost compared to creating an app organically.

 

The existing apps that act as the inspiration give us an insight on dos and don'ts which we can follow to make our app user-friendly and free of any glitch.
After creating the app, you would require a few months of hard work to promote it organically and through advertisements. Once you are placed and your app starts to get more user base and traffic, you are all set to make a difference. Feel free to reach out to us and learn how you can make a better live streaming app and make it your mainstream business venture by making huge profits.