How to Make an App Like Instagram and Get Users Talking About It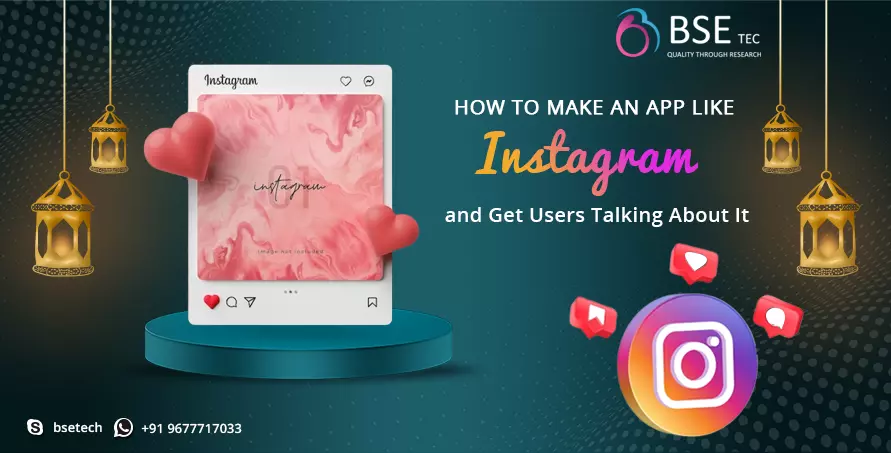 An App like Instagram is built around providing a unique user experience. Uploading photos, scrolling through feed and reels, creating reels, using cute filters, and stories require an aesthetically pleasing UX design. Here is a brief blog to help you understand what it takes to create an App like Instagram and how you can get the users talking!
Back To Basics: Instagram, for example, is intended to offer a unique user experience. Uploading photos, scrolling through feeds and reels, creating reels, applying cute filters, and telling stories all require visually appealing UX design. Here's a quick blog to help you understand what it takes to build an Instagram-like app and how to get users talking!
Users Prefer Well-Organized And Clean Content:

As a result, all visual elements must be placed in the correct hierarchical order. This refers to arranging elements in order of importance. For example, on Instagram, the stories are at the top, the user profile is on the far right, and the feed is in the center. This makes it easier for the user to access the app's content and prioritizes each feature appropriately.
Appealing Fonts and Layouts:

Fonts and layouts should be appealing, but they should not interfere with the user experience. Instagram icons take up less space and provide excellent clarity. Make certain that your app, such as Instagram, provides easy access to buttons, menus, and other elements.
Choose A Monetization Model: 
Let's be honest about this. ROI will take some time to achieve. Instagram, like Facebook, took years to reach $20 billion in ad revenue in 2019. Here's an example of a monetization strategy for an app like Instagram:
Advertisements:

Users receive targeted advertisements based on their search history and the app's explore section. You can allow businesses to distribute their advertisements through posts, short videos, disappearing stories, and so on. This strategy can generate revenue in three ways: 

Cost per Thousand Impressions (CPM):

Advertisers pay for the number of times an ad appears, whether or not the user clicks on it.

Cost per Click (CPC):

Advertisers pay only when a user clicks on an ad, not every time one appears.

Cost per Action (CPA):

In this case, you charge the advertiser each time the user completes a specific action, such as a purchase or registration

Purchases made in-app:

Users who make in-app purchases pay for content, services, or additional features while using the application. In-app purchases, for example, can be used to provide customers with additional filters. Another way to monetize your app is to remove advertisements. Users who want to use your app without advertisements can purchase a premium version.

Commissions:

This approach is appropriate if you intend to create an app similar to Instagram that functions as an eCommerce platform. You earn a commission every time a user purchases a product through your app.
How To Increase User Engagement: Creating a simple app with exciting features is insufficient. You need to get people talking about your app. Here are some examples:
Make a landing page:

This is the page where your potential customers will go to learn more about it. A landing page typically contains information about the app, its features, and its value propositions. Make sure you have a clear call to action, such as a link where they can download the app.

Social media monitoring:

Marketing on Social Media Start sharing more about your app if you already have a dedicated account/page for your business. Create a separate account for your app if you don't already have one. Also, keep in mind that you are not required to directly pitch your product. Capture the audience's attention by using videos, pictures, memes, etc. If they find your product interesting, they will likely look for more information.

Program for Referrals:

This is for your app's early adopters. You can reward users for recommending the app to their friends. Rewards could include free filters, free access to paid features for a set period, and so on.
Estimated Cost for Making an App Like Instagram: The cost of making an App like Instagram depends on the platform you are developing, and how much customization you need. But these are the rough calculations to give you an idea that how much time it takes. The developers charge you based on the number of hours they have worked on your app. They charge nearly $50 o $300 per hour!
Developing from scratch:

Native: Android + API takes 1,487 hours while Native: iOS + API takes 1,493 hours approximately. So, on average it may cost from $75000 to $400000. This method is too expensive and consumes more time for building such apps.

Instagram Clones:

This is where

Instagram clones

come into

the game. The Instagram-like app can be built in a matter of hours! Plus the cost and time involved in deploying apps using

clone scripts

are very less.
But that isn't all. You must encourage users to interact with your app. Push notifications are an effective method of increasing user retention.
Wrap Up:
We can assist you in designing and developing a feature-rich app similar to Instagram. If you want to add some unique features, we can customize the product for Instagram clone app development. Share your idea with us, and we'll help you turn it into a fully functional product. Contact BSEtec for more details and a live demo.