How To Play Games While Earning Crypto?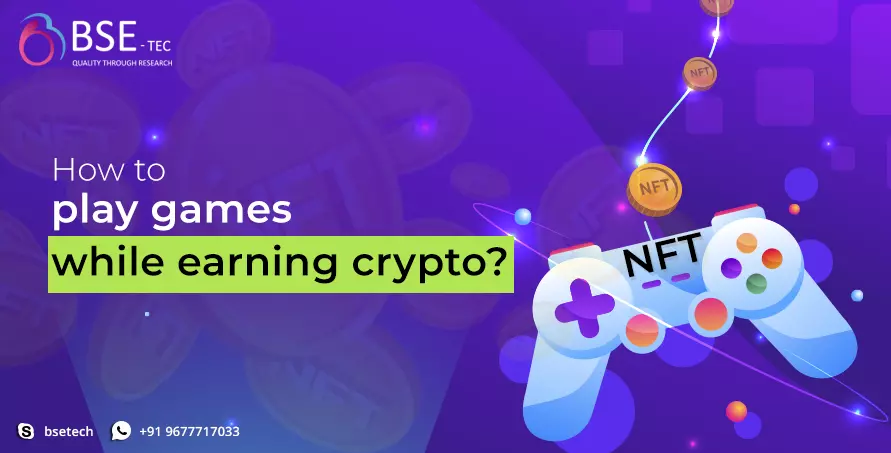 We all grew up playing video games like Prince of Persia, Super Mario, and others for free without paying for any in-game items! However, when we became more digital, games migrated to computers, mobile devices, Play Stations, and Xboxes! According to the most recent statistics, there are about 3.09 billion active video gamers. Out of which 227 million users are based in The United States! But with blockchain games like Axie Infinity and others becoming mainstream, here is a gist about how you can earn while playing blockchain-based games.
Traditional Games and Challenges
Traditional games are only for entertainment purposes. 
Centralized:

Traditional video games are centralized and controlled by a single entity (the game developers).

Entertainment:

Games are art for their visual imagery and storytelling or entertainment is an argument for another day. But online games are purely for entertainment purposes, only a few gamers stream and earn based on their game.

No real-world benefits:

Despite promising you a fun time for free, they then drain you dry with microtransactions for upgrading or buying skins, weapons, and other stuff.

Prone to Hacks:

Since, these regular online games are centralized, all the assets are locked in only one server, so it is easy to hack or tamper with the information easily by hacking the server, whereas blockchain games are decentralized and even a small change requires a consensus mechanism, which can be hacked only if he/she has 51% of the crypto assets, which is practically impossible.
What Is Play To Earn (P2E) Games?
Play to Earn games are online games (mostly on the blockchain)that let players earn rewards with real-world value by leveling us, completing challenges, battling other players, and progressing through various game levels. In simple terms, the name suggests, Play to Earn games award gamers with rewards of monetary value.
Benefits Of Play To Earn(P2E) Games
Unlike traditional online games that benefit only the game developers, Play2Earn benefits both the gamer and the developer. As gamers are showered with rewards and enjoy real-world monetary benefits, it paves way for a loyal and well-engaged audience thus improving a great amount of retention.
Basic Requirements To Start Your Crypto Gaming Journey
Crypto Wallet:

Since the game is based on blockchain, all the rewards and other transactions take place in terms of cryptocurrencies. Creating an account in crypto wallets like Metamask or others that are mentioned by the game developers is mandatory!

Pre-funded wallet:

You have to preload your wallet with cryptocurrencies to buy in-game assets like weapons, skins, potions, etc.  For example, Axie Infinity runs on the Ethereum blockchain, so players have to load their wallets with Ethereum (ETH).

Purchasing Starter packs:

Certain games may ask you to buy their NFTs or in-game tokenized assets to start with the game. For example, you have to buy 3 crypto kitties (NFTs) to start playing Axie Infinity.
Gaming Rewards
Here are some of the basic benefits that come with blockchain-based gaming.
In-Game Assets and P2E NFTs:

The NFTs or in-game assets that you brought can be sold later at a higher price in other gaming environments and marketplaces.

In-Game P2E Crypto Rewards:

The crypto rewards in the form of crypto coins can also be cashed out or exchanged for goods or valuables from NFT marketplaces based on the game!
Some Examples Of Play To Earn(P2E) Games
Spells of Genesis – Puzzle Game Compatible With Multiple Blockchains

Star Atlas –  Space Exploration Metaverse

Decentraland – Buy and Sell Real-Estate as NFTs in the Metaverse

Axie Infinity – P2E Game Similar to Pokemon

Alien Worlds – Free Play to Earn Game Set in a SciFi Metaverse
The Future of P2E Gaming
Though the Play2Earn games are in infant stages, once it catches up with the trend it disrupts the entire already booming gaming sector. The total number of gamers in the world is over 3.2 billion or more than 40% of the global population. Games like Axie Infinity and Decentraland have shown how popular the P2E gaming model is becoming in the decentralized gaming ecosystem. By integrating Augmented Reality, Virtual Reality and making the gaming environments more interactive, the future of gaming is going to be humongous. Get in touch with a blockchain development company, if you like to invest in the 3 billion sectors of blockchain gaming.
Tags:
blockchainappdevelopment
,
BlockchainDevelopment
,
blockchaindevelopmentcompany
,
blockchaindevelopmentservices
,
blockchainsoftwaredevelopment
,
blockchainsoftwaredevelopmentcompany
,
blockchaintechnology
,
cryptocurrencyexchangesoftware developmentcompany
,
developingblockchain
,
nft
,
nft art
,
NFT marketplace