Instantly Grow your Business using freelance clone scripts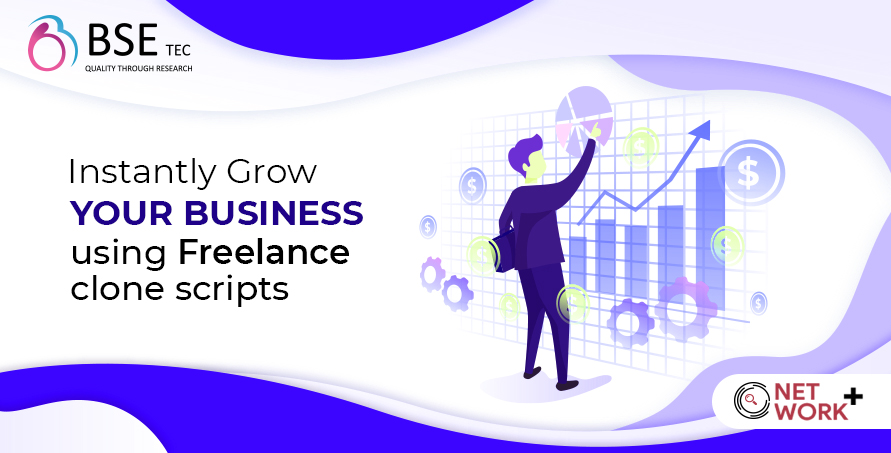 Several factors make freelancing an attractive option for people. Firstly, there is unemployment everywhere and second, the kind of flexibility and other options that we get in freelancing can never be accomplished by a regular job, no matter how much bonus and benefits we get. Freelancing is not just beneficial for the people who work remotely but also for the employers and client companies who need a talented person to work temporarily on a specific project. Websites like Upwork, freelancer, Elance and the ones created using the freelancer clone scripts like Network Plus are the top portals that people visit to look for a freelance job.
Usually, the freelance market place works by the number of jobs or projects posted in the site. Client companies can post jobs for free and they start getting bids from the relevant freelancers. They can go by the highest bid or they can alternatively choose from the list of talents. By doing so, they can contact the freelancer privately and go about with their collaboration. The client or the employer can browse through the freelancer profiles and chat with them in real-time, to test their skills or to discuss the requisites. When the employer is satisfied with the work, they can pay the freelancer and give them ratings based on the work.
The employee can also keep track of the progress, monitor the hours of work and discuss with the recipient freelancer. Also, a mobile app created using upwork clone makes it way handier and comfortable. One more important thing that both the client as well as the freelancer expects from the freelance market place is the safety and privacy of data. To ensure that, the app provides two-step verification, safe payment options and representative contact information.
Be it a short term project or the one that takes months to complete, anything can be posted or worked on using the app. The jobs are strictly based on fixed-price or bids and duration is also discussed before making the contract. To avail, these features in a single source script, use Network Plus freelancer clone and become the best platform in the market.