InstasocialPlus – Everything you need to know about Social Media Platform Development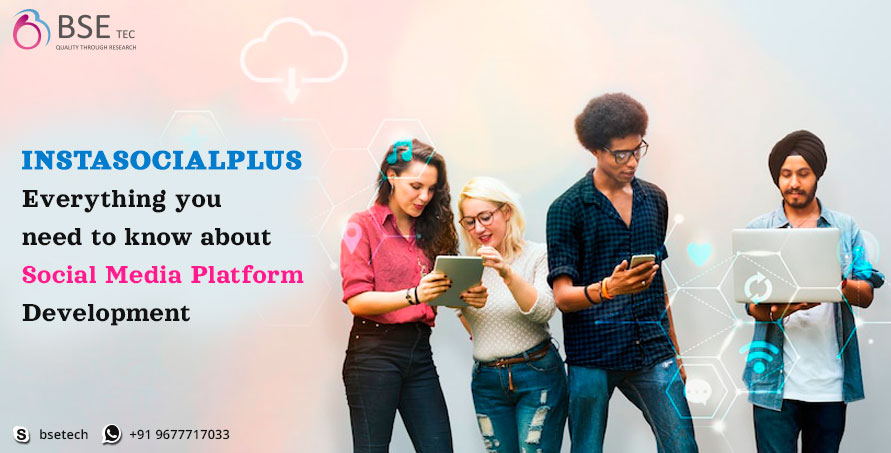 Social Media not only engages people but also engages businesses with their targeted audience. Now social media is the biggest platform for businesses and users for direct communications and promotions. Every day businesses run a million dollars worth of advertisements to reach out to their targeted audience through social media. That is the reason now social media is a multi-billion dollar industry. 
We know that many entrepreneurs are searching for ways to develop successful social media platforms, and now we are here to present the InstasocialPlus. InstasocialPlus is the best Instagram clone script that allows you to develop your social media platform with minimum cost and high efficiency, and even with loaded features. Instagram clone development is the best way to enter this industry as it requires very little capital to develop a perfect app with minimum technical knowledge.
Perfect Instagram like app development
Instagram like app development is the most crucial and best development in the industry because it requires very deep knowledge of the industry and a clear sense of business. As an entrepreneur, you need to have a very clear perspective of your targeted audience and your business strategies. you need to develop your marketing strategies way before you launch your app, and you need to spend most of your budget on that. The reason for that is because you need to get more users faster. After all, it will be of no use if users don't get into your app as it is directly linked to other user experiences due to the UGC (User-generated Content) concept. 
Also, Along with the marketing plan, you need to make sure you develop your Instagram clone app with high efficiency and perfection. We know it can be very crucial to maintain balance on both aspects to do at the same time. That is the reason you require the Instagram clone script- InstasocialPlus. By having a clone script, You can rely on BSETec to develop your perfect Instagram clone in an active deadline with lower cost. Also, we will develop your social media platform with all the customizations you require to have for your audience. It is also loaded with ready-made features to make sure it takes less time and less cost and comes with all the basic features and tools. We will add every latest feature and tools you will ask for as an add on feature to the script because it is highly customizable. By using the Instagram clone script you can fully focus on your marketing and business strategies from day 1 and your platform will be taken care of.
At BSETec, you are not only buying a clone script but also you are getting the full and premium technical support of the team of professional developers and designers for your development. You get free installation with free technical support along with free regular technical updates to make sure your platform works fully functional all the time. You can explore all the list of features and add ons you are getting with the instasocialPlus and even you can check the list of technologies we are using to make sure your platform would be more perfect. 
Get in touch with BSETec today to own the best social media platform in the industry at an affordable cost by dropping a query on given details.
Contact Details
Email : support@bsetec.com
skype : bsetech