Is Artificial intelligence (AI) the next step of smart learning?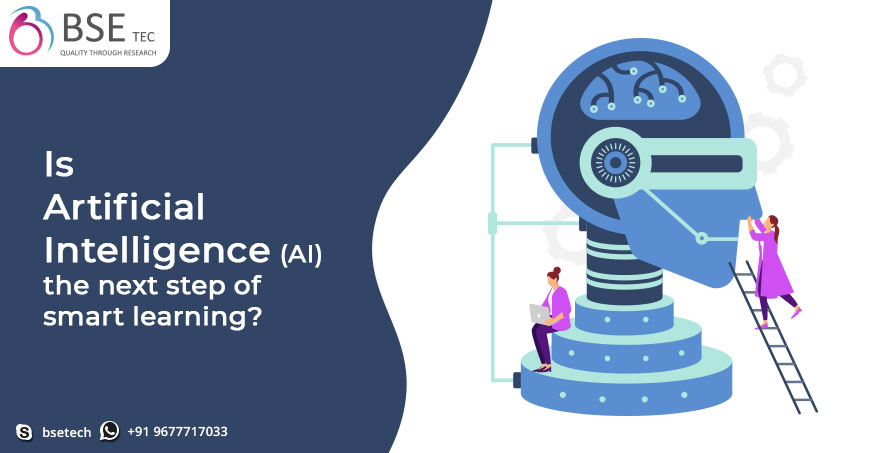 What is Artificial Intelligence?
Artificial Intelligence is the most advanced and more talked about and trending technology of this decade. It is a technology where we are working on giving the machines the power of thinking and working on more summary tasks efficiently and more conveniently. Artificial Intelligence is also the technology that offers the most advanced and brilliant virtual tools like Augmented Reality, Virtual Reality, and Mixed Reality. We also have some issues with AI and its future predictions but as far as we believe positively, We may find a way to overcome those obstacles by researching more in-depth in Deep learning and Machine learning. 
Smart Learning
Smart learning is when we collaborate technology with Elearning to eliminate the flaws and obstacles like distractions, lack of understanding the complicated topics, and much more. We always get excited by the fact that now in the year 2020, Parents and learners around the world are getting a taste of elearning or smart learning and understanding its value in their academic lives. We think this would develop the revolutionary incline in learners shifting towards smart learning from traditional learning. We may see many new elearning software and institutions coming online with the most advanced technologies like AI to get the most out of the opportunities. But we also think that unlike many futuristic technologies smart learning is currently not in the air as it's already in the advanced stage and entrepreneurs are currently finding ways to grab this technology first hand to leverage the market share quickly and earn profits up to the roof. 
Artificial Intelligence for Smart Learning-
AI can be the biggest source of developing the most advanced smart learning platforms and this is because we right now come so far in the research and development of advanced AI-Based features like Augmented Reality and Virtual Reality in eLearning. Elearning has so many flaws and obstacles that come in the way to become the primary source of education. The biggest flaw in becoming the primary source was the distraction in smart learning virtually and lack of adequate funds to start smart learning software in the first place. 
In the year 2020, We now have advanced resources and development tools where we can get more AI-based tools to get the quality smart learning software with every advanced integration you could imagine overcoming the flaws. For distractions, Interactive learning tools like AR and VR develop such curiosity and chaos in learners that make it easy for them to get stuck to the course, and it also makes them eager to learn more and spend more time on the platform. 
For funds related issues, We have advanced AI-enabled Udemy clone scripts available for development that come in very affordable costing that can match your budget easily with all the customizations and advanced integrations you want. 
Best AI-Enabled Udemy Clone Script
ExpertPlus can be the right option for you if you are searching for the combination of the most advanced and affordable Udemy clone script for the development of the most advanced learning management system. This is an open-source udemy clone script that even allows you to customize in any way with complete independence. It's always leverage to get ExpertPlus because you are not only getting an advanced clone script for elearning software development, But you are also getting the technical expertise on your side who is researching and serving in the industry for a long time now. That is BSETec. With the ExpertPlus you get the complete guidance and support of bsetec and its professional team of developers and designers. They will help you bring the idea to life by not only developing your elearning software from start but also by guiding you to build an elearning brand from beginning to success. 
ExpertPlus also includes many ready-made features that come with the script for free. They are in two categories. 
Managerial features 

Utility Features 
Managerial features are 
User dashboard 

Advanced Admin Dashboard
Courses management
Instructors Management
Certifications Management
Theme management
Email settings
And many more 
Utility features for website and application are: 
User signal sign in 

Internal chat system
Category system
Multiple payment gateways
Courses content
Instructors promotions
Admin discounts
Bootstrap responsive design
Menu management
Website security and firewall
High tech learning tools
Modules managements
Social sharing
Pages management
And many more 
These were some features of ExpertPlus that come loaded with the script and this is the clean coded script so you can customize them by any kind. You also get many additional benefits with this clone script from BSETec such as free installations, Free System upgrades regularly, and even free technical support for 3 months to make sure your learning management system works fully functional all the time. 
You can also check out it's free of cost LIVE DEMO right now to see how every feature works in real-time in elearning software. 
How much does it cost?
It is a misconception that the development of big elearning software with all the high-end technologies like AI costs a fortune. But when you make smart choices like Using udemy clone script then it will come in your budget easily. Using ExpertPlus costs you much less than industrial standards cost by getting many superior services as we feel it's our responsibility to empower entrepreneurs at every stage. 
ExpertPlus comes in three variants that you could go for. 
The first one is the premium enterprise variant. It is the most popular and widely recommended version and it costs you only $200 including all the additional benefits and readymade or exclusive features mentioned above. You also get your elearning software developed with Udemy ios app and Udemy Android app with all the latest technologies available in the market right now. 
The second one is the Free version, Yes isn't it is exciting that this advanced udemy clone script can also help you get the development of next-generation elearning software even free of cost. Well yes, expetPlus's basic version is free of cost available for development with all the basic tools and all the readymade features and benefits listed. 
The third version is Open source or we can say highly advanced version, Where you get the most liberty of customizing the clone script as per your own idea with every integration you could ever desire. You also get much more additional features and benefits with enhanced technologies and anytime guidance for brand development from BSETec. This version costs according to the integrations you want or according to the scale of the idea and development. But we can assure you that it is affordable and cost-efficient compared to industry standards. 
Takeaway
In this whole article, We talked about how we can grab the futuristic opportunity of smart learning with AI and its benefits. We also discussed the benefits of having it in the year 2020 and 2021 because this Is the initial era where entrepreneurs and even targeted audiences are getting these things in the spotlight. We also recommended ExpertPlus to explore the quality and efficiency it offers in the development of such advanced and futuristic elearning software. 
For more guidance on your particular idea, Feel free to discuss with us today by setting up a virtual meeting with our elearning software development expert only by sharing your details below. 
Also, Feel free to ask any query or point you have regarding the article and development thro ugh clone script at BSETec. 
Contact Details
Email : support@bsetec.com
skype : bsetech